The full article, Accomplishing DEI Through Workplace Design, was originally published in Maryland The Daily Record magazine on August 16, 2023. 
Written by Meg Nelbach, Senior Vice President, People & Culture
As a people & culture leader, I have long advocated for Diversity, Equity, and Inclusion (DEI). Recently, my daughter experienced a major injury which confined her to a wheelchair for six weeks, and this life event profoundly evolved my perspective: Inclusion is also synonymous with accessibility.
Life events – a sudden injury, a personal loss, or a significant emotional upheaval – can abruptly alter an individual's abilities and needs, whether temporarily or permanently. It is imperative for companies to adopt a flexible lens, adapting their workspaces to meet the ever-evolving requirements of their employees.
Studies have shown that companies with diverse teams are twice as likely to be innovation leaders. The benefits of a respectful and inclusive corporate culture resonate with a majority of employed U.S. adults, as highlighted in a recent survey by the Pew Research Center.
This survey reveals that DEI initiatives are instrumental in encouraging employees to embrace each other's strengths and work collaboratively, reinforcing the notion that inclusion is a powerful catalyst for organizational success.
With that in mind, businesses should focus on four key areas in creating flexible, DEI spaces where everyone feels a greater sense of belonging and life-changing events are taken into account:
Floor layout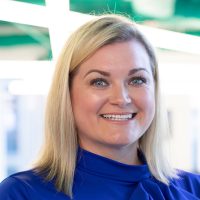 Meg Nelbach, Senior Vice President, People + Culture