The impact of artificial intelligence (AI) on employment and the workforce is bittersweet. Predictions estimate that automated systems could displace millions of people over the next few decades by making many technology and process-driven roles obsolete. While that may seem terrifying, it's pushing us as humans to perform better by becoming more creative and innovative in handling complex and critical situations– something AI systems cannot do. To prepare for this change in workforce skills and specialties, organizations need to foster innovation among all employees and seize new opportunities to stay ahead of the competition and retain top talent.
3 Steps to Develop an Innovative Culture
Following a process can help your organization prepare, test, and execute on ideas to grow innovation within existing teams.
Planning Phase
Create an innovation agenda and define the organization's future direction. This agenda sets the specific goals and initiatives of the organization. In addition to serving as a resource for understanding the organization's priorities and identifying its significant opportunity areas, it should also state what capabilities, assets, and partnerships are necessary to successfully meet the agenda's goals.
Incubation Phase
It's important to identify the innovation model that aligns closest to your organization's structure and interactions. You may need to try multiple models before you're able to determine which one provides the biggest benefit. Once you've zeroed in on the strongest style, begin testing and growing ideas.Innovation models include:Internal innovation teams, aka Think Tanks: Teams consist of a group of experts from different departments who meet on a regular basis to discuss how to advance the goals of the organization.Individual champions of innovation: These are the people who passionately fight for and lead new ideas through the development stages until the idea can be put into motion and assessed.

Hackathons: Similar to a think tank, it's comprised of a group of experts in a variety of specialties, but the team is then confined to a space for a set period of time (typically 24 – 48 hours). During this time, the group is expected to use creativity, design, and technology to generate a new idea or solution to a specific problem. Hackathons are often integrated into tech cultures, but are becoming more popular in many other organizations looking to expedite innovation.

Consultants: Specialized consultants may be brought in to help identify and solve problems, realign innovation goals, and influence change that can help grow innovation within the company.
Execution Phase
Once you've identified value in a specific idea, you need to establish new practices that integrate into or alongside existing processes. More importantly, you need to ensure new practices are being adopted throughout the organization. What's the point of a great idea if no one wants to follow through?A major inhibitor of innovation is a fear of risk. An organization must clearly establish honesty and trust with its employees and be open to accepting higher levels of ambiguity. Once employees feel empowered to pursue new ideas or different ways of thinking without penalty, there is much more opportunity for a novel idea to emerge. Workplace coaches may also be identified to help reinforce new practices and ensure all staff members feel their opinions and ideas are valued. "This will signal to employees they need to adopt new workstyles, and the physical workplace will have to be reimagined to support and reflect a culture of innovation," says Valoe.
Create the right environment
A culture of innovation is built through communication and collaboration, which also supports the building of strong networks and development of trust among peers. An open office environment, when designed to empower choice and accommodate all workstyles and creative processes, is the perfect place to nurture innovation. When people are offered a variety spaces to collaborate, conduct focused work, find respite, and socialize with colleagues, they perceive a higher sense of wellbeing and are more likely to be inspired by innovative ideas.
Integrating technology into a workspace can also foster innovation, simply by providing seamless access to the virtual tools that help individuals or teams stay connected. When smart technology is part of the space itself, integrated into the walls and furnishings, it supports information gathering, idea sharing, and overall documentation, letting team members stay focused on the information and ideas themselves. And when the same technology is present throughout the building, it empowers more fluid collaboration as individuals step away to focus, or teams come together to compare notes.
Highlight engagement and purpose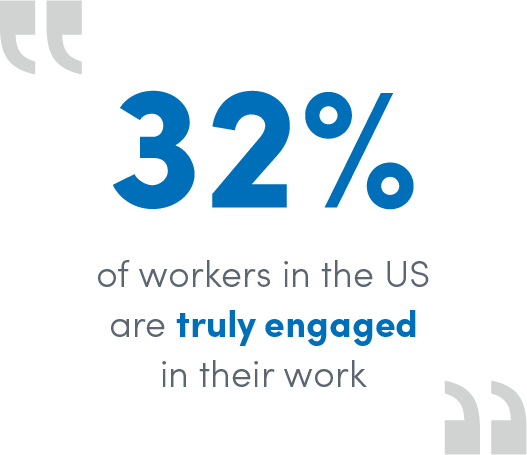 Gallup uncovered that only about 32% of workers in the US are truly engaged in their work. While that number is far ahead of the worldwide average of 13%, it means that almost two-thirds of all employees have little interest in contributing towards or developing innovative ideas that may positively impact their employer and ultimately themselves. But how do you engage people who are content with the status quo or only see their role as a job to pay the bills?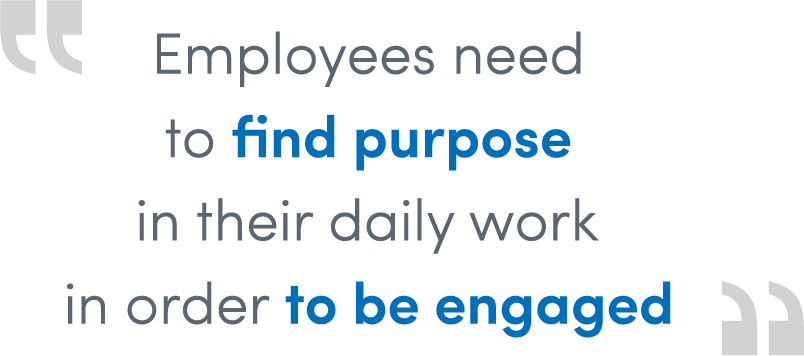 According to a report from PwC, employees need to find purpose in their daily work in order to be engaged. With only 27% of business leaders encouraging supervisors to share why their work matters with their teams, employees are left believing that any new ideas or suggestions will be quickly dismissed, and any thought put into developing them is a waste of time. It's impossible to estimate how many innovative ideas have been lost due to these situations.
Organizations can overcome this innovation roadblock and encourage ideas to be voiced by implementing the following tactics:
Share customer feedback so employees understand that they and their organization can make a difference in the lives of others.
Nurture ownership and engagement by giving employees flexibility to redesign their own jobs and focus on the aspects they enjoy most or change the way they perceive tasks associated with their role.
Increase communication between managers and employees to help develop trust and comfort, thereby making it easier to suggest non-conventional ideas without fear of embarrassment.
Work as we know it is changing rapidly. Instead of reminding people to work faster, harder, and more efficiently, organizations must empower employees to develop solutions that speed up, simplify, and streamline processes. Team members from all levels, and all divisions must be invited to contribute. When engagement rises, so does productivity – but it's now fueled by a much more powerful sense of purpose and participation. Truly innovative ideas aren't deposited on a slip of paper into a community suggestion box, they're shared openly with teams and leaders without judgement or fear of failure. When creativity and innovation are valued, and – and when that value is clearly discussed and demonstrated in words and actions – your workforce becomes your organization's way forward.
Want more ideas for inspiring innovation in the workplace? Download our Creative Spaces Brochure