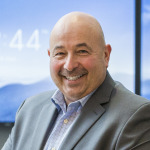 When Kevin Klier joined dancker as general manager in 2014, he brought with him a passion for empowering people to do their best work every day. Four years later that passion is unwavering, fueling Kevin and the collaborative dancker team to continue to push boundaries. Here's Kevin, describing why he loves what he does, in the second installment of our people and ideas blog series.
When someone asks what I do, my immediate answer is that I am a best supporting actor. I support our customers, our partners, and our dancker team, doing what I can to make them the stars. Our mission at dancker is to help our customers maximize the use of their space to drive better business. We work hard to be a trusted one-source provider – we simplify the process of creating an extraordinary environment by seamlessly integrating architectural solutions, contract furniture, and collaboration technology – including self-performing the logistics required to deliver spaces that really work for our clients.
To accomplish this, we need a team of talented players that share the same passion to deliver outstanding experiences for our customers and partners. Working closely with Steve and other members of the leadership group, my decisions are based on ensuring the wellbeing of the entire dancker team. If I can make their job easier and more enjoyable, they will deliver a positive experience to our customers, in every interaction.
Talent – at any company – is the most important asset a leader needs to protect. This is especially crucial now as the demographics of workers are shifting to a workforce of young professionals that work and view their professional life very differently than past generations. We have studied and understand these shifts, and just like our customers, we are using our workspace to recruit, engage and motivate a different kind of employee – one who prizes collaboration, connection, flexibility, and openness. We help our clients see how those values can (and should!) be reflected in their physical space, and ultimately how they drive real estate's effectiveness.
Everything we do comes down to people, and the way people use the spaces we help create. It's about empowerment as well as efficiency, and to get it right – to drive success for our customers – we have to understand people and the way they work. It's one of my favorite parts of my job, challenging each other to step beyond our comfort zone and learn something new every day.
One example of the way our team is laser focused on pushing boundaries to ensure our customers' success is our decision to embrace technology. As technology became a bigger and bigger part of every project, we started to notice a disconnect between what our customers needed, and what was ultimately implemented in their workplace. Details would be overlooked when multiple vendors were involved, and A/V was often coming in as an afterthought rather than being integrated into architectural and furniture solutions from the beginning. This affected the customer's end result and didn't represent dancker's high standards for quality. So we committed to add value to our customers and grow expertise in providing collaboration technology that could seamlessly integrate with our other offerings. We launched our Workplace TechnologyTM division, a full AV integration team, to work with our Architectural Solutions and Furniture teams. Technology – helping people connect and collaborate – is a big part of our customers' ability to operate and it no longer works as an afterthought, so we now drive that cross-team collaboration to make sure it's integrated from the start.
We have high standards for the way our team members represent dancker, whether they're a direct employee or a subcontractor who's partnering with us on a project installation. We want our customers to know that we all take pride in what we do, and we're serious about their success. Details like this really matter to me. If 90% of a project is done very well but 10% falls short, people remember that 10% for a long, long time, no matter how successful the other 90% was. We have to pay close attention to 100% of the details, every time – and we do.
I'm proud to be part of this team – I believe we have the best team at dancker – and I am endlessly inspired by the energy and passion of everyone in the organization. It's what makes me excited to come to work every day.
– Kevin
Kevin Klier
Senior Executive Vice President & General Manager
Connect with me on LinkedIn and share your thoughts on #people #culture and #futureofwork