The 50th Anniversary of Neocon celebrated exceptional designs, innovative trends and advanced technology transforming the spaces where we work. In case you missed the event, we recapped our favorite trends of new concepts, technology, colors, textures, and patterns.
Steelcase had a big year being awarded the Best Large Showroom for the second year in a row! By combining all their brands on one floor, it was easy to tour the showrooms and experience all that Steelcase and their brands have to offer as well as introduce new exciting partnerships. We at dancker are proud to be a premier partner offering Steelcase innovative products and partnerships to our clients.
Connections Between Indoor-Outdoor
While the physical distance between your office space and the outdoors might be separated, the atmosphere can connect the two. Incorporating wood accents or elements of nature gives the illusion of being outdoors. This trend helps to create a sanctuary space as the walls absorb distracting noises and plants increase oxygen and airflow.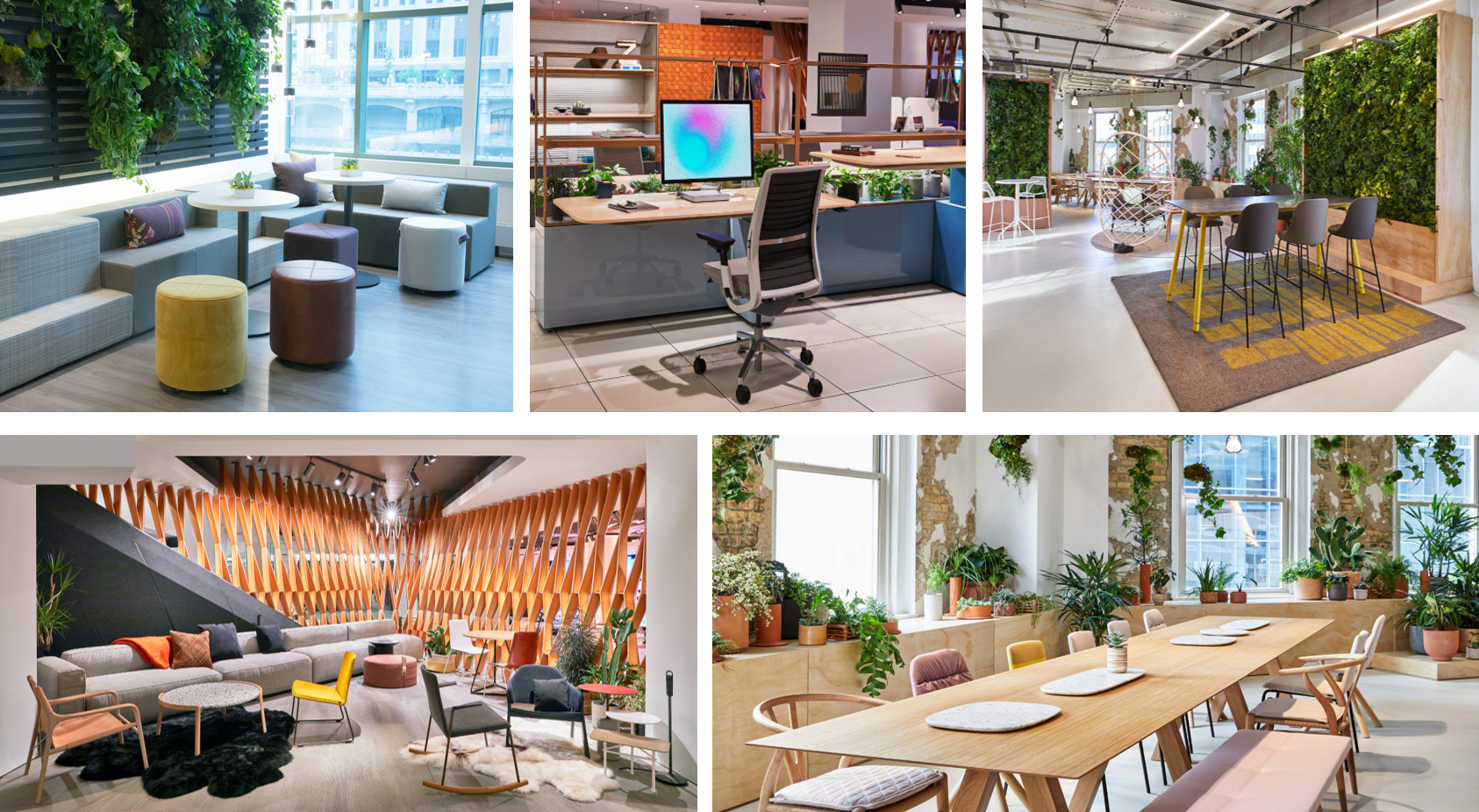 Residential Comfort in Commercial Spaces
This year, Steelcase mastered the skill in translating residential grade furnishings into modern day office furniture. With many employees having the option to work from home, creating a space that is essentially your home away from home is key to supporting wellbeing of today's workforce. Using neutral fabrics, sleek and sophisticated finishes, and interesting light fixtures helps to create a calm and relaxing environment for employees.
Not Your Ordinary Walls
Multi-colored glass walls maximize privacy as well as give your space a tremendous impact on mood. Bold, powerful colors can inspire creative thinking and stimulate higher rates of productivity.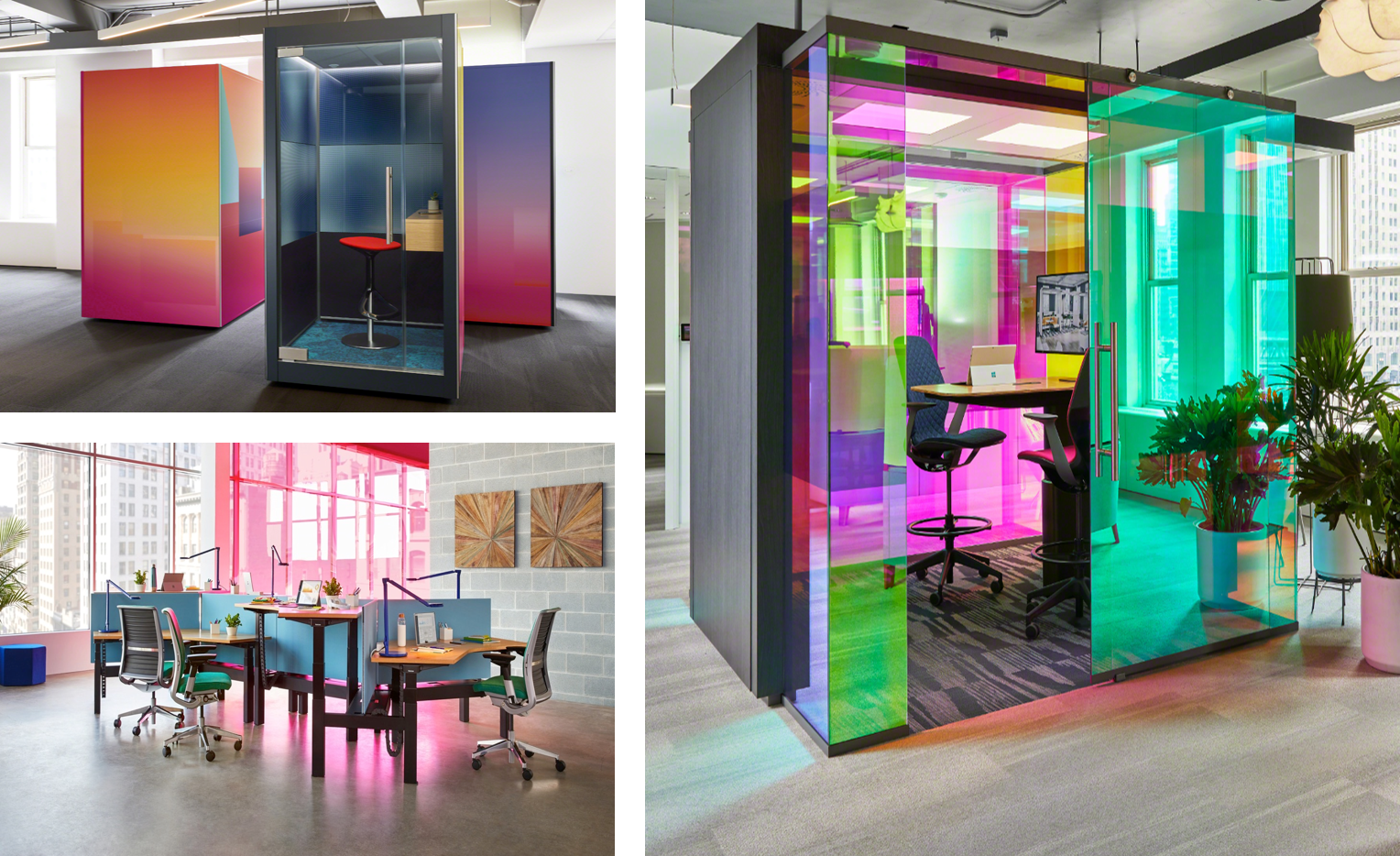 Play on Patterns and Textures
Mixing patterns and textures has the power to transform any workspace. Bold patterns on acoustic panels serve as a focal point and introduce a more playful vibe to the office atmosphere while supporting speech privacy.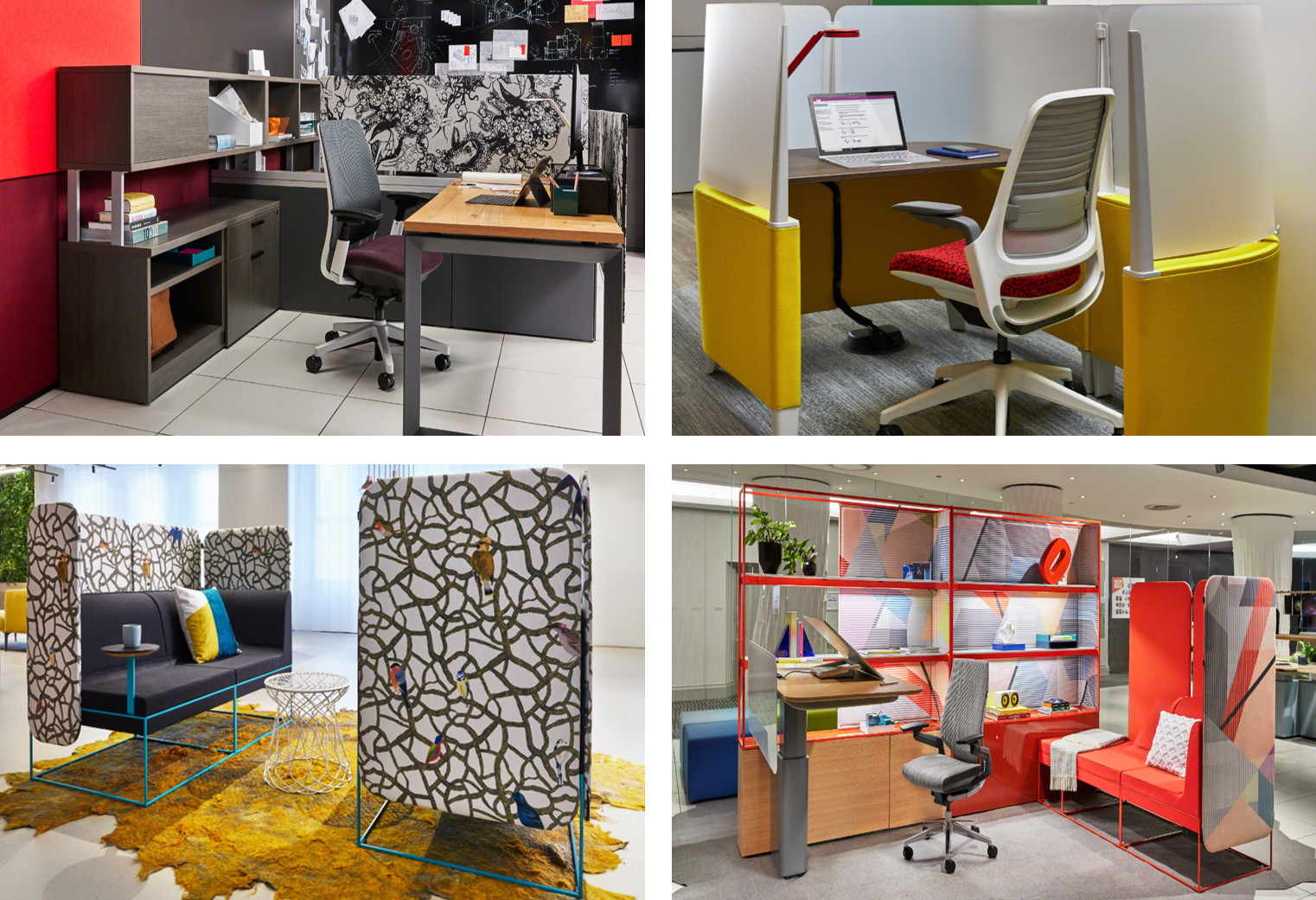 Smart + Connected Spaces
New products and technology were unveiled to help designers create Smart + Connected Workplaces that better support employee engagement and productivity.
With 20-30 minutes a week on average wasted trying to find a place to meet, the FindApp, part of the Workplace Advisor package, provides a quick way to find and reserve spaces.
Steelcase's Rise App syncs height-adjustable desks and benches featuring Active Touch controllers for personalized settings to support wellbeing in the workplace. The app reminds you to adjust from sit to stand positions throughout the day with gentle desk movements that you can program at desired intervals. It also tracks how often you shift postures to allow you to view progress of established wellness goals. 
More Choices Over Where & How We Work
Intimate settings that allow quiet spaces for individuals to recharge or have a quick touchdown with team members is a huge trend. Smaller, more intimate environments, from Steelcase's Brody Desk to Lagunitas Lounge seating to individual desks by Coalesse, create varied options that offer privacy and speech privacy to support both focused work and an agile workforce.
In addition, with the addition of several new partnerships, Steelcase now offers even more opportunities to have choice and control over where and how we work. New partners include:
Blu Dot
West Elm
Viccarbe
SnapCab
Embold
Smith Systems
Mitchell Gold + Bob Williams
Uhuru
Extremis
We're excited to offer the following award winning solutions to our clients:
Mackinac by Steelcase Innovation Award , SILQ by Steelcase Innovation Award , Celliant upholstery line by Designtex Gold Award , Embold by Steelcase Health Gold Award , Ginkgo Ply Lounge by Davis Gold Award , Axyl Chair by Allermuir Innovation Award , BuzziHat by BuzziSpace Silver Award , and Glide by Clarus Glassboards Gold Award.
For more information about our favorite NeoCon trends, email info@dancker.com.