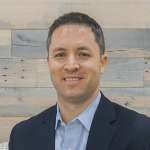 Chris Perruna is one of dancker's newest leaders, having joined the company in April 2018 to oversee the architectural solutions and full modular construction business unit. With extensive experience as an architect, owner's representative, project manager and business lead, Chris maintains a client-focused approach to business development, driven by his passion for the impact of physical space on human experience. In the latest installment of our people and ideas blog series , Chris presents his take on the future of interior modular construction in his own words.
Throughout my career in project management and design, I've often asked myself "how can I do this better, quicker, cleaner?" to challenge myself to stay focused on quality and productivity, and on innovation and learning. Now going on my 5th month with dancker I've found partners who live and work by the same philosophy. We share a singular vision, and even better, we walk the talk and deliver work to our clients with the same high standards.
Our clients seek a partner who can help them simplify the immensely complex details of doing business in the 21st century. They recognize that dancker has a unique ability to deliver consolidated services in one seamless package. In fact, this unique value proposition is one of the primary things that attracted me to the company. Before joining dancker, I would sit next to them in client pitches and I witnessed first-hand dancker's streamlined, single-source approach to client solutions that complements the A&D and GC communities so well. They – which I'm proud to now call "we" – can provide that consolidation that our clients are seeking.
We're seeing consolidation and centralization happen all around us, in many industries, and it's important to pay attention to this trend because we haven't seen the last of it. Consider the closely-watched and widely-recognized impact of Uber and Airbnb on their industries, and that of blockchain technologies like bitcoin. Third parties are being eliminated in each of these examples; experiences are peer to peer, and data (or property, or even currency) is no longer owned by a single entity. There's greater transparency, as well as speed. Technology is making things smarter and faster, and communication and collaboration more direct. Networks are shrinking, in the sense that connections are closer – redundant middle men are increasingly unnecessary.
This parallels the shifts we're seeing with our clients. Companies must operate with speed and precision to succeed in our fast-paced marketplace. Agility is everything, and the physical space within which a company operates has to be equally dynamic. Everything changes so fast, a workspace needs to be efficient and flexible to allow people to work in different places, in different ways. Magnifying this need is the fact that most companies employ people from five different generations, and therefore need to create ways for them to work together. Many companies are redesigning and renovating their spaces in order to meet these standards – to empower collaboration and connection and multiple modes of work. But we can't stop there, focused solely on today's standards. By designing with flexibility and agility in mind, we ensure that a company's workspace can be effective for years to come.
Fortunately, it doesn't have to take years to achieve this. The tools we employ to integrate architectural solutions, furniture, and technology can be implemented rapidly using modular construction, especially in instances where a client is looking for a quick, clean, affordable redesign, and traditional construction might not be the right solution. In many cases the dancker team can overhaul a client's workspace in a matter of days, not months – responding directly to their need to be agile.
Now that I sit within dancker's workspace – our Experience Center – I can put agility to the test. For example, I use a sit-stand desk and actually find myself taking advantage of both positions every day. I use our huddle rooms for phone calls or small meetings, and our conference rooms for larger meetings. Our technology is integrated into every space, so I can quickly connect and work from anywhere in the building. The barriers to productivity and efficiency have been eliminated. And again I feel like I'm walking the talk, because I am living and working every day with the same tools that I recommend to my clients. I can test new ideas and design solutions and explain with first-hand experience how they'll support my clients' own short- and long-term goals. It's all about leveraging today's tools to plan for the future.
There's a lot of talk about robots replacing our jobs, as computers with artificial intelligence increasingly replicate human behaviors – but I have my doubts. We're here to build better environments and experiences, and it takes a human to be thoughtful about that.
– Chris
Chris Perruna
Vice President of Architectural & Modular Construction Solutions
Connect with me on LinkedIn and share your thoughts on #people #culture and #futureofwork