Now more than ever we recognize the need for flexibility in all industries, but especially healthcare. Ships, convention centers, hotels, even tents in parks are being converted into hospitals in order to meet the surging demands of the COVID-19 pandemic.
Rightly so, healthcare providers are focused on the immediate – on how to provide the best care and preserve and protect the health of as many people as possible while operating in crisis mode with limited resources. Their ability to move quickly to create spaces that can accommodate critical cases proves how innovative healthcare leaders are, and how committed they are to delivering good patient care under any circumstance.
So, what happens when today's crisis calms down? Of course, hospitals and healthcare workers always operate with a sense of urgency, recognizing that uncertainty is the industry's norm. But looking ahead optimistically, there will be a day when hotels are filled with vacationers and business travelers again, and parks will just be parks. Yet even when those days return, will things ever truly get back to pre-pandemic "normal?" Perhaps this is an opportunity to rethink those norms and build even greater flexibility into the industry now, so that hospitals and other healthcare providers are even more prepared for the next crisis, and the rest of us are better equipped to help them.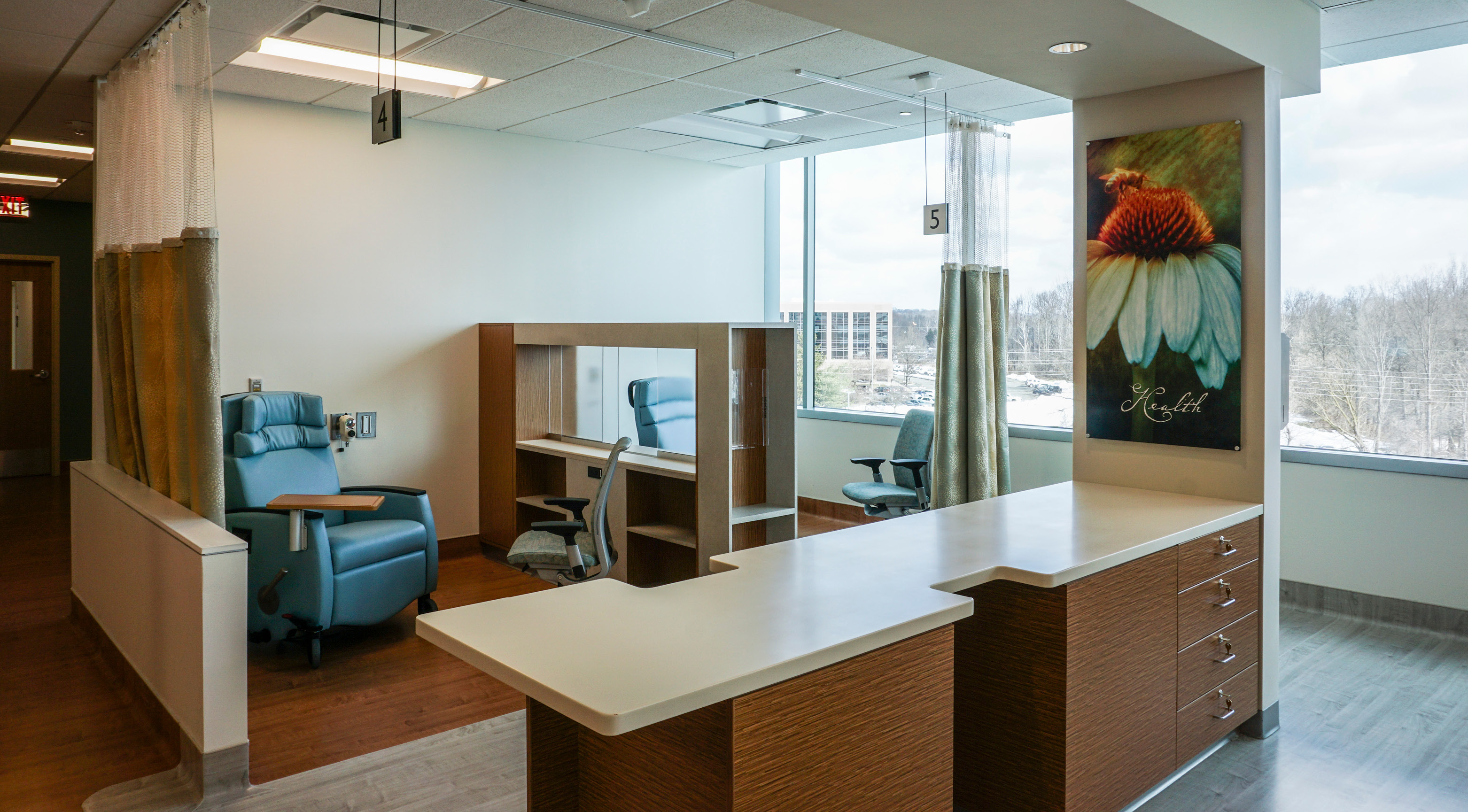 DEFINING FLEXIBILITY
First let's think about what flexibility means in healthcare facilities. Steelcase conducted research in collaboration with the Center for Advanced Design Research and Evaluation (CADRE) and HKS Architects. Their findings are clear: "Leveraging flexibility can help improve experiences and reduce costs." But using the right terminology is important, since flexibility can mean many things. Layered into flexibility are four different aspects of the term:
Versatility: allowing multiple uses
Modifiability: manipulating for different uses
Convertibility: adapting for new uses
Scalability: expanding or contracting
Digging even deeper, it's clear that each stakeholder in the healthcare setting has a different perspective on what flexibility means to them. Mary Lynn Kearns, an account executive at dancker, suggests "this is why it's imperative to include every stakeholder group, and especially caregivers, in the design and decision-making process."
As Steelcase reports, nurse managers want the "ability to adapt, change, adjust, shift function and modify in response to patient care and employee needs." For example, Mary Lynn underscores the importance of modular nursing stations to this group – equipment that can move from one space to the next and flex as needs change, while also keeping all necessary tools within arm's reach. Built-in information sharing tools, such as media:scape, are especially critical at shift changes when patient status must be communicated quickly and clearly between outgoing and incoming staff, or when care teams need to collaborate about patient solutions.
Facility managers, on the other hand, are more spatially focused according to the Steelcase-CADRE-HKS research, and are "concerned with changing technology, standardization, modifiability, surge capacity, utilization/efficiency and multi-use." For this specific user group, spaces and equipment must be cost effective and spatially efficient. Rather than sitting in hospital storage rooms taking up space, equipment should have multiple uses so that it's rarely idle. And as needs increase, the equipment must be standardized so it can be easily multiplied across different spaces or facilities without wasting precious time making new design decisions.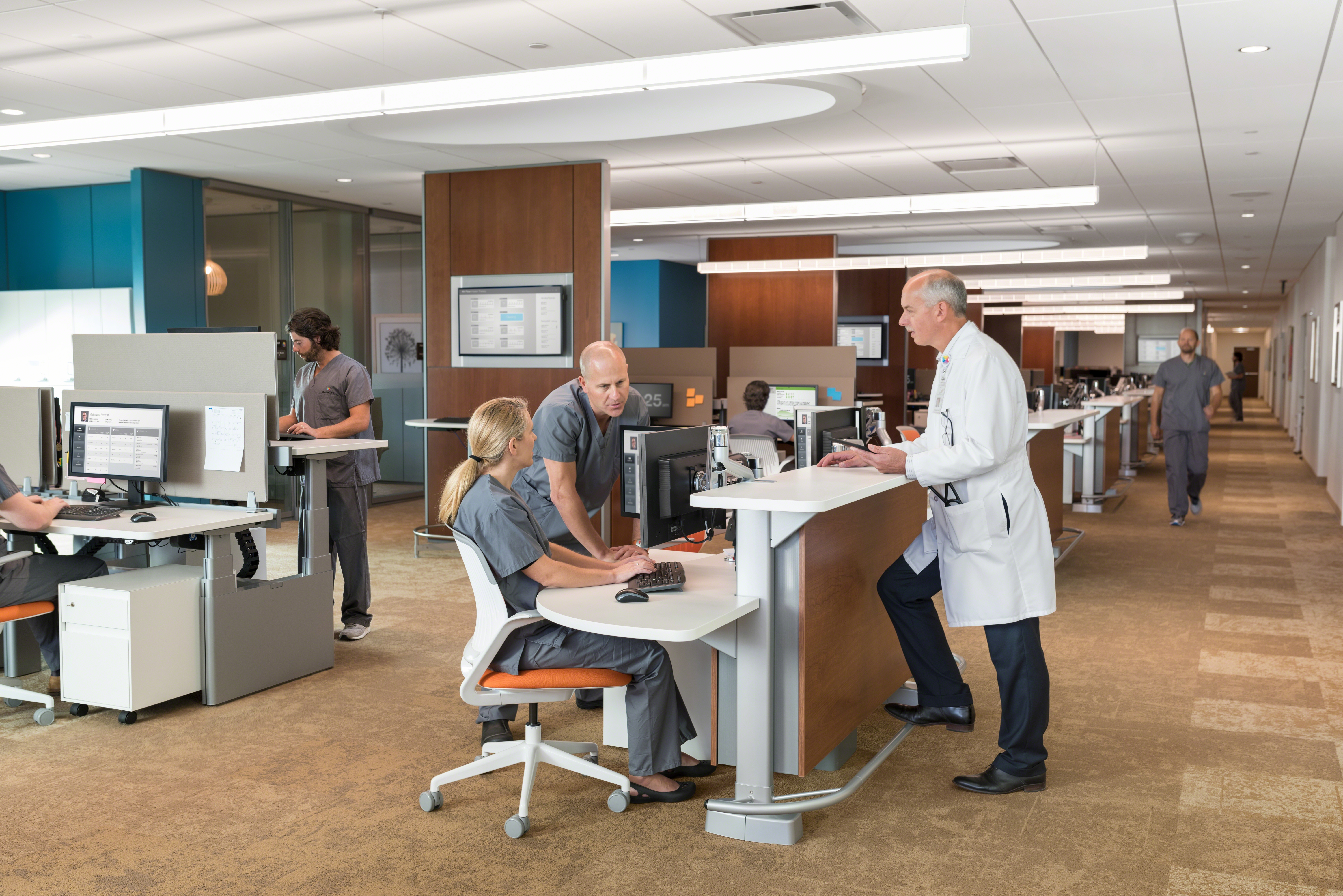 ANTICIPATING WHAT'S NEXT
St. Luke's is a good example of a regional healthcare network that's modernizing its facilities to meet patient needs. Their new Women and Babies Pavilion in includes the latest modular, mobile, and tech-integrated equipment in all patient, staff, and family support spaces. But just as significantly, they've standardized their selections now so that as they continue to expand across the region in the future they can quickly retrofit the spaces they acquire without starting from scratch.
Hackensack Meridian Health is similarly prioritizing flexibility in their new medical office building, which opened earlier this year. Using Steelcase's Convey modular casework, their spaces can handle today's needs but also anticipate what comes next. They can adapt patient spaces, practitioner offices, consultation rooms, and staff lounges with components that are quickly and easily installed and then repurposed later, as patient and staff needs for space and equipment evolve.
BUILDING FOR AGILITY
"Flexibility, especially scalability and modifiability, allows organizations to respond efficiently to emergent needs and delivery modes," as Steelcase, CADRE, and HKS found. And building agile models today is an investment in future capabilities. The majority (72%) of research respondents "felt that flexibility did not necessarily equate to a higher cost. The key was to incorporate flexibility as an operational strategy from the outset." Because healthcare administrators and facility managers recognize the long-term ROI, "on average, healthcare organizations would invest 20% more in [upfront] capital costs in order to achieve flexibility throughout the life of the building."
dancker's vice president of construction solutions and leader of ForBuild, Chris Perruna, wrote in Facilities Net that this modular approach helps healthcare facilities meet changing needs. "Another major benefit of modular construction is that it ensures healthcare environments are operational with little interruption during renovations. Prefab healthcare solutions reduce downtime in contraction because they are custom fit to a facility's interior before arriving."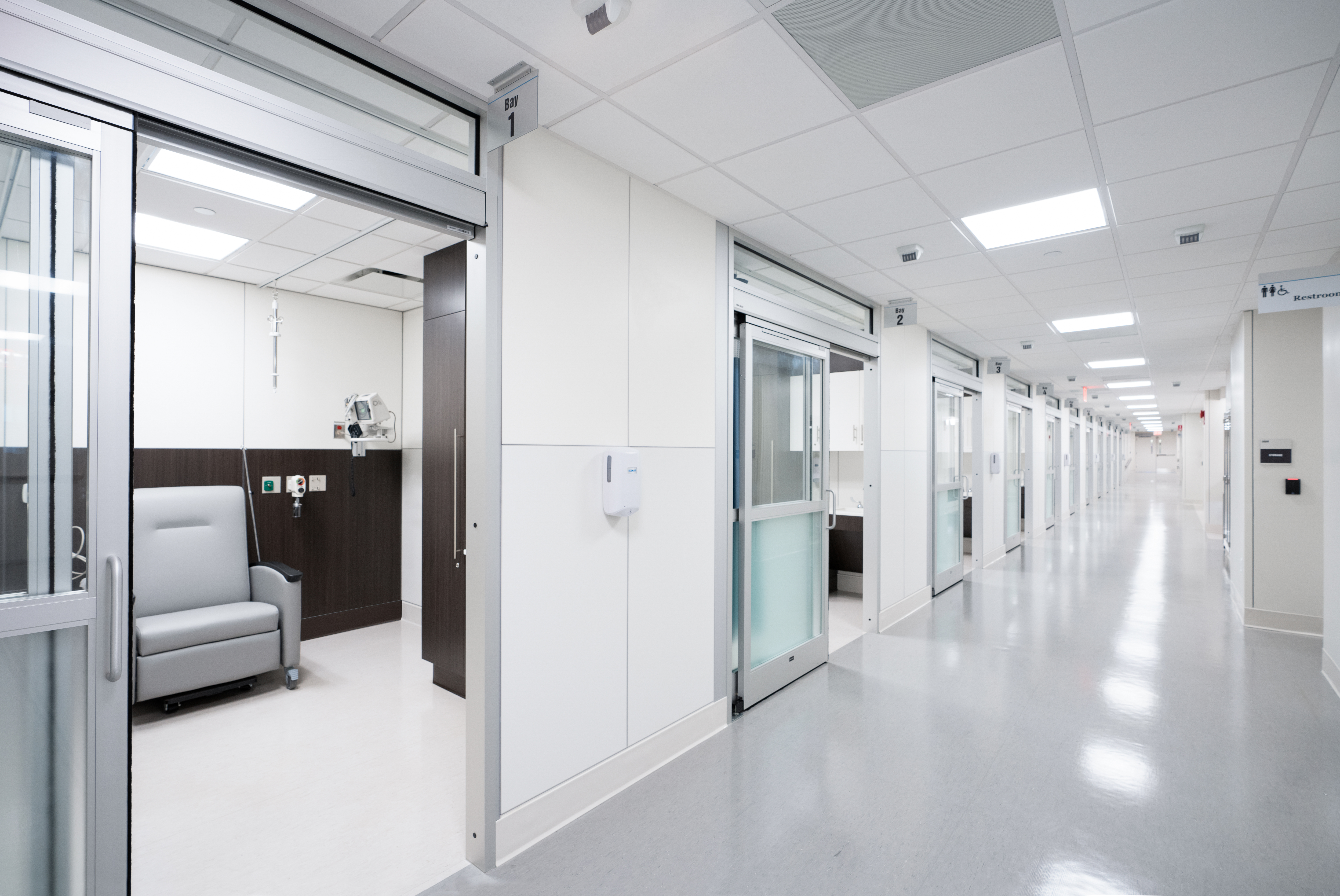 When a leading medical center in New York City needed to renovate their 60-year-old building, shutting down operations was not an option. As an initial test of new ideas, dancker's ForBuild team and DIRTT worked together to renovate one floor of the hospital using a manufactured approach instead of conventional construction. By comparing cost, schedule impact, install sequence and process, the team was able to determine that a DIRTT construction solution would be the best method for this time-sensitive project. Ultimately, the remaining floors of the hospital were renovated following the same processes that had been tested, allowing the hospital to get back to serving midtown Manhattan as quickly as possible.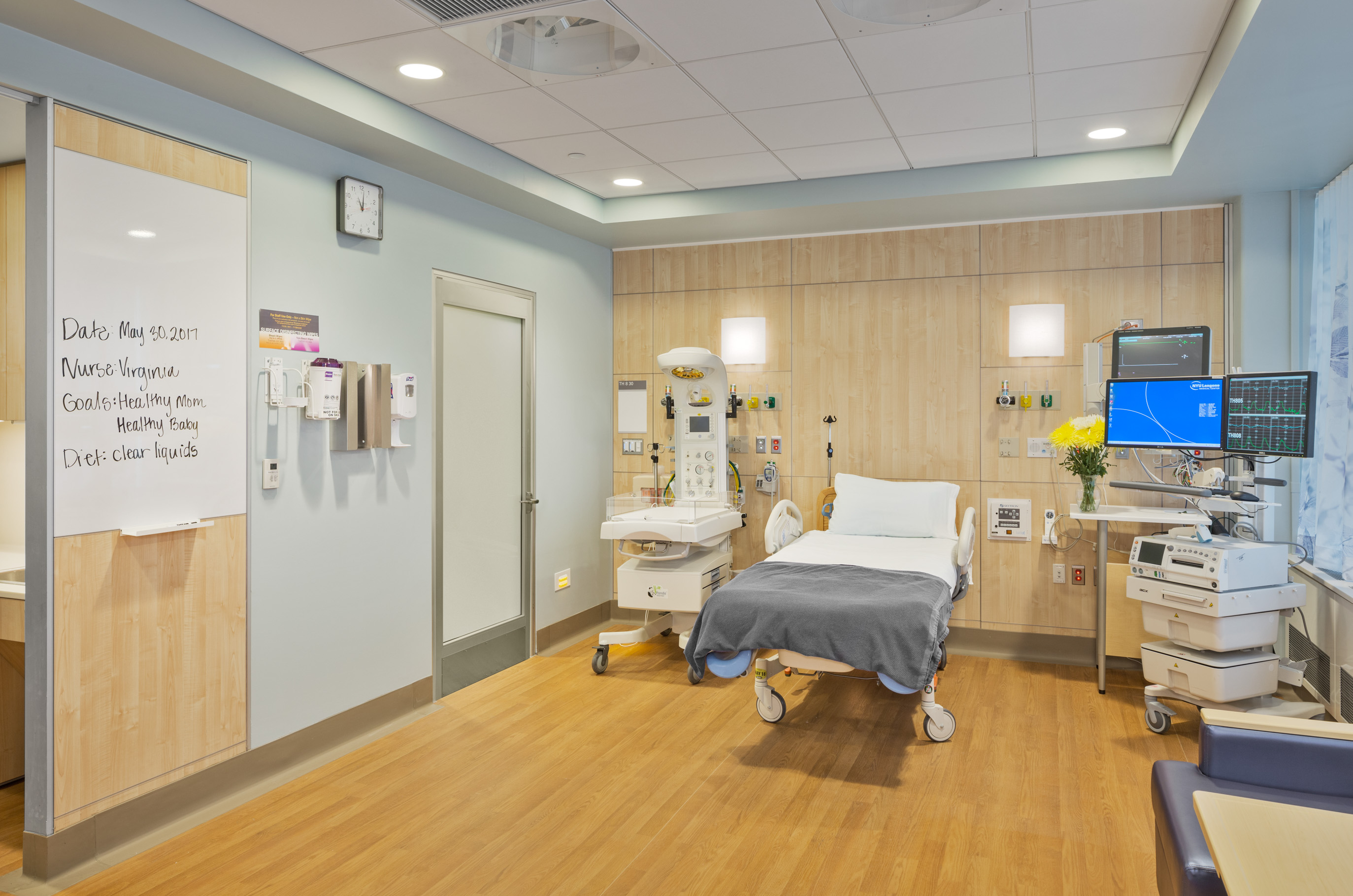 OPERATING WITH URGENCY
Even in extreme conditions such as those the industry is facing today, modular construction facilitates quick solutions. DIRTT, for example, has designed 10'x12' acute care rooms that can be deployed almost anywhere space exists, allowing prefabricated alternate care sites to be put in place as quickly as possible. dancker's Mary Lynn Kearns underscores that "patient care furniture is currently in urgent need, so helping clients move and reallocate equipment that's not currently in use is critical. For example, since most schools and universities – including nurse training and medical schools – are currently closed due to COVID-19, their training equipment is not being used. In times of need, we can help to shift that idle equipment from schools and universities to the hospitals and healthcare facilities that they support."
In times of crisis or calmer periods, asset management tools can be leveraged to track clients' inventory. Dennis Summers, a senior account executive at dancker helps to lead our healthcare logistics division, which moves assets where they're needed most. Dennis writes: "we help the different parts and pieces talk to each other. So, for example, if one facility in Hoboken is preparing to purchase a new piece of equipment – the same one that their sister facility in Manhattan has recently sent to storage – we can connect the dots and arrange for the cost-saving transfer," whether the needs are immediate due to a patient surge, or more calculated as part of a planned expansion or renovation. In either case, Dennis continues, "there's something truly unique about the healthcare industry. It's 24/7, and human lives really are at stake. We take that responsibility very seriously and are passionate about going above and beyond." At times like these, we're especially grateful that so many other providers feel the same way.
We're here to help – whether it's pulling healthcare resources together quickly to aid in the fight against COVID-19, or setting healthcare systems up with solutions to ensure flexibility in the future – contact us so we can work together.