While everyone thinks of summer as time away from school, it's a busy period when renovating or updating classrooms, learning commons, and other education spaces. Here is our suggested timeline and process to ensure your project will be delivered and installed by the end of the summer, right in time for the new school year to begin!
8 Steps to Simplify Your School Renovation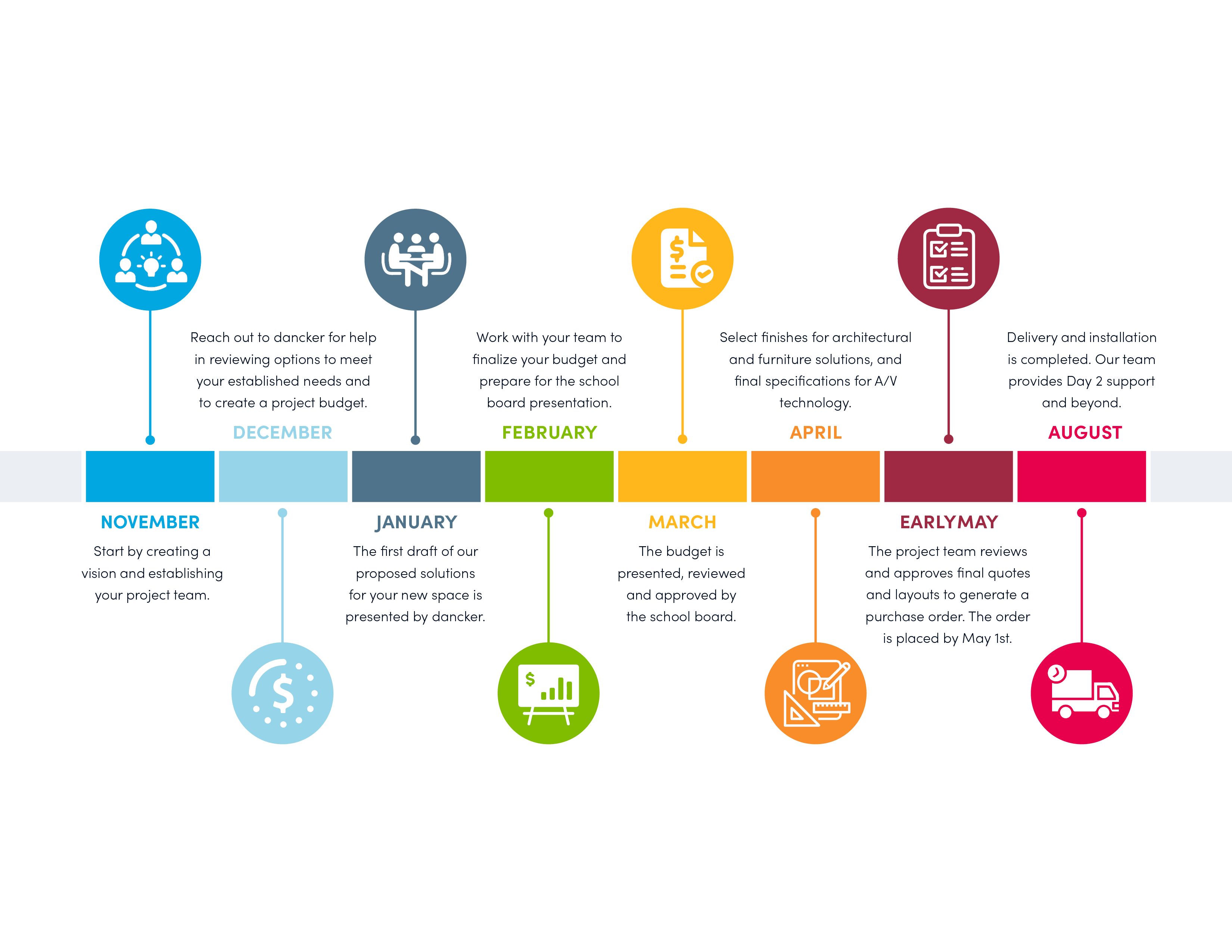 November
Start by creating a vision and establishing your project team.
This team usually includes the Superintendent, District Business Manager, District Facilities Manager, and the Principal. Involving key players from the start helps projects go as smoothly as possible.
Your team should work together to create a vision for the new environment. In addition to keeping an eye on trends in education, there are many critical elements to consider. dancker can help you define and answer questions such as:
What strategies are our instructors using to teach their students in this space? How can the new space function to support their approach?
What is the role of technology in this space? What do we need to include to integrate technology needs?
What storage components do we need to be considered?
What materials, colors and imaging opportunities can be added to the space to support campus identity and student engagement goals?
To help you with developing a vision, our team can provide you thought starters, research on active learning spaces and examples of successfully installed projects from our portfolio.
December
Reach out to dancker for help in reviewing options to meet your established needs and to create a project budget.
First and foremost, we'll work to understand your vision for the project and all identified needs. We'll review your target budget and work together to find solutions to meet your goals within this budget. Other information we'll need is the building's floor plans and an understanding of which spaces should be prioritized.
With our extensive product knowledge and manufacturer partnerships, we can share ideas and alternate options for your team to consider. Together, we'll make sure budget constraints don't limit the creation of a great space that will work for your staff and students alike.
January
The first draft of our proposed solutions for your new space is presented by dancker.
dancker presents a first draft of the new layout for your space that includes ideas how you can transform the space and incorporate technology, furniture and architectural solutions to meet your needs. dancker will present a high-level budget number to determine what will fit into your fiscal budget.
February
We work with you to finalize your budget and prepare for the school board presentation.
We can provide renderings and a look book of proposed solutions to help the school board and other decision makers visualize your new space.
Together, we will finalize your budget so you can update your presentation for the school board.
March
The budget is presented, reviewed and approved by the school board.
Your project team presents their final budget to the school board along with visuals of new space. Once the budget is approved, you can move on to the next step!
April
Select finishes for architectural and furniture solutions, and final specifications for A/V technology.
Together, we will review the approved product selection, quantities required, and accessories to be included in the final quote. At this time, all finish selections for furniture and architectural solutions and specifications for A/V technology are finalized. Once all the details are confirmed, dancker works on developing an order-ready quote for your school's project.
When it's time to choose finishes, dancker can go to your school, or your team can come to our Experience Center and work in our resource library to pick the finishes that will work within your space and inspire and engage your students to do their best. Ideally, 2-3 people from the committee should be participating in the finish selection process.
Early May
The project team reviews and approves final quotes and layouts to generate a purchase order. The order is placed by May 1st.
dancker provides an order-ready quote which includes detailed specifications of furniture, architectural and technology solutions selected along with final layouts of the new space for your project team to review. Once approved, your team signs off and provides the signed approval to the Business Administrator. The Business Administrator generates the PO. dancker places the order(s).
Our dancker education representative can help the Business Administrator navigate through the cooperative purchasing agreement process.
The Purchase Order and the signed quote approval is submitted back to us, and dancker places the order for all your furniture and technology needs.
Know that even if the construction of your new space isn't finished, you can place an order to 'hold your spot in line' to guarantee end-of-summer delivery and installation.
August
Delivery and installation is completed. Our team provides Day 2 support and beyond. Enjoy your new space!
After successful delivery and installation of your project by our experienced team, we will act as a liaison between your school and the manufacturer in support of any Day Two needs. Throughout our partnership, we will continue to advise you on best practices to ensure your new education space is working for your students and teachers, ultimately promoting student engagement and success.
Reach out to your dancker Education Representative to start discussions for your new project today!
Want to connect with dancker Education Specialist?
You can join our Education Newsletter mailing for the latest resources, news and special events in education and learning spaces.