---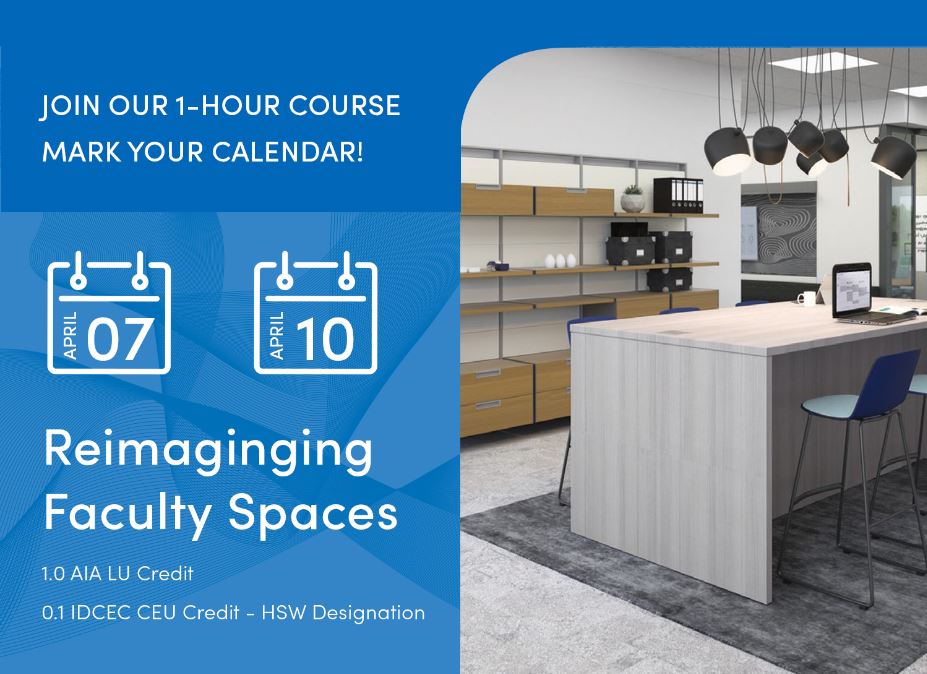 Reimagining Faculty Spaces
1.0 AIA LU Credit
0.1 IDCEC CEU Credit – HSW Designation
Course Description:
Faced with a rapidly changing landscape, workplaces are rethinking how work happens and what the office looks like. Similarly, an evolution is taking place in the field of higher education as technology progresses and expectations change—affecting faculty and staff.
Work styles, modes of thinking and myriad activities require diverse and more thoughtfully designed spaces that support faculty well-being, satisfaction and success. From areas to concentrate and create, collaborate and rejuvenate, faculty spaces are places where they ruminate and research, express their identity, make connections and host students and guests. It's time to reimagine faculty spaces.
REGISTER HERE FOR TUES. 4/7/20 @ 10 AM
REGISTER HERE FOR FRI. 4/10/20 @ 10 AM
---

Library and Learning Commons
1.0 AIA LU Credit
0.1 IDCEC CEU Credit – HSW designation
Course Description
Today, libraries are an essential space within schools where students can access knowledge, collaborate and engage with their community.
As technology and pedagogies evolve, libraries and learning commons must adapt to the shifting needs and behaviors of students. But the library's transformation to a multidimensional space is not always easy.
When designed intentionally, a library can support the entire spectrum of student needs, behaviors and rhythms: from collaboration and group work to private study, and from analog resources to digital technologies and content-creation tools.
REGISTER HERE FOR TUES. 4/14/20 @ 10 AM
REGISTER HERE FOR FRI. 4/17/20 @ 10 AM
---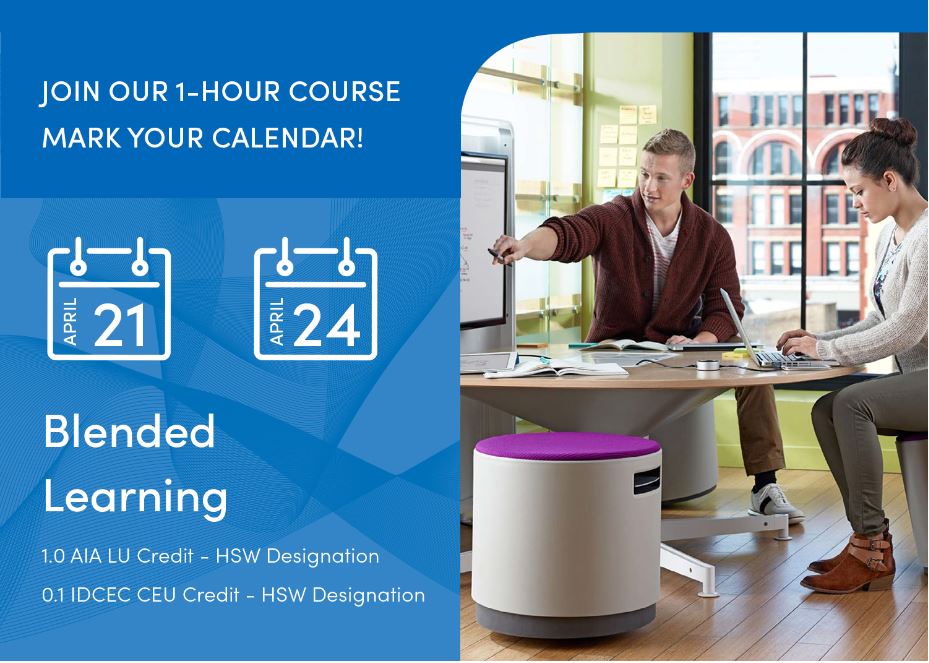 Blended Learning
1.0 AIA LU Credit – HSW Designation
0.1 IDCEC CEU Credit – HSW Designation
Course Description
Blended learning combines online and face-to-face learning and provides students with the higher-order thinking skills and collaborative habits that are essential in the 21st century. Steelcase researchers have discovered six key insights to help educational institutions respond to the technology revolution that is underway in learning:
1. Person-to-person connection is essential.
2. Technology supports person-to-person connection and higher-level thinking.
3. Technology integration mandates flexibility.
4. Spatial boundaries are loosening.
5. Space must be designed to capture and stream information.
6. Pencils and pixels will coexist.
Now more than ever, it's important to explore opportunities to create environments that make this approach an engaging experience for students and instructors.
REGISTER HERE FOR TUES. 4/21/20 @ 10 AM