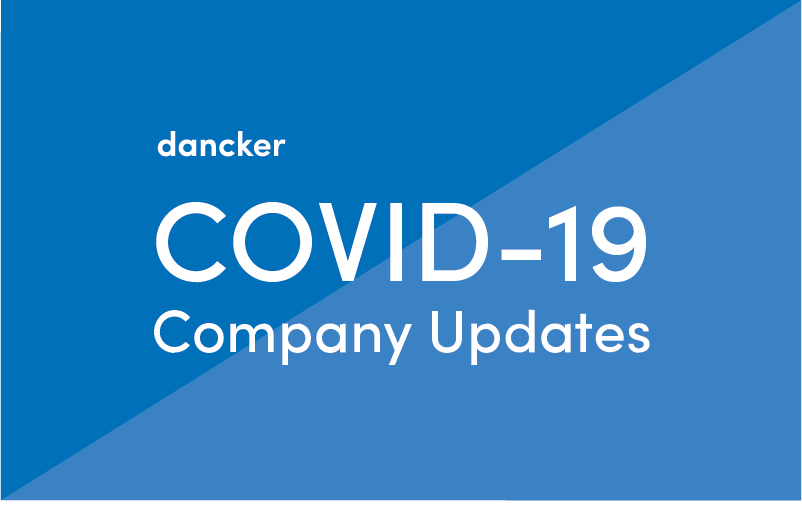 Updates from dancker Executive Leadership
dancker is closely monitoring the latest Coronavirus (COVID-19) developments as they affect our rapidly changing way of doing business. Listed below are important updates to be aware of as our client or partner.
Communication is key, and we will share critical messages through email as well as live updates via this webpage. Please visit here often for business status updates, and sign-up below to ensure you receive the latest communications directly to your inbox during these ever-changing times. 
---
March 25th, 2020 – Business Continuity Update
To our Valued Customers and Partners,
As we continue to navigate uncharted waters in response to containing the COVID-19 pandemic, we will communicate all information pertaining to your projects as quickly as we can.
Here's what we know as of this morning:
STEELCASE GRAND RAPIDS + MICHIGAN'S SHELTER IN PLACE EXECUTIVE ORDER:
The Governor of Michigan has put a "shelter in place" order on the state causing Steelcase's Grand Rapids Operations to pause for all non-essential business as of 12:01 AM on March 24, 2020.
LEARN MORE about what is considered an essential business by the State of Michigan, which is different than our region, however, affects our local projects.
We have been in constant communication with senior leaders at Steelcase to understand how this mandate will impact your projects.  Below is what you can expect:
For Current Orders:
All product scheduled for production in the next 30 days will be placed on hold.
For New Orders:
Orders placed on Tuesday, March 24 and after will be registered, but put on hold until further notice. We do not have access to an estimated production date at this time.
When production resumes, orders will be prioritized in the sequence in which they were received so we will continue to place orders to ensure your project does not face any further delays due to production backup.
For Exempt "Essential" Clients:
Our clients who provide healthcare, other life-sustaining services, or who are critical in resolving this pandemic crisis are considered essential and may be exempt. This includes:

Any order for hospitals and healthcare organizations
Orders to support local, state and federal government COVID-19 response
Orders enabling pharmaceutical and medical device companies to accelerate their COVID-19 response
Orders enabling food and food distribution companies to ramp-up their capacity to ensure food safety during the COVID-19 crisis
Orders enabling other critical infrastructure companies to respond to the COVID-19 crisis, this could include health insurance, utilities, construction, IT or banking companies for example, but only as it relates to their COVID-19 response
Orders to support local and national security (e.g., police, military)
Orders helping companies support their employees working from home

If you are deemed an essential business, we must receive your exempt letter as soon as possible in order to proceed. Please communicate with your dancker account executive directly.
Because of the mass disruption of this COVID-19-related executive order, Steelcase is mandating a 65% deposit from our clients on these "essential" orders to move forward.
STATUS OF DANCKER'S OPERATIONS:
Our Sales and Sales Support teams remain fully operational and are seamlessly working from home in accordance to local mandates.
Our warehouse and logistical facilities remain open and fully operational as we provide support to multiple health systems and other life-sustaining businesses in our regions.
AVAILABLE STORAGE:
Because many of our client sites will be closed for delivery during this uncertain period, we want to help you in any way we can. To give clients the ability to store furniture until we can deliver the products, we are offering our clients 30 days of free furniture storage before begin charging any storage fees.
In addition, we have consolidated products in our warehouses to make room to support our many clients who cannot accept deliveries at this time. We can store other products including construction materials, office supplies, etc.
Please reach out to your account executive or send an email to: info@dancker.com for us to connect on your storage needs.
SHORT-TERM ALTERNATIVES FOR FURNITURE SOLUTIONS:
We are one of the largest Steelcase dealers in the country and are very proud of our Premier Partner status. We also support a long list of other manufacturers, many of whom remain fully operational. We are receiving daily updates from our manufacturer partners and can help you explore options available for short-term solutions. This includes refurbished products. Reach out to your account executive to review needs and how we might be of assistance.
We will continue to keep you up to date as information becomes available to us. You can also visit for updates at your convenience.
We remain fully committed to supporting our clients and design partners, and are ready to answer any questions and work with you during these unprecedented and challenging times.
Thank you and stay healthy!
dancker Leadership Team
---
March 22nd, 2020 – Business Continuity Update
Our Business Continuity Update
In response to multiple states' decision to shut down non-essential businesses in a continued attempt to control the spread of the Coronavirus, I wanted to provide an update on our efforts. 
We are committed to putting the well-being of our people, clients, and communities first. As the evolving situation with the Coronavirus continues to expand, we are taking the necessary steps to protect those that we value most. In the effort to support physical distancing to minimize the spread of COVID-19, we have decided to make some short-term changes. 
1. Effective Monday, March 16th, our Experience Centers in New Jersey, Washington D.C., and Baltimore, Maryland were temporarily vacated and will remain vacated until further notice.  
All employees have been equipped with the technology and tools required to continue to seamlessly work remotely in service of our clients. We are connected through our cloud-based business systems, VoIP and the Zoom video conferencing platform. 
Rest assured that our business and our staff are equipped to remain fully operational during this crisis. 
2. Essential field personnel and our Operations teams working in our warehouses and logistics facilities, as well as on-site at client locations deemed to be essential businesses, continue to follow CDC guidelines and local government executive orders as they travel between our facilities and job sites.  
We are engaged by multiple health systems and other industries deemed as essential and life-sustaining organizations to provide essential services related to their COVID-19 response. We continue to provide warehousing and logistics services to assist in the build out and furnishing of emergency response centers, healthcare facilities, and other essential projects. 
At this time, we shall be considered an essential business under the Governors' Executive Orders in order to continue to render our services in support of our regional health systems and other deemed essential business clients. 
We are fortunate that our teams have the tools, technology and resources necessary to continue to provide the same level of customer service for your project requirements during this rapidly changing time. We are grateful for our dedicated Operations team who is committed to delivering and installing projects to keep critical projects moving forward during these challenging times. 
Continue to connect with us via phone, video conference and across all of our social platforms!

---
March 10th, 2020 – Business Continuity Update
Business Continuity Update Regarding COVID-19
One of the side effects of living and working in an increasingly global economy is living on a planet where what affects one may quickly affect many. Considering all the recent communication about the Coronavirus and the growing potential for business disruption, I wanted to provide an update on our efforts to ensure our business continuity in support of you.
At dancker, we are working closely with many of our manufacturer partners and engaging in deeper conversations about your projects and related product needs. Specifically, we are reviewing order trends and identifying ways to gain greater visibility into possible vulnerabilities in the supply chains for our various products. Additionally, our teams are working closely with a host of local suppliers and fabricators (many of whom we have deep relationships with) to fill in any gaps in product solutions that may occur, although unlikely, as a result of disruption activity surrounding the virus.
As I'm sure you are aware, dancker operates its business from multiple locations in multiple markets across a variety of locations throughout the Northeast and Mid-Atlantic states. Our multiple locations and diverse geography create a natural redundancy of both people and processes across our entire organization. Our technology infrastructure has built-in redundancy across our end-to-end network, including a remote standby disaster recovery site established from our experiences in a post 9/11 environment. With our cloud-based business systems, recent conversion to VoIP and the Zoom video conferencing platform, we've enabled seamless communication between all employees regardless of where they are physically located. In fact, our growing remote workforce now represents about 15% of our total workforce. We've also equipped all our employees with laptops and connected mobile devices loaded with our software platforms and business system tools. In the event that any of us (or all of us) are forced to (or choose to) work remotely, our business and our staff is equipped to remain fully operational. In the event a dancker employee or subcontractor is required to perform their work on-site at one of your facilities, we will fully cooperate with the guidance and protocols you provide to your employees, contractors or partners.
We believe, that at times like these, how we work to solve problems, both seen and unforeseen, is why you've chosen to put your trust in dancker as your partner. We don't take that responsibility lightly. Hopefully, armed with the right investments in infrastructure and remote technology, we can provide you some reassurance that we are as prepared as we can be. We remain ready to assist you and your teams in all areas of our expertise.
Please be safe, take the necessary precautions, stay informed on new developments and follow the guidance of those charged with our health and safety. And once again, thank you for putting your trust in us.

Steven Lang
President | CEO
---
Note: It is our responsibility to protect your privacy and we guarantee that your data will be completely confidential. Read our Privacy Policy