The word 'wellness' might conjure mental images of meditation sessions, bike commutes, or bowls of whole grains and greens. But there's more to this trend – the Global Wellness Institute estimates that the wellness industry is worth $4.2 trillion, and growing rapidly. Many people of all demographics are motivated to take their health and wellbeing into their own hands, and increasingly seek employers who'll support them in this mission. Providing a desk, computer, phone and a paycheck is no longer enough to keep most employees happy. Their health, and that of your overall organization depends on much more.
Wellness has many dimensions: physical, emotional, financial, spiritual, intellectual, social, environmental, and occupational. Each is intertwined with the other. For example, if we're feeling financial stress, that's sure to cause emotional and physical stress as well. Our jobs are often a major source of anxiety and strain, impacting many dimensions of our overall wellness. After all, we spend (at least) one-third of our time at work, and even more time commuting or checking email after hours. If a job is causing too much stress, too little fulfillment, or if every small task simply feels like an uphill battle, an employee is very likely to leave – taking knowledge and experience with him.
From the employer's perspective, people are an organization's most valuable asset, and turnover is time-consuming and expensive. So the organization that takes steps to support its employees' wellness by investing in strategies that reduce stress and increase happiness will see a dramatic rise in employee engagement, a reduction in turnover, and a positive return on investment. As dancker's Don Kolterjahn suggests, "as workforce demographics shift, and younger employees become a larger percentage of the workforce, recruitment and retention are game-changers. If you don't differentiate within your space and consider the integration of technology, light, and wellbeing, then you're not using your space effectively to engage employees."
Even small changes to the physical workplace, paired with simple wellness strategies, can have a big impact.
Flexibility + Autonomy
With increased interest in personal health and wellbeing, many workers seek a sense of balance between their personal and professional lives. For some this might mean working from home once a week in order to reclaim time that would otherwise be lost to the commute. Or it may mean getting up from the desk and working in a café space to get a change of scenery and to socialize with colleagues. Creating places within the office for mobile workers to plug in and connect quickly, with seamless access to programs and files, provides a sense of autonomy. Employees make their own choices about when and how they work and therefore gain a sense of responsibility for the quality of their work. Motivation soars.
Similarly, spaces that are integrated with technology and furnishings that can adapt to different ways of working – individual focus work, small group huddles, or larger team meetings – also help employees work the way they're most comfortable and productive. The space itself becomes a living thing that flexes and moves with the people who occupy it, ensuring that the workspace remains relevant and productive as employees' work styles evolve over time.
Access to Nature + Neighborhood
Proximity to natural elements in the office, and amenities that promote good health outside the office are additional drivers of employee engagement. Research from Interface suggests that "employees who work in environments with natural elements report a 15% higher level of well-being, are 6% more productive and 15% more creative overall." On the surface these numbers may seem small, but when you do to the math to consider a 6% increase in productivity for a million-dollar company, that $60,000 ROI is significant.
"Employees who work in environments with natural elements report a 15% higher level of well-being, are 6% more productive and 15% more creative overall."
Inside the office, a space can be transformed by the addition of natural design elements like wood, stone, or living plants (your natural air filters). Updates to the lighting can be even more powerful. When larger scale renovations are possible, moving enclosed spaces to the building's core allows natural light from perimeter windows to flow freely through an open office. And when walls or partitions are required, translucent ones enable that natural light to extend further. Windows that open, or doors that provide access to balconies, patios, or similar outdoor workspaces enable employees to breathe fresh air through the workday too – a well-known stress reliever.
Locating your office in a healthy neighborhood is equally important. Both current and future employees will evaluate qualities like walkability, or convenient access to diverse food and beverage, health and fitness amenities, and multiple transportation options. Each of these factors play a big role in recruitment and retention. dancker's Director of Design, Darlene Burns explains: "real estate optimization is a hot topic, and yet it's often discussed in the context of reducing square footage or doing more with less space. Cost-saving strategies are smart, but this conversation needs to go deeper to consider the people who occupy a space. Investing in a well-located, healthy building will pay dividends for your organization." With wellness as a core strategy, your people are happier and more productive, making your real estate productive too."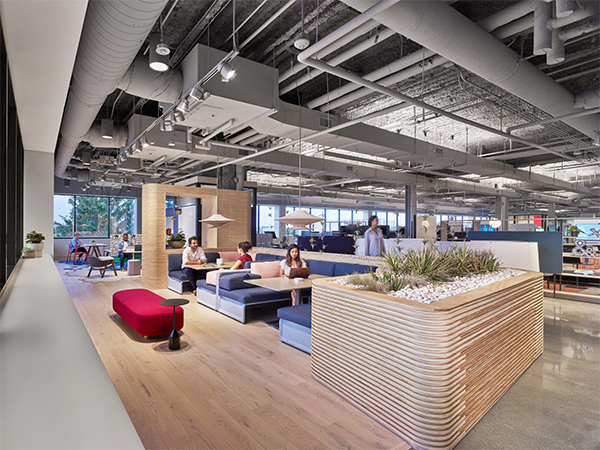 Policies + Programs
With a workspace that promotes wellbeing, additional policies and programs can enhance your employee engagement even further – putting your office to even better use. Some companies will offer free annual flu shots or on-site health screenings. Others will bring in outside experts to lead afternoon yoga classes, or lunch-time financial planning seminars within the company conference room. Policies like tuition assistance, mobile work, or mental health days that each help to reduce employees' stress are becoming more common as well.
A key part of engaging employees, though, is asking what matters to them and then listening (genuinely listening) to their responses, regardless of their role or level within the organization. Maybe you'll discover that a company-wide book club wouldn't resonate, while stocking the break room with healthy snacks or catering meetings with salads rather than pizza would be popular.
There are many dimensions of wellness, and it's important to take a holistic approach that addresses each of them carefully and thoughtfully. Your savvy employees will see right through strategies that are superficial rather than genuinely supportive of their health and wellbeing. A wellness strategy can be implemented in phases. After all, slow and steady wins the race. But it must be authentically focused on your most valuable asset – your people – to be successful. Your company's health and wellbeing depend on it.
What is your company doing well that shows they value employee health? Share your story and join the conversation here on LinkedIn