The major role that technology plays within every organization is not new. We've been talking about technology's impact for years now, and its growing importance is a big reason why we've integrated our own AV and IT services. But what value does technology truly add?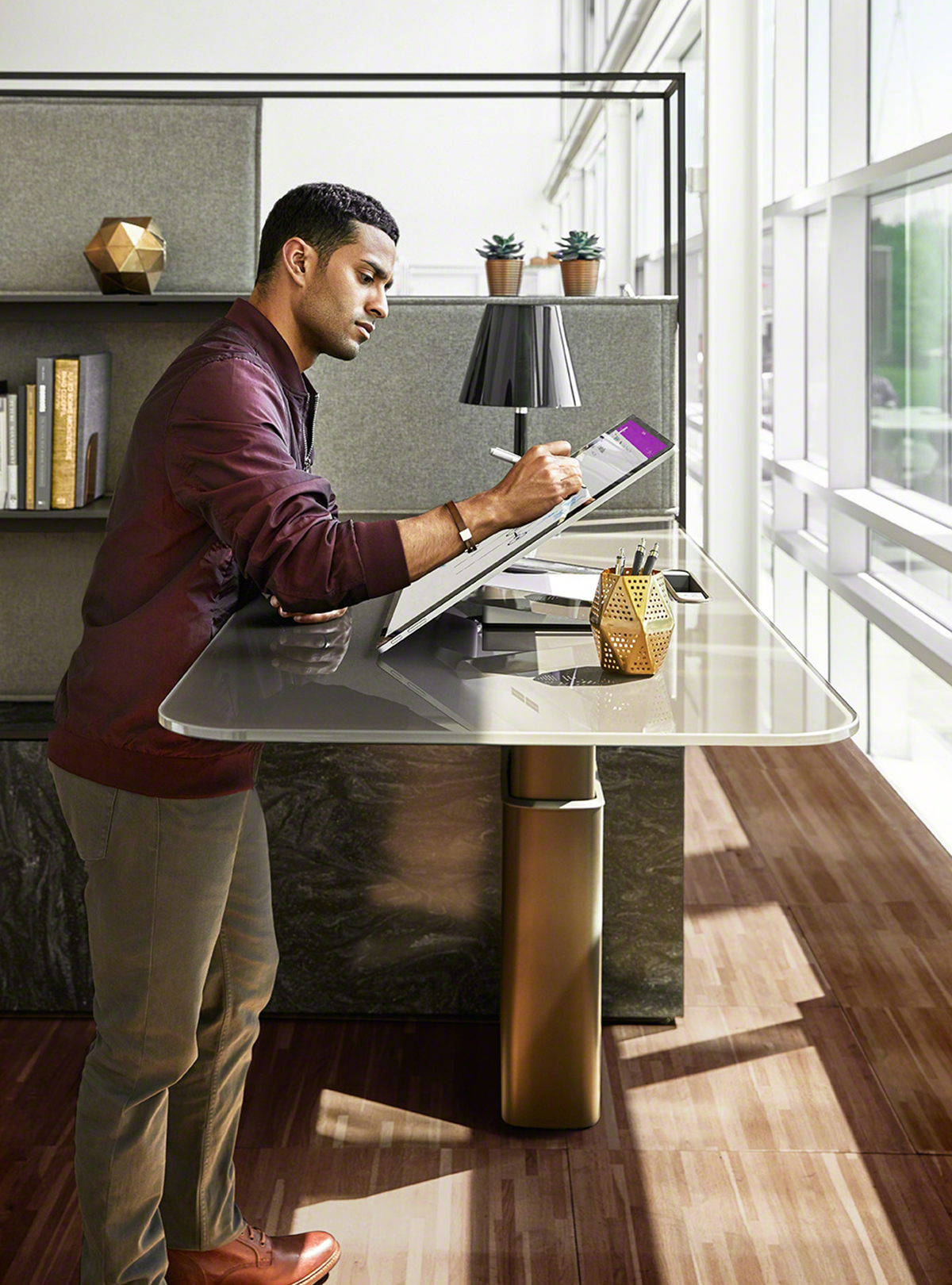 Our latest leadership blog post explores the advantages that technology offers to designers, clients, and to the people who ultimately use the physical place that's being designed. It's not about making things more digital and robotic, it's about easing and enriching the human experience. 
It wasn't long ago that conversations with clients began by measuring walls and floor plans, counting the employees, students or patients involved, or by quantifying project requirements more generally. But as we move quickly toward 2019, technology now leads the conversation. What types of work or learning are people doing? What tools or processes are they currently using? With whom do they collaborate, both within and beyond your building? These and other similar questions help us and our clients understand the who, what, where, when, how, and (perhaps most importantly) the why of a project. They enable us to recommend specific tools to support the work being done, and to recommend furniture and architectural elements that support the tools. We then ensure that these elements are all seamlessly integrated to support the people. We make their tasks easier and more enjoyable to accomplish, and their overall experience better – ultimately driving success for the client.
Live Design
Technology must be involved from the start of a project for it to be successful. In fact, virtual reality and other visualization tools are making it easier for a project to come to life long before it's built. The design process itself is live and collaborative. Even the earliest meetings with clients can include 3D renderings of a space, showing typical configurations, and allowing the client to work with the designer to make adjustments on the spot. Many of these meetings wrap up with plans that are nearly complete, and with clients who are more engaged and excited because the technology empowers their active participation.
This live collaboration speeds up the design process, too. There are many benefits to meeting in person, but collaboration technology like Skype means that we can work with clients and partners who are located anywhere around the world, saving the time and expense of travel. And because design elements like furniture or modular walls can be visualized – and modified – within very realistic illustrations, a project's hard costs are minimized too. We no longer have to wait for a space to be built to test how walls and furniture will work within it, cutting back on expensive customizations or reorders.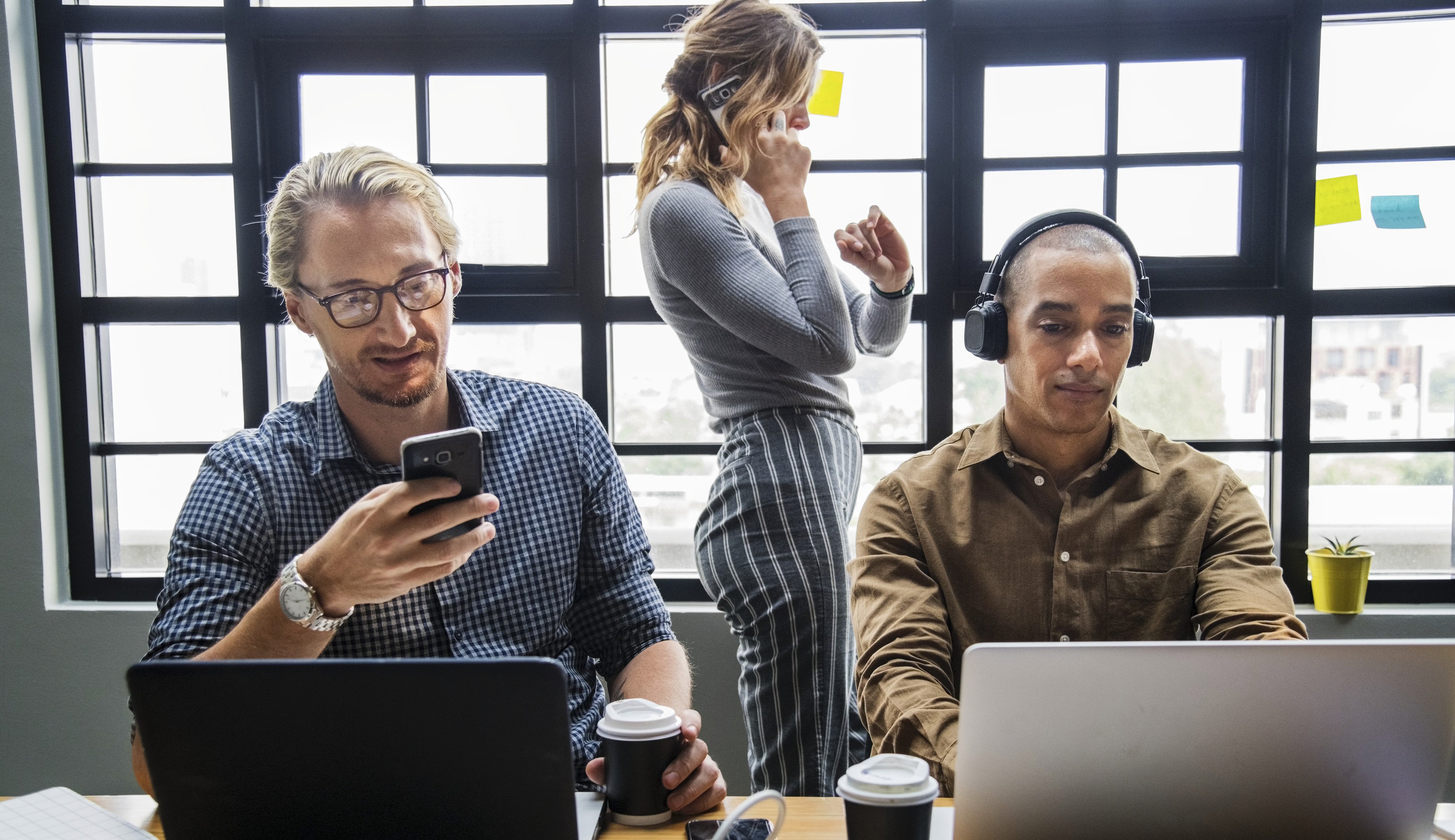 Tech-Powered Tools
Depending on the type of organization and the work its people perform, technology can play a variety of roles, but the common theme is that it must be integrated. Systems can no longer stand alone to be productive, and computers, monitors or other AV equipment can no longer be afterthoughts to be effective. They're all part of those early designs. Consider a corporate workplace, many of which now employ a diverse group of workers from many cultural, generational, and professional backgrounds. Each individual might work differently from his or her colleagues, but they all still have to work together. Technology levels the playing field and empowers this collaboration.. When the entire workplace is wired to allow connection from anywhere, people can move from space to space and work seamlessly. They work where and how they're most comfortable and most productive. Specific tools like Microsoft Hub, developed in partnership with Steelcase, for example, bring together place and technology to help people generate ideas and move them forward. Content flows seamlessly through touch-screens, wireless projections, and virtual connections with off-site participants. Distractions and disruptions are minimized, and privacy and security are enhanced, all using smart technologies that are designed to accelerate creativity and facilitate workflow.
In the classroom setting, the results are similar. Technology allows students to connect in new and different ways, and to be more engaged in the learning experience. The Newmark School in Scotch Plains, New Jersey, is one example of a 21st century facility that leverages technology to make learning more enjoyable and enriching. With its population of special needs students, Newmark needed to create a more active learning environment where students could participate in relaxed collaboration with teachers and classmates. Technology integrated with mobile furniture was one part of the solution, and, as this video suggests, the results have been life-changing for the students and their families.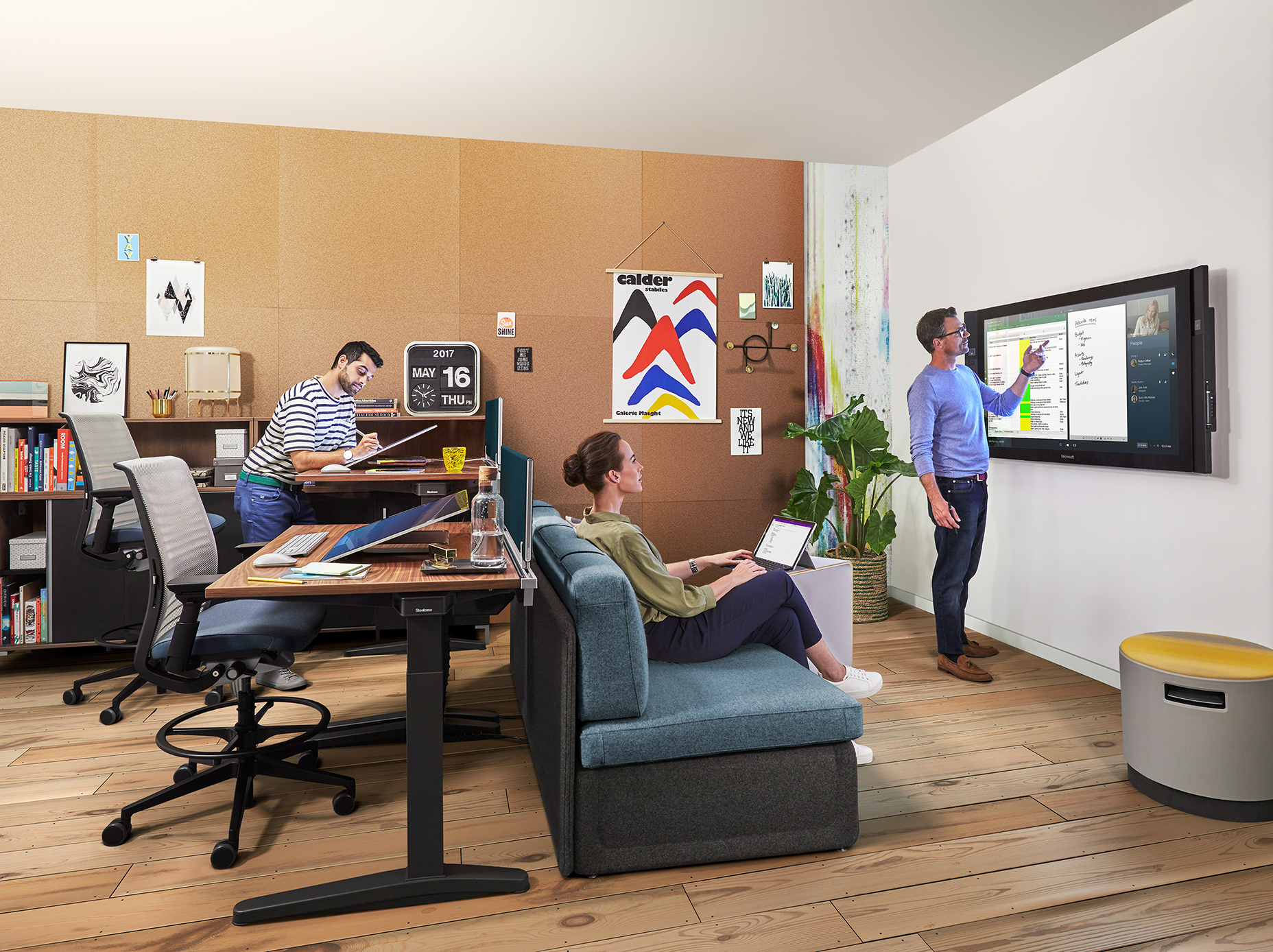 Research shows only 54% of office space is used throughout the day. Is the other 46% going to waste?
Data-Driven Decisions
Technology empowers better, stronger connections, and also provides important insights into how an organization is performing. Real estate and people are an organization's most expensive and valuable assets, so it's important to understand how physical space supports the people who occupy it and contributes to the bottom line. Steelcase research suggests that, on average, only 54% of office space is used throughout the day. Is the other 46% going to waste? Sensor-based technologies like Workplace Advisor, for example, measure when and how a space is being used by anonymously tracking activity. This provides real data to drive decisions. And when paired with modular systems and flexible furniture, adjustments can be made quickly to improve productivity of both people and space.
"Investing where it matters most – in your people – changes the conversation from reducing rent to increasing employee productivity,"
As this video from JLL reports, "a better office can have a significant impact on employee productivity." Their overall health and happiness are boosted as well, which improves recruitment and retention. Economy matters, but "investing where it matters most – in your people – changes the conversation from reducing rent to increasing employee productivity," and the net gain is overwhelmingly positive.
Empowering Agility
Technology plays a leading role in every project from start to finish. But it also ensures that that the project is never truly finite. Today's business climate requires that organizations of every type must be flexible if they want to remain relevant. As the saying goes, change is the only constant. By integrating technology into the design process and into the space itself, an organization is armed with more intelligent insights as well as more productive tools. They can adapt processes, add new tools, or even adjust physical spaces when data suggests that change is warranted. With a solid tech-driven infrastructure, they can also layer in new technologies more seamlessly as software and hardware capabilities evolve.
We're proud of the fact that dancker prioritizes technology, as the world around us becomes more digital and virtual. This may suggest that we're all going to turn into avatars or be replaced by robots. But in truth we believe technology holds the power to improve human connections and make all of us better people. We get there by ensuring that technology is working to support us, rather than the other way around. It's exciting to be at the forefront.
Is your office ready for a technology transformation? Learn more about our Technology Services supporting how we work, learn, and collaborate. 
---
Join the technology conversation with us on LinkedIn