The most effective modern workplaces are host to a diverse mix of spaces and furnishings that support the many different ways employees work – focusing, collaborating, learning, socializing – and many ancillary products are available to enhance the design of those spaces.
But it's risky to create lounge areas, huddle spaces and cafes (or any type of workspace) simply because you think you have to. Deep understanding and analysis of the work being done within your organization and of the people doing it, followed by informed furniture selections, will ensure maximum effectiveness and ROI of your real estate.
ANCILLARY IS THE NEW PRIMARY
PwC's 2018 survey of CEOs found that the right working environment tops the list of ways to attract talent. Eighty-six percent of CEOs said their organization was modernizing their workplace to at least some extent, which often means adding informal spaces to inspire collaboration and increase employee comfort and engagement. Despite this clear agreement on the overall strategy, each organization and its employees are unique, so there is no one-size-fits-all design solution.
A custom solution is critical, which is why we draw on dozens of ancillary suppliers and their products. It's now common for any design project to involve 20-30 different furniture manufacturers. dancker's Design Director, Darlene Burns explains: "The ancillary market addresses more diverse client needs and the reality that a variety of furniture is required for each project. Workspaces have become more task-oriented in the sense that employees seek different spaces to accomplish different tasks from individual focus work to group collaboration and client meetings. Furniture and accessories must be designed to support those tasks."
For example, Energy Capital Partners (ECP) needed a space where their associates could gather with each other and their clients. Mancini Duffy designed an amenity-rich environment that is sophisticated yet relaxed and that reflects ECP's corporate culture. dancker provided furniture solutions for the lobby, conference spaces, dining room, and expansive roof terrace. The result is a client-friendly, art-filled workplace tailored to ECP's culture, and a new headquarters that supports their associates and enables effective collaboration.
ANCILLARY'S IMPACT ON ENGAGEMENT
Creating a variety of spaces that support employees and their work has direct ties to employee engagement, as PwC's CEO survey suggested. Steelcase's Global Report similarly illustrates "a direct link between how much control employees have over how and where they work and their engagement level." Engagement relies on feelings of trust, comfort, autonomy and choice – qualities that are intentionally nurtured by organizations' leaders and implemented through clear and consistent practices.
In fact, research released earlier this month by Gallup suggests that these practices are paying off: "the percentage of 'engaged' workers in the U.S. – those who are highly involved in, enthusiastic about and committed to their work and workplace – reached 35%, a new high since Gallup began tracking the metric in 2000." Meanwhile the "percentage of workers who are 'actively disengaged' – those who have miserable work experiences and spread their unhappiness to their colleagues – tied its lowest level (13%)." These are impressive numbers that we're proud of, but let's face it: whether it should be or not, our clients' business success is rarely measured in employee engagement.
MAXIMIZING ROI
Business success comes down to the bottom line and the return on each investment… including the investment in employee engagement-boosting strategies. While the growing ancillary market makes non-traditional furnishings easier to obtain, it's ill-advised to add a wide variety of spaces or furnishings to a workplace simply to appear flexible and approachable. The physical workplace and the organization's culture are inextricably linked. And if spaces aren't designed to support that culture then those spaces will be underutilized, or worse, will sit empty – taking a direct hit at real estate ROI, productivity and profitability.
Leaders within Bristol-Myers Squibb's corporate facility in Lawrence Township, New Jersey, recognized that many of their own spaces were being underutilized, and therefore sought a wider variety of spaces that supported the specific kinds of work their employees needed to get done. Their new more efficient workplace encourages collaborative work and increases efficiency with new individual workstations, a café, collaboration spaces, common areas and conference rooms with products from a variety of manufacturers.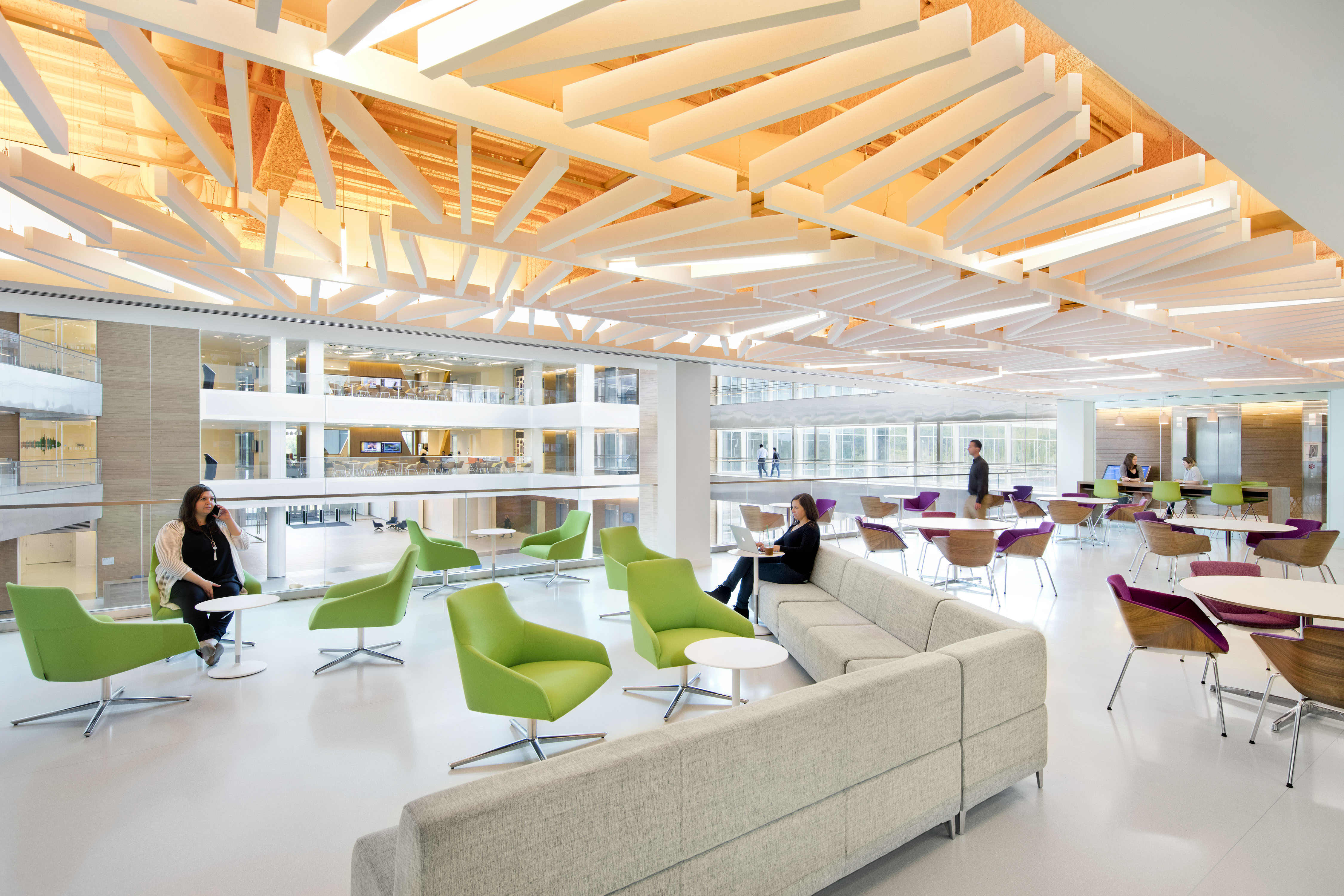 REDUCING CLIENTS' COMPLEXITY
The volume of ancillary vendors can add risk and complexity to each design project, but dancker's experienced team mitigates these factors. Our ability to consolidate and streamline services reduces the client's administrative burden and adds value. "We pay very close attention to the details," says Senior EVP and General Manager, Kevin Klier. "We help you utilize your space to drive better business, and help you be efficient by creating space that your talent – your most valuable asset – uses well." Whether we're working with 30 furniture vendors or 3, that top-line goal is what matters most.
"We help clients make furniture selections and ensure those selections will be productive and effective in both the short- and long-term. Through simple observation we can audit ancillary spaces to help figure out why some may be underutilized and can help to address those issues," according to Valerie Santanasto, dancker's VP of Sales in New Jersey. "We dig into the details and catch mistakes before they happen. With a growing list of ancillary providers, we help our clients enforce the standards set by their brand and culture, but we also help them design those standards to be flexible and adaptable over time. While others might focus on cutting costs, we focus on maximizing long-term effectiveness so there's a positive ROI."
Wiley is another example of a client who understood the value of analyzing their business practices and people and designing more thoughtfully around the results of that analysis. Faced with a lease renewal at their headquarters in Hoboken, NJ, Wiley took the opportunity to rethink the functionality of their real estate. Working with TPG Architecture to redesign their workplace, Wiley was able to give up two floors with large vacancy rates. By consolidating their real estate to 300,000sf over six floors, Wiley not only creates a highly efficient space for its employees, but also saves a substantial amount of money every year in leasing fees. As their trusted advisor, dancker provided solutions that helped Wiley create a space that is flexible, open, and full of branded elements as well as state-of-the-art technology. Not only has the new space contributed to a change in their culture, improved employee engagement, and improved their ability to recruit top talent, it has also become the standard for all ongoing Wiley renovation projects across the country.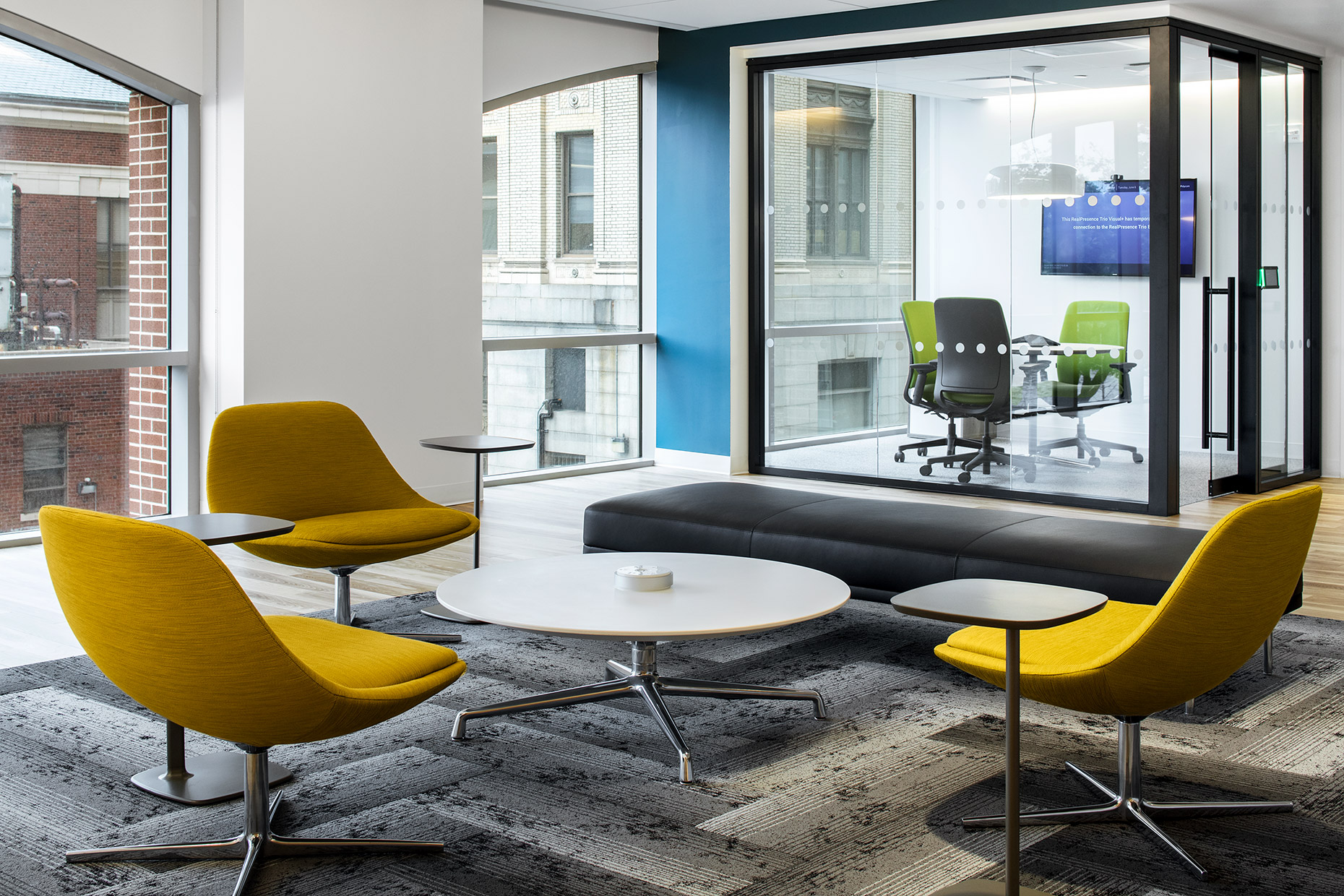 Curious about what types of ancillary spaces will support your employees best? Contact us today to explore the different options available from our many different manufacturer partners.