In part one of this blog series, we wrote that innovation can't occur without teamwork, and we described several common business practices such as design thinking, generative thinking, and active collaboration that help to nurture an agile work culture that's well-poised to succeed.
But it all falls flat unless the physical workplace supports these modern ways of working. Now in part two, let's dig into ways the office can (and must) support hyper-collaboration and innovation.
ACTIVITY-BASED WORK
Trusting employees to work individually and as teams to come up with and implement their own ideas and solutions is one of the surest ways to increase employee engagement and productivity. But they need the appropriate spaces to facilitate these ways of working, and they need to be able to choose from a variety of spaces as their work evolves. Steelcase's 2019 Active Collaboration Study tells us that 97% of business executives, managers and individual contributors believe that teamwork is crucial. But it also points to "a significant gap between those who want to move while collaborating (72%) and those who can (53%)." Movement – of both people and furniture – needs to be encouraged in order to spark creativity and motivation.
The same can be said with any other type of task in the workplace. Employees will be more productive when they've been able to choose the specific environment where they feel most comfortable completing that specific task. This kind of activity-based work combines a variety of physical spaces with a workplace culture that gives employees the autonomy to use those spaces as needed throughout the day. Just as the business practices and processes that lead to better idea generation require flexibility, the key to a functional workspace is the same.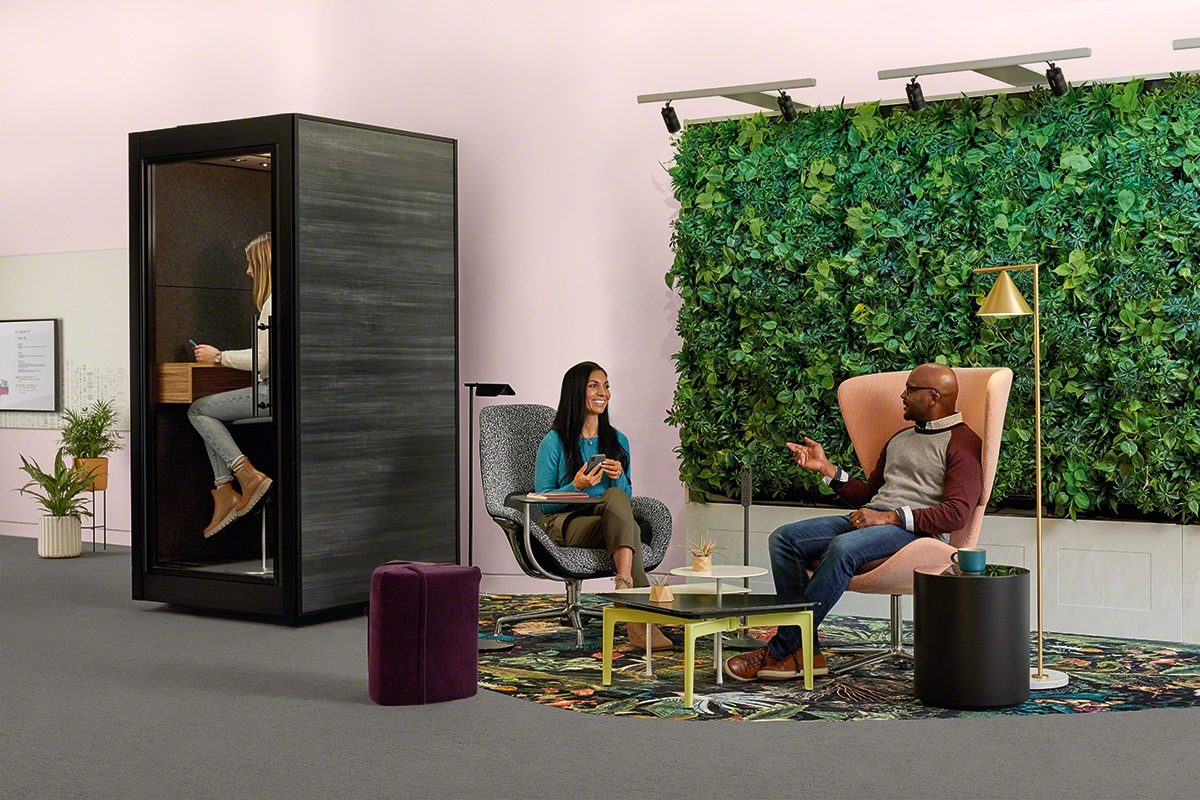 FIVE WORK MODES
Each organization is unique, and each employee within the organization is also unique, so one size does not fit all. Companies must take the time to understand the who, what, why, when, where and how their work is being done, and then they must provide employees with a balanced workplace that accounts for all ways of working. Providing too many spaces for groups to work together or socialize ignores the need for individual focus. And tipping too far in the other direction and providing nothing but individual workstations and private offices overlooks the need for both planned and spontaneous teamwork and collaboration. Another recent Steelcase study of global office workers found that "although 77 percent of people have their own assigned workstation, the vast majority – 87 percent – spend two to four hours every day working someplace else." These are big numbers that must not be overlooked.
"Although 77 percent of people have their own assigned workstation, the vast majority – 87 percent – spend two to four hours every day working someplace else."
So what are these workers doing throughout the day? There are typically five common work modes:
The key to focus is being uninterrupted. It allows individuals the time and space to contemplate, process, strategize and study – to get in the zone and stay in the zone.
When all perspectives are brought together to leverage the group's shared mind, collaboration leads to co-created content and innovation.
Whether in a classroom or a conversation with peers, learning is about building knowledge, and happens best by doing.
For knowledge to be fully useful, it needs to be socialized in formal and informal ways. When people socialize and work together, they build trust, and learning is enhanced.
The brain and body both need rest from work. Time to think, pray, meditate or find motivation helps people get back into work refreshed and be more attentive.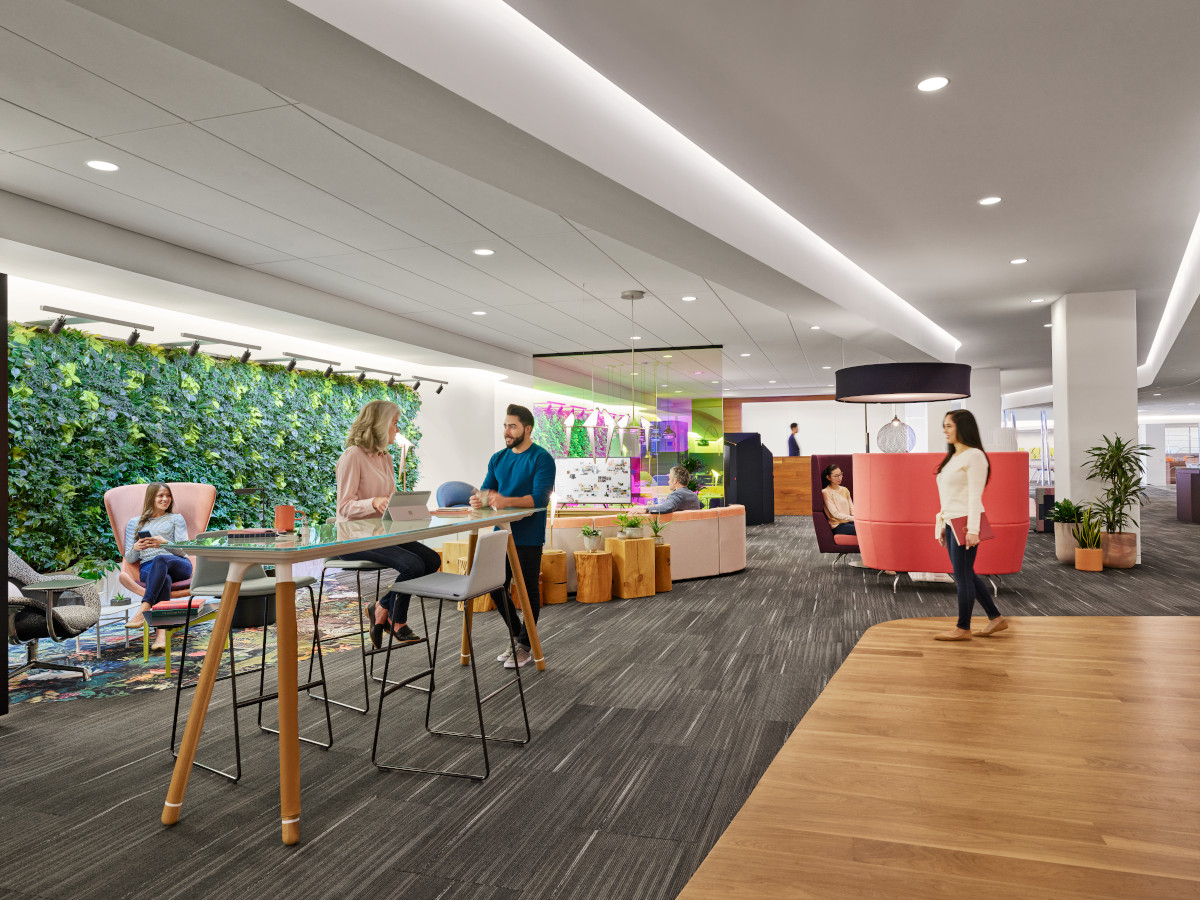 THE BALANCED WORKPLACE BECOMES AN INNOVATION HUB
Understanding these five work modes helps to shape the physical workplace, and to provide the appropriate balance of different spaces for each type of work to take place. But it's important to recognize that the workplace configuration that works for one organization may not work for another. And it might not even work for the same organization a year after it's installed. This is again why flexibility is critical. People are most productive when their workplace culture – and the physical workplace itself – allows movement of both people and furniture.
The Meadowlands Chamber of Commerce is one example of an organization that is maximizing the productivity of its real estate by creating an environment that maximizes the productivity of people. With their new "MCHQ" facility designed by Guzzo + Guzzo Architects, installed by dancker with manufactured construction solutions through ForBuild, the Chamber is not only serving its employees but also its members, many of whom are small businesses or community leaders without modern workplaces of their own. The MCHQ is a dynamic Business Hub available to the Meadowlands Chamber of Commerce's diverse list of members, supporting the diverse ways they work. Designed to foster innovation and collaboration, members can use the Business Hub as a space to meet with other members or their clients, or to work for the day. It offers individual workspaces, ideation and collaboration zones, and meeting spaces to enhance learning and support socializing.
The Hub also includes state-of-the-art technology solutions for a podcast studio, two video conference rooms and an Innovation Learning Center. Powered by technologies typical only to the largest corporations, members have access to a jumbo video wall, audio & video studio capabilities, ultra-secure WiFi, wireless printing and more. And because the furniture and many of the walls are not fixed, they can be moved and adjusted into new configurations as employees' and members' needs evolve over time.
Innovation comes from people, but people need to feel empowered, supported, and trusted for their best ideas to rise to the surface. They need to feel a sense of autonomy, with the choice to do their own work, in their own way. This kind of culture requires understanding and nurturing, and most of all requires a modern workplace that supports these modern ways of working. When workplace barriers to productivity are eliminated, brilliant new ideas can be unleashed.
Check out these additional spaces we helped create that connect people to their workplace's mission and culture.