When designing a new collaboration area, countless elements come into play. These elements will change depending on the space type. Measuring the effectiveness of current and newly updated spaces, and adjusting the elements in the environment when users' needs change, is easier than ever with tools such as Workplace Advisor.
Getting started
First, determine what kind of collaboration space you're designing. There are six different types to support the different ways people work.
As you determine which spaces you need, be sure to think about:
Who is going to use the space?
How many people will the space need to accommodate?
What are they going to use it for?
How often and how long will it be used?
Furniture, technology, lighting, and partition elements will vary based on each space type.
TECHNOLOGY
Technological needs vary based on the task at hand, but no matter the project, technology needs to be accessible and easy to use. It should make our jobs simpler, rather than more complicated. Technology not only helps us work more efficiently, but it keeps us connected with our peers.
Be sure to consider the following as you design collaboration spaces:
With five generations in the workforce, there are a variety of working styles that have different technological approaches and needs – implemented technology needs to be flexible so that all users have a great experience.
Wired vs. wireless vs. encrypted wireless options – depending on the type of information being shared and level of security required, participants will need to access content through varying methods.
Analog and digital tools such as whiteboards can help team members collaborate by quickly capturing ideas and sharing them out.
Presentation, Audio and Video Conferencing Systems make it easy to connect and collaborate with remote team members.
Power, charging, and cabling need to be easily accessible, but neatly tucked away to not distract people from their work.
Our Workplace Technology team can help determine which options are best for your end users.
DEMOUNTABLE WALL SYSTEMS
Keeping a space open while allowing for privacy can be accomplished by using Demountable Wall Systems. As light filters through glass walls, spaces continue to feel open rather than closed off, while simultaneously providing users with an area to have private conversations, complete focused individual work, or concentrate on a group project.
Think about using the elements below to design effective collaboration areas:
Walls with writable surfaces encourage collaboration as users can quickly jot down thoughts, ideas and drawings as they brainstorm, or action items to follow up on after the meeting is over.
Demountable wall systems are designed with acoustics in mind to ensure privacy and sound quality, also known as the STC rating.
Sound masking and acoustic panels can protect sensitive, confidential information in an entirely open space. These tools also minimize distractions for team members who are working individually in an open environment.
Applying a film on glass walls increases privacy, without preventing light from coming through.
Read more: A Modular Construction Approach To Achieve Acoustic Privacy
FURNITURE
Furniture options are endless, and they all serve a different purpose. The chosen pieces should offer employees choice and control over how they work to maximize their productivity.
Don't forget these aspects when you plan out your newest collaboration space:
When users are comfortable, more time is spent focusing on the task at hand, and less time is spent fidgeting in their seat to find a posture that works for them.
Flexible furniture that can be reconfigured easily is a crucial component of collaboration spaces. Whether the situation calls for a casual standing table-top meeting or a more formal seating setup, easy-to-move furniture will support every team's needs.
Furniture should be durable enough to withstand repetitive use, especially when it is adjusted time and again by a variety of users with different preferences.
In addition to durability, product materials should be carefully chosen to create an environment where people can be themselves, and where they will feel like their efforts are meaningful.
LIGHTING
Good lighting improves visibility which is important to keep all participants engaged. However, lighting needs vary, not only based on the task at hand, but also each user's personal preference.
Keep the following in mind as you search for lighting options
Installing lighting fixtures that illuminate the room and participants well is crucial, especially for ensuring clear visual experiences for remote users when they join via videoconferencing.
Keeping individual preferences in mind is also key: by giving people choice and control over lighting levels in the various space types, people can decide what's best for how they work – whether it's dimmer or brighter settings – which can ultimately lead to better productivity.
Download our complimentary Collaboration Solutions Idea Book for more inspiration.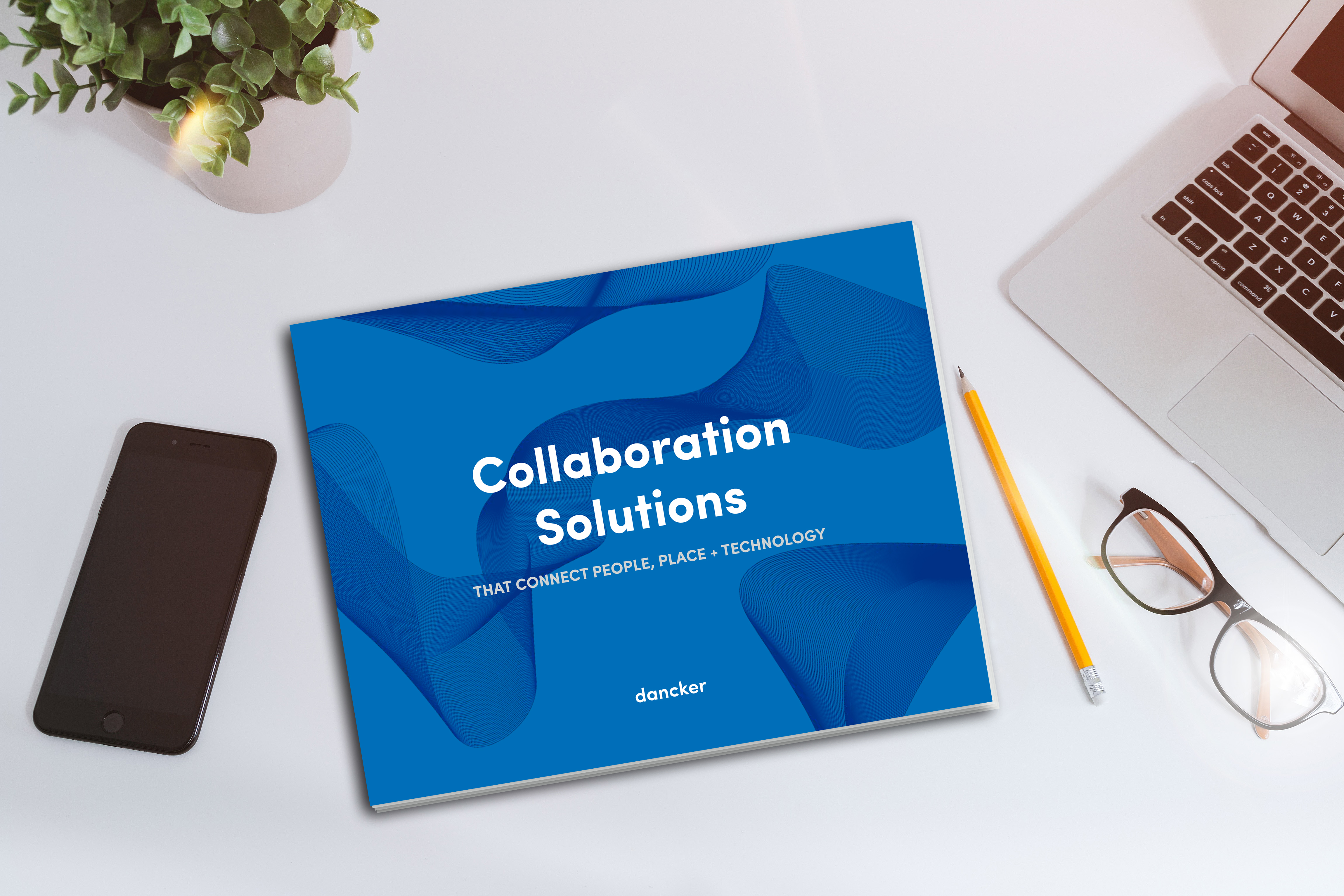 The design opportunities are endless and can be overwhelming – but we're here to help! Contact us today to work together to develop the most effective collaboration spaces for your location.