Today, projects are dynamic, multifaceted, and fast-moving – team members don't strictly work on single, separate pieces – like an assembly line – and pass it on to the next person anymore.
They collaborate throughout the entire process, from conception to final presentation, and they need a workspace that is just as agile as they are. Steelcase and Microsoft have recognized this need and designed the Steelcase Flex Collection of furniture solutions to meet the workspace needs of teams that participate in constant collaboration.
The Steelcase Flex Collection encourages employees to redesign their space to meet their every need as they progress throughout the various stages of their projects. It's unlike any workspace furniture you've seen before. As stated in the name, it's been created for those who need a flexible environment to work in as they create, develop, and actualize their ideas. Designed and built with collaborative teams in mind, Steelcase Flex not only allows, but inspires, teams to rebuild their environments to get the job done.
Imagine you're at work and this happens:
You forgot to book a meeting room in advance, and so you're running around the office, looking for an open room. You peek through windows, knock on doors, but everything is taken. With Steelcase Flex, you no longer need to worry. Its movable pieces allow you to easily readjust the furniture into a meeting-style setting so you'll be ready to collaborate within minutes!
Your team has just been assigned a new project. Everyone is eager to get started with a powerful brainstorming session, but the department that sits next to yours is excitedly discussing their upcoming event, making it hard to focus on your own responsibilities. The Steelcase Flex collection can be reconfigured to provide private work areas in any environment. Freestanding screens and acoustic boundary pieces act as sound barriers, and tacitly communicate 'do not disturb' to others around you. Not only do they provide you with privacy from your colleagues, but they can also replace closed doors and knocking that would have previously interrupted your team's work flow.
You and your colleague need to work together, but there are no open tables available. One of you uncomfortably stands in, or rolls your chair into, the other's cramped cube to collaborate. The uncomfortable postures do nothing to support your focus, and claustrophobia starts to set in. Easily rotate your desks to work side-by-side and remove your discomfort with Steelcase Flex.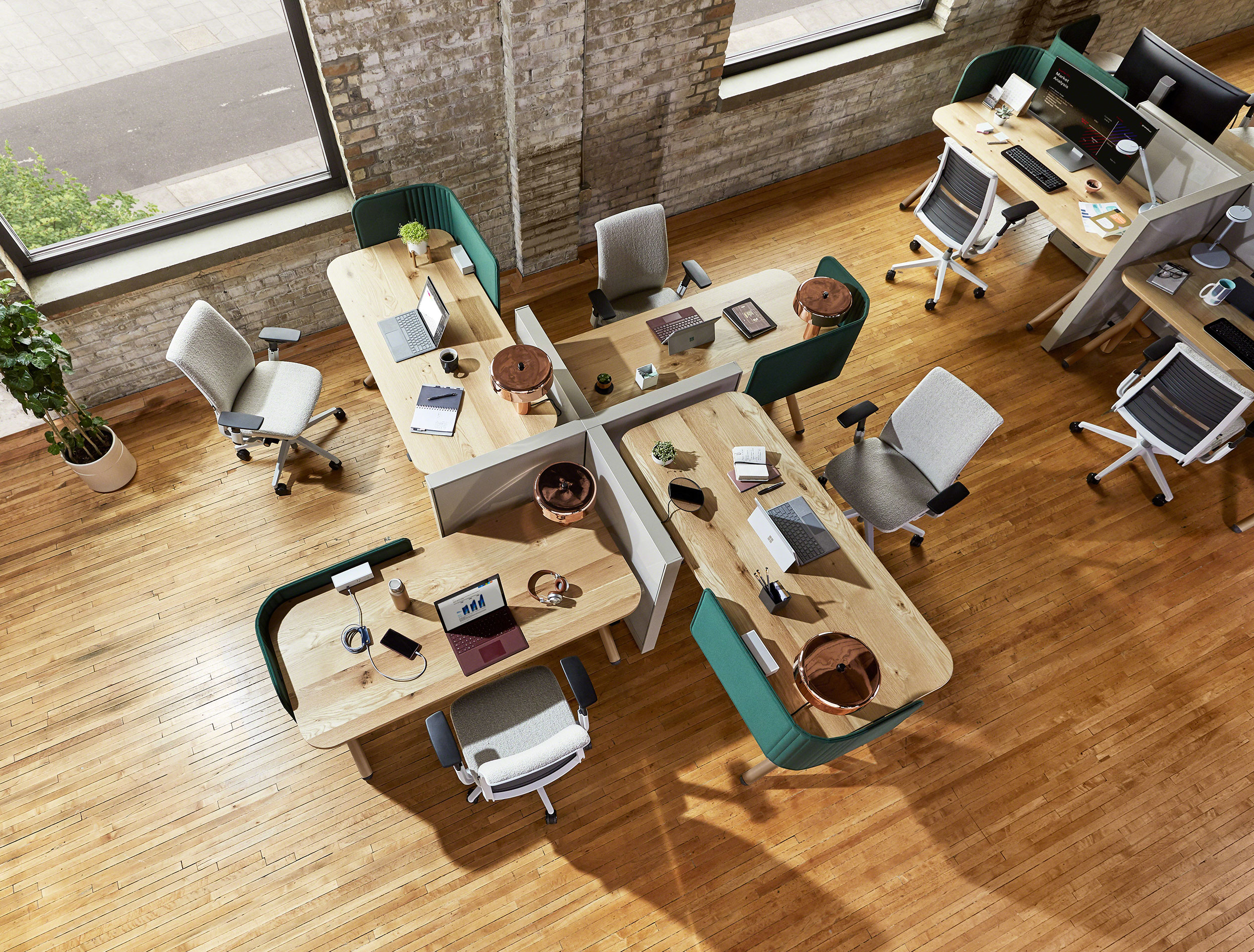 The potential situations are endless, and the Steelcase Flex Collection has been designed in such a way to recognize that. Pieces are versatile. Whiteboards that move with you have a dual-purpose: they not only serve as areas to jot down ideas and parking lot items, but they also act as partitions when necessary. Quickly and easily return from a group setting to smaller or individual workspaces, while keeping the whiteboards visible to everyone involved in a community setting.
When you need a space to
✓ brainstorm
✓ conduct a sprint review
✓ hold a workshop
and so much more, the only furniture solution that will seamlessly adapt to the situation is the Steelcase Flex Collection.
As projects progress, the environment you work in should not only accommodate, but easily adjust to meet your team's needs – and the Steelcase Flex Collection has been crafted with that exact notion in mind. Helping teams flow from one situation to the next, not only encouraging, but driving team members' creative potential.

The Steelcase Flex Collection, designed by Steelcase and Microsoft, is available now. Contact us to learn more about how it can contribute to your dynamic team's workspace today.