As an educator, you are constantly thinking about how to increase student engagement and collaboration, it turns out that the school furniture and layout you choose for your classrooms can have a substantial impact on both.
Improve Collaboration and Increase Student Engagement
Steelcase Education has conducted a variety of studies, each of which proves that classrooms designed for active learning have a significant effect on student engagement. Design studies show that implementing more collaborative furniture settings to create innovative classroom designs encourage collaboration and engagement. In addition, test scores rose for both students and faculty, and the majority of participants reported higher engagement, increased motivation, higher grade expectations and improved creativity. By updating the layout, design, and furnishings in classrooms, students become more involved in their education, which results in more eager, collaborative and engaged learning.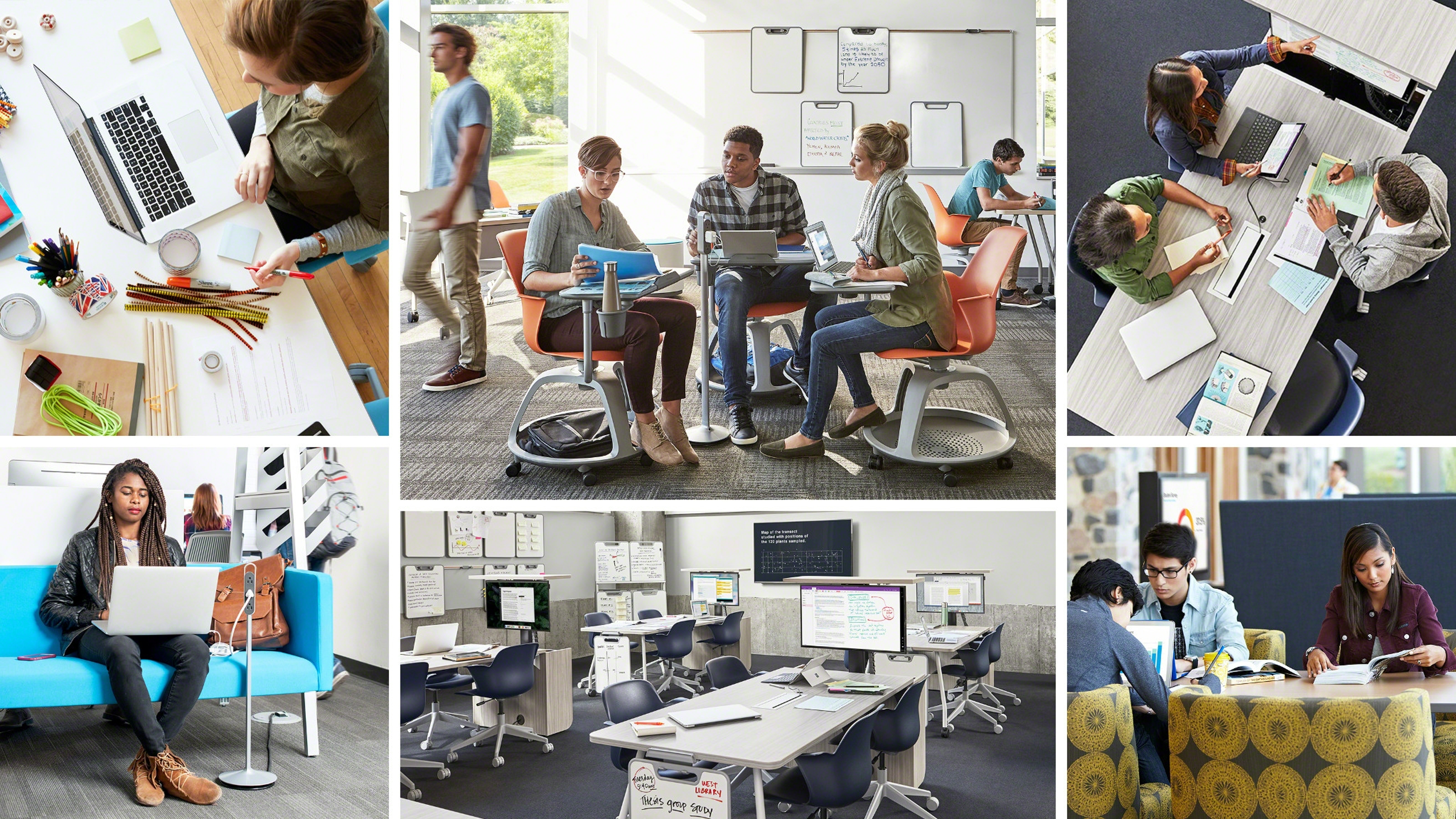 Enable Quick Shifts in Focus and Attention
For any collaborative learning environment to be a success, all students must be able to quickly shift the focus of their attention.The shift comes from the widespread adoption of a collaborative learning curriculum. Modern classrooms must support this trend because it will be the dominant model of education for the foreseeable future.
Collaborative Learning is different than traditional methods in two fundamental ways. First, collaborative learning is student centered, empowering the student to be an active participant in the learning process. Second, collaborative learning revolves around solving open-ended problems or creating some sort of a "product" which could be anything from a report, a poster or a video. These projects give the students an opportunity to develop the widest range of learning skills.
The benefits of collaborative learning in education include:
Producing higher group and individual achievement, higher-quality
reasoning strategies, more and more new ideas and solutions to problems.
Developing higher-level thinking (not just recalling facts), oral communication,
self-management, and leadership skills.
Learning to confidently present and defend ideas, which increases the
student's self-esteem and responsibility.
Fostering growth in maturity and confidence on the parts of the learners,
because it promotes student-educator interaction and exposes the
student to diverse perspectives.
Classroom Ideas for Active Learning 
The classroom has evolved from a static physical space into a dynamic learning environment. What made this evolution possible is the combination of a better understanding of the way students learn and the ability to apply that understanding through more effective teaching methods. Naturally, as the teaching methods changed, so have the teacher's tools, including the classroom furniture and integrated collaboration technology.
Even advanced desks don't move themselves. Mobility is a major component of an active classroom and a necessary feature for furniture in a collaborative learning space. Consider optional casters for desks and tables. Without them, moving desks is a struggle for small students, and re-configuring classrooms disrupts progress on lessons and projects. Classrooms can easily switch from group collaborations to individual learning with ease.
Tracking tools and project materials. To aid group and project learning, educators need tools for managing materials. One invaluable resource is a properly sized storage cabinet that allows project materials to be sorted and stored for each group, distributed to the group when needed, then put away when finished.
Consider different learning modes. Modern classrooms support passive and active learning lesson plans. It eases the transition from lecture style to makerspaces to learner-focused and teacher-guided lessons. Today's classrooms also require the use of both analog and digital visual presentation technology. 
The key is connectivity. From working with tablets or laptops, students need the ability to connect with data, power and other resources. It is important for students to have easy access to all of the educational materials they need for group collaboration, regardless of whether these materials are available in a printed or digital format. For computer science labs and other tech-savvy classrooms that require constant collaboration, it is crucial for today's classrooms to provide students with both the right amount of power as well as WiFi for all of their devices.

Plan for a Future
Laying out a modern classroom can help students learn (and teachers teach) in several ways. Meeting physical requirements like size, and the scale of the furniture so that it is the proper fit to the student. Classroom furniture that fits eliminates a distraction and helps students to concentrate. Recent studies indicate movement can contribute to concentration and is considered beneficial to physical health. Let's not forget functionality – is the student's classroom consistent with the curriculum? Because learning now often takes place in groups numbering from two to six students, classroom furniture has to have the ability to be configured in groups. This is largely determined by the design and an educator's teaching style.
First impressions matter
What kind of unspoken message does the classroom send to the student? We've found the colors and layout go a long way toward making the environment welcoming, stimulating and engaging to a student. dancker encourages collaboration between faculty and students for education spaces and offering many choices, so your classroom sends the right messages.
Want to learn more about how to create classroom that will support better student outcomes? View our Education Spaces Project Portfolio
---
 FROM OUR BLOG: "Library Commons, Learning Commons? What's this Education Trend all About?"
Is there any educational space that screams "outdated!" louder than a boxy, boring lunchroom, library or foyer that's living in its past-century purpose? Probably not. This explains why architects and designers are creating new hybrid spaces called learning commons and library commons. Though similar in many ways, there are differences. If you're new to these concepts, here's an overview on each space – what it is, what it looks like, and its role in 21st century education. Read More