There's a popular saying among many-a-provider that they'll offer three kinds of services: good, fast, and cheap. But remember!
You can only pick two.
If you opt for your service to be good and fast, the result won't be cheap. Good and cheap won't be fast. And perhaps most significantly, fast and cheap won't be good.
In our latest blog post, we break this down and illustrate why good, fast, and cheap is an unlikely goal to achieve – and one you may not truly wish for, even if it were attainable.

Here is the Break Down
There's no denying that speed, cost, and quality all matter tremendously to any and every organization in this fast-paced 21st century. Organizations that can't perform with efficiency and agility and deliver positive results probably won't be around for very long. But if being "good, fast, and cheap" is the goal, it's important to realize that there's danger in deciding to pursue all three strategies simultaneously. There is an even bigger danger that exists when a company asks its partner or service provider to do so; and there are costs involved – far beyond financial.
For example, in our own commercial interiors industry, furniture, fixtures, and A/V equipment designed to outfit a company's office are now widely available from a multitude of sources. An organization wishing to set up an office or replace the furniture within an existing one can place an order online and have a new desk (or lots of desks) delivered tomorrow, probably for a very reasonable price. Perhaps those desks will have to be unpacked from flat boxes and assembled, but still, they're easy and affordable – cheap and fast. Sometimes this truly is a smart way to set up shop, especially if longevity is not relevant.
Cheap and Fast
Cheap and fast can lead to false economies, though – particularly if an organization hopes to hang around for the long haul. Quality is often sacrificed with this approach, which can force teams to operate in full-time DIY or fix-it mode and try to compensate for the lack in quality or durability. That fix-it mode may occasionally escalate to fire-drill mode, too, when physical elements or technical systems break down. By not investing in higher quality at the start, the organization may have unknowingly invested in expensive recovery strategies instead – which now means they're spending precious resources (time, money, labor hours…) in ways they didn't intend to.
Even in our simple furniture scenario, maybe they had to contact the online retailer to track down missing pieces that took weeks to arrive. Or maybe they had to buy something different to replace several of the desks that didn't fit quite right after all (and now those ill-fitted desks are just taking up space in storage). Or maybe all of the desks have become obsolete a year later because the organization's new computers don't work with them. These are not small details, even in this simple scenario, so imagine what the consequences could be at a larger scale. When organizations focus first on being cheap and fast, they must be prepared to address issues with quality, which can at best cause distractions and waste resources, and at worst have devastating long-term effects on employee morale and customer loyalty.
As Benjamin Franklin said nearly 300 years ago, "the bitterness of poor quality remains long after the sweetness of low price is forgotten."
Good and Cheap
So let's focus on good and cheap instead – surely that will be better. Okay, so how much time do you have? Good and cheap, after all, won't be fast. With many service providers, they may be pushing you to the back of the line so they can serve their premium-paying customers first. Or perhaps they're (wisely) investing time in upfront research and development to be sure the end result is going to be effective and long-lasting.
This, too, can be a smart way to operate, if an organization has the time to invest in exploring ideas and options before selecting the one that's going to be the most cost efficient and productive to the bottom line. But it may hinder a company from truly being agile and responsive to rapid-fire demands, especially in today's market where technology has elevated expectations for speed. Back to our office example, if the workplace is no longer functional and it takes too long for improvements to be made, the organization may again lose valuable team members or customers who feel they can't wait for their needs to be served.
Good and Fast
Does that mean good and fast is the answer? Is this the best combination of services to pursue, if we seek long-lasting quality and quick-and-nimble operations? Again this may be smart for many companies, but there are costs involved: good and fast won't be cheap.
Consolidation and integration within our commercial interiors industry allow many solutions to be implemented rapidly by single-source providers (and we're proud to include dancker among them), which can shorten the time it takes to execute a project. And by definition, modular architectural solutions are designed to help a company adapt its workspace quickly and continuously as the needs of its workforce and/or client base evolve over time. It's a higher quality product that's tailor-made for the organization who'll put it to use, and it comes with a price tag. But it's one that drives better return on investment because it's designed to be useful for years to come (i.e. in this example, the desks won't have to be replaced after a year). 
Never Sacrifice "Good"
By investing in a thorough investigation of the people who make up an organization, how they work, what they work on, and why, we define what their workspace should look like, and how walls, furniture, and technology should be integrated within it – serving today's immediate space needs and addressing the way those needs will evolve over the long-term. Quality is in dancker's DNA. We simply won't sacrifice "good." So if you're still the one searching for good, fast, and cheap, and quality is in your DNA too, then you're either able to dedicate valuable time to what may prove to be an endless search or you're not fully aware what good quality actually looks (and feels) like.
– Steve
Connect with me on LinkedIn and share your thoughts on #workplaceofthefuture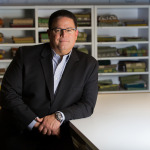 Steve Lang
President & CEO dancker