In general, health organizations are designed to deliver safe and effective care with urgency and precision under any circumstances. But COVID-19 has significantly heightened this need and has illuminated the gaps in some facilities' ability to meet demands. During a pandemic, the capacity to adapt and pivot becomes more imperative than ever. Health and safety standards are rapidly redefined as conditions evolve. Patient needs and expectations shift constantly. Yet even as medical teams – and medical facilities – are pushed to the limit to keep up with short term demands, we can't lose sight of the opportunity to make things better for the long term.
COVID-19 has created a global health crisis, but it's also created opportunities for innovation and we're learning many lessons from it. Implementing flexible strategies today not only serves immediate needs but also builds a stronger foundation for healthcare's future, and for the ongoing health and well-being of medical teams and the patients they serve.
ADAPTABLE, NOT TEMPORARY
While they're in the spotlight today, flexibility, adaptability and mobility have been growing trends in the healthcare industry for years. In both new and renovated buildings, modular construction, mobile furniture and integrated technology have facilitated industry shifts such as decreases in the number of shared or semi-private patient spaces and increases in staff mobility for more seamless information sharing and shift transitions – all leading to better patient outcomes. Then came COVID. The pandemic forced many healthcare providers to react quickly and create spaces that could be used for emergency response, for critical care, or even for virtual care. Practitioners had to shift or expand roles. In some situations, temporary solutions were the most suitable options. In extreme cases, convention centers, hotels and parks were converted into medical facilities to meet surging demands. But solutions like these are costly, especially considering their short-term relevance.
We recently convened a virtual roundtable of leaders in the healthcare facilities industry, and an overarching theme of our discussion was the need for long-term planning and flexibility – even in the short term. Steve Friedman, director of facilities engineering at Memorial Sloan Kettering Cancer Center said it well: "it's no longer financially viable to build a temporary space. We need permanent facilities that are adaptable, not temporary." We must work with healthcare clients, architects, contractors, and other team members to plan for future adaptability. We have to plan for both "normal" operations and emergency surges, and for both routine wellness and for urgent, critical care.
Modular systems allow facilities to adapt to changing needs – whether that means medical trends and patient demographics that gradually evolve over time, or sudden emergency situations. Because furniture is mobile, materials are designed for maximum cleanliness, and technology is untethered, traditional patient rooms are quickly and easily converted into spaces for intensive care, or into telehealth rooms. And when emergency conditions subside, the same spaces can be converted back for use in routine wellness exams or private consultations. Even shared spaces like waiting rooms can be adapted for medical use when they're built from the start with flexibility in mind. Whole floors or segments of floors can be isolated for quarantine conditions because they're adaptable. Modular construction provides immediate safe spaces, but also extends the usability of those spaces for years. Decision makers can continuously reevaluate as needs change and repurpose underused spaces, ensuring that their real estate remains productive over time.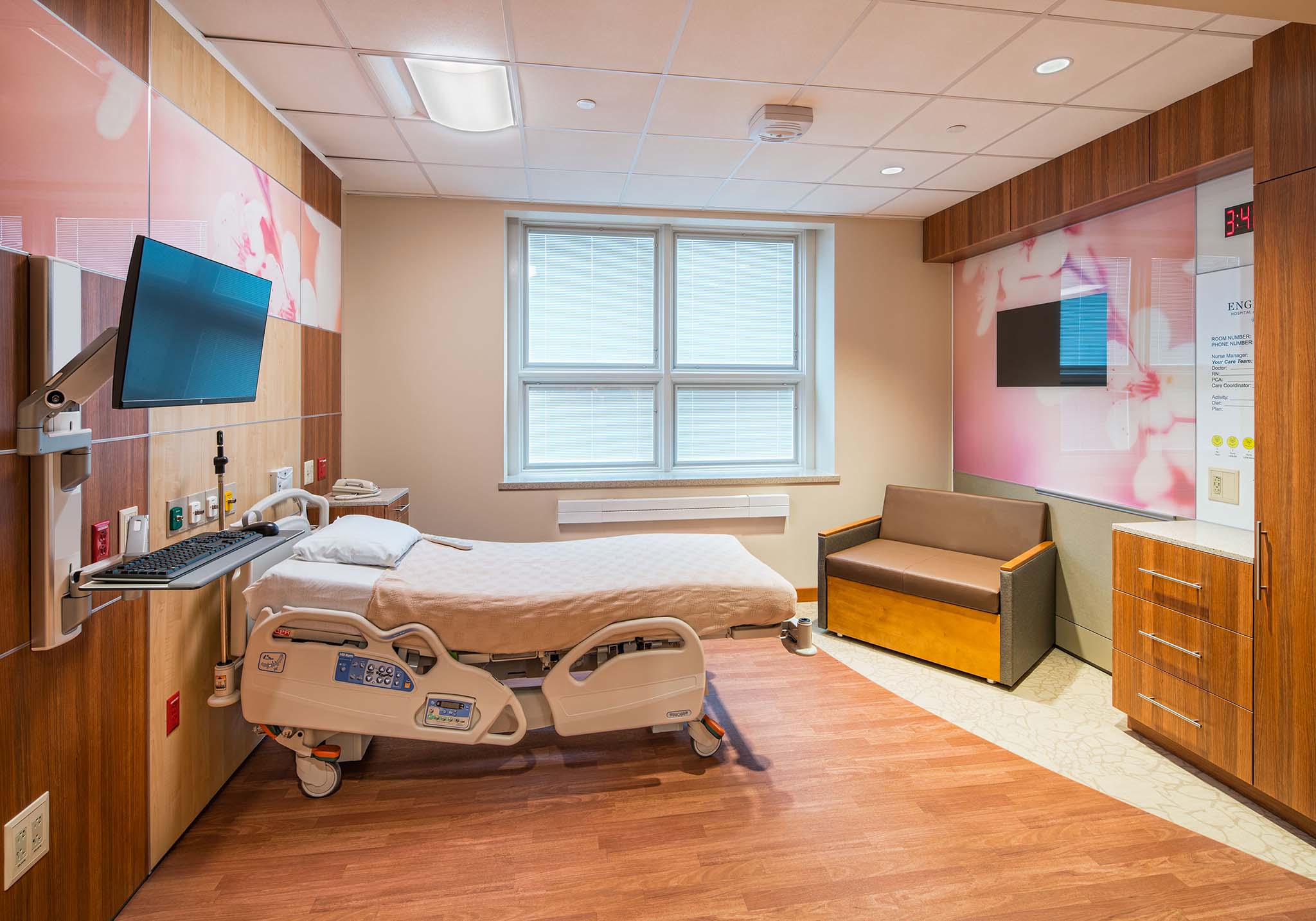 RAPID RESPONSE
When lives are at stake, productivity matters. Shutting down a healthcare facility to shift or expand its capacity or capabilities is typically not an option – especially during times of crisis when patient demand surges. This points to another benefit of modular construction. Because walls and other architectural components are manufactured offsite in a controlled environment, the existing facility can remain operational for as long as possible. Installation is quick and clean, and spaces can return to lifesaving (and revenue-earning) operations on a shorter timeline and with fewer interruptions than traditional construction allows.
In February, when a New York City hospital's emergency department anticipated the need to quickly expand their ICU capacity in response to the rapidly accelerating pandemic, a collaborative team from ForBuild, Perkins Eastman, LendLease, and DIRTT came together to design a pre-manufactured construction solution. The result was an expanded emergency department that was ready to treat coronavirus patients in less than two months from project kick-off to completion, and overall project delivery a full week ahead of schedule. For typical projects, the design development phase alone often takes 6-12 months, and hospitals can take years to complete, but this shortened timeline was achievable thanks to strong collaboration and a shared drive to support the medical needs of our communities.
Check out part two of this blog, where we share more about how technology is keeping people safe yet connected for better healthcare experiences, the need to balance people's comfort while ensuring safety for all, and how to support both families and healthcare employees.