In part one of this blog, we talked about the importance of creating spaces that were adaptable for future needs and how modular construction is a solution that can support rapid healthcare responses in not only crises, but every day healthcare needs. Here, we discuss ever-evolving technology that improves the patient and healthcare provider experience in-person and virtually; the need to find a balance between keeping everyone safe, while also making people feel comfortable; and success stories of how healthcare providers and families were supported in recent projects.
TECHNOLOGY, UNTETHERED
Technology plays a major role in collaborative teamwork in all industries, and it's become an increasingly important part of healthcare practitioners' work as well. When they're connected by technology, multiple providers can contribute to a patient's care, and can communicate more directly with the patient and his or her family, regardless of location.
Virtual healthcare, or telehealth, is another trend that's been on the rise in recent years which has also been accelerated by COVID-19. In an effort to slow the spread of the coronavirus, many non-essential medical visits and non-critical consultations have shifted online. This not only reduces both patients' and doctors' in-person exposure to contagious viruses, but it also reduces the need for personal protective equipment (PPE), stabilizing the supply of medical equipment and workforce. Connectivity, convenience, and productivity are maximized for busy practitioners, while patients also benefit from convenience and improved care. By delivering healthcare when, where and how each individual needs it, patients feel a sense of empowerment and control over their personal well-being and build trust with their medical providers.
Whether used for telehealth or onsite care, or both, modular construction facilitates the integration of technology within the walls and furnishings. And because construction takes place offsite, all of the components come together with the ease of plug-and-play installation. The walls and panels of modular systems are readily accessible for tech upgrades, easing the system's flexibility after installation and over the long term. Mobility becomes easier, too, since the technology is built into each piece within the system and not tethered to permanent walls.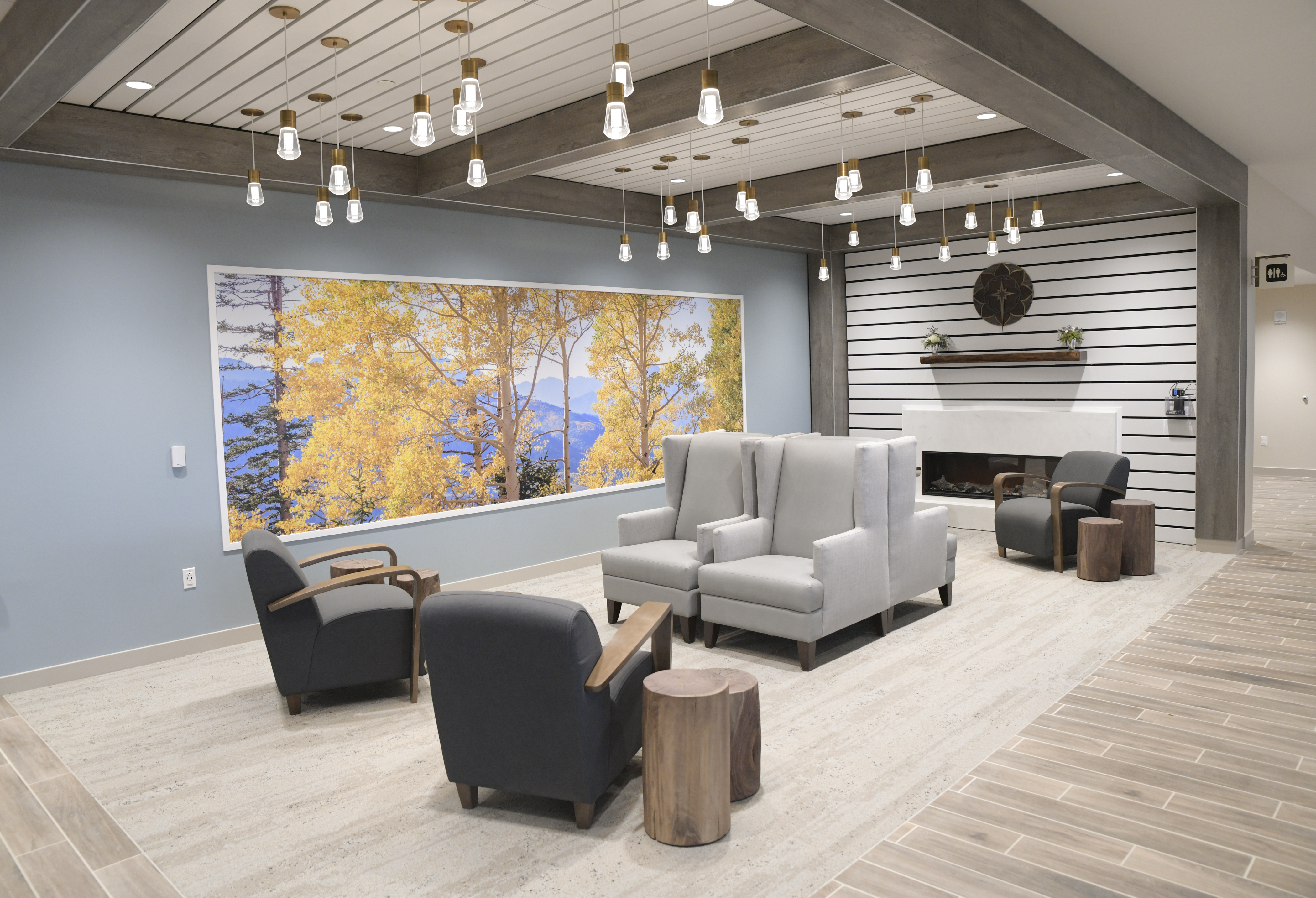 BALANCING SAFE WITH SOOTHING
High-tech, hospital-grade spaces are non-negotiable in the age of modern medicine, and the highly contagious coronavirus has elevated the need for safe, sterile spaces more than ever. But emotions run high in medical facilities, and helping people feel soothed is an important contributor to their health and well-being. Fortunately, today's modular systems offer attractive solutions for warm and inviting spaces without sacrificing safety. According to dancker account executive, Mary Lynn Kearns, "medical facilities need to treat patients as guests through a hospitality approach, but have to balance this carefully with serious care." To achieve this balance requires thoughtful attention to detail. During periods of crisis and heightened concern, patients and employees need to be screened safely and discreetly. The number of people waiting, and the time they wait, need to be closely managed (and greatly reduced), and circulation patterns must be carefully orchestrated in order to maintain safe, social distancing. Mobile and modular systems support all of these efforts because they allow shifts and adaptations as needs evolve. Technology helps too, facilitating communication – including touchless communication – with all involved.
During periods of more normal operations, waiting areas need to be able to shift back into configurations that allow space for signing in, sitting, eating, or connecting privately with doctors, and need to offer distinct spaces for both children and adults. Common areas are frequently used for recharging, too – literally in the case of connecting with or recharging personal tech devices, and more figuratively from the perspective that people are often worried or stressed when they're in medical facilities and seek spaces that offer a sense of calm and comfort. Building with flexibility in mind from the start will help healthcare organizations provide spaces that are both safe and healthy, and warm and inviting, ultimately improving the satisfaction of both patient and provider.
SUPPORTING FAMILIES AND EMPLOYEES
Supporting patients' families is another critical part of delivering good healthcare and yet has become more challenging during the COVID-19 pandemic when many facilities have implemented strict no-visitor policies. Flexible systems allow distinct spaces to be created and isolated when necessary. At St. Luke's Women and Babies Pavilion at the Anderson Campus, our client recognized the importance of a new family's bonding experience when a baby is born. The labor and delivery and NICU waiting room serves the families of expectant mothers with built-in spaces where families can eat, as well as a grownup zone, and a place where families can plug in and charge their personal devices. It also includes a kid's zone for older brothers and sisters to play as they wait for their new younger sibling to arrive. Furniture is modular and features integrated power, while the fabrics are anti-microbial and easy-clean. Throughout the four floors of the hospital, dancker also provided furniture for private offices, staff sleeping rooms, patient and waiting rooms.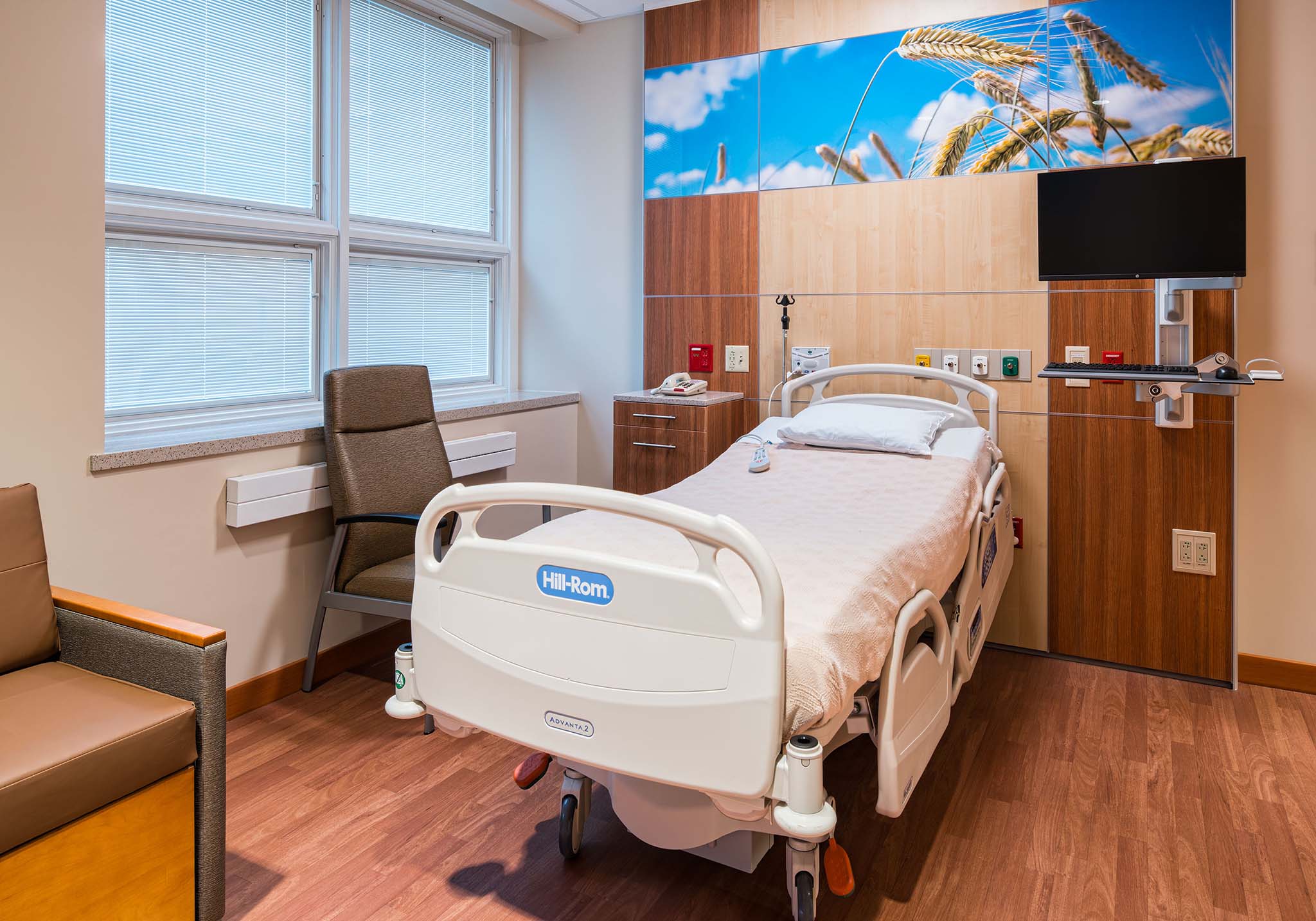 This attention to detail helps to elevate the experience of healthcare employees, too – especially today, when their jobs are more intense than ever. At Englewood Hospital, our ForBuild team revisited their DIRTT solutions to devise a safer way to keep ventilators and medical IV pumps outside of COVID patient rooms so healthcare teams could monitor patients without needing to enter the room frequently, keeping team members safe and saving them time as well as the cost of new PPE that would otherwise be required. dancker's approach to client service has always been personal and custom, but for healthcare clients in particular, this example underscores the need to involve caregivers in design decisions, not just real estate and facilities managers. You have to work with the people who work closest to the problem to find the best solutions.
HELPING PEOPLE WORK, LEARN AND HEAL
During difficult times, working with trusted partners is more crucial than ever. We're proud of our dancker team that thinks beyond products to consider the people those products will serve – to consider the way the products help people work, learn, and heal most effectively. We connect all parties and build an integrated project team from the client to designers to contractors. We are passionate about problem solving and help to build a mutual mindset of asking the right questions and finding answers – creating the best solutions. With so much uncertainty in our midst, we're motivated to help our clients future-proof their spaces for long term success.
Even without a pandemic at play, trends like mobile and virtual care will continue. COVID amplified trends that were already emerging in the healthcare industry and pushed decision makers to react quickly and innovate. As we continue to design with flexibility at the core, health outcomes will only improve – both today and tomorrow.