As many organizations map out plans for their return to the workplace, it's becoming clear that most spaces will require at least minor retrofits or renovations in order to help employees feel comfortable and safe, and to meet new standards and protocols for social distancing and cleanliness.
Now more than ever we need to minimize the risks that are inherent in construction projects. And because we don't know exactly what lies ahead in the next two years, even two months, we need to maximize flexibility and adaptability too. We need to act now but be able to adjust and adapt our actions as time goes by. As dancker president and CEO, Steve Lang, recently wrote, "it's critical to be cautious about where you invest in the short term. Make sure you have a long-term plan."
"Manufactured construction is perfectly poised to deliver both immediate safe solutions and long-term flexibility," says Chris Perruna, dancker's vice president of construction solutions, and leader of ForBuild. As an alternative form of construction, walls, doors, casework, integrated technology, power and data are all designed and built offsite with extreme precision, then shipped to the client site for a clean installation. The solutions are modular, so they're adaptable and contribute to an agile workplace culture that many organizations were nurturing long before the COVID-19 crisis. That culture is why agile organizations have been able to adapt quickly and remain productive during these months apart. Technology keeps us together regardless of where we sit. But we're ready to get back to the office.
Here are four reasons why modular construction offers the smartest solutions for a safe return to work.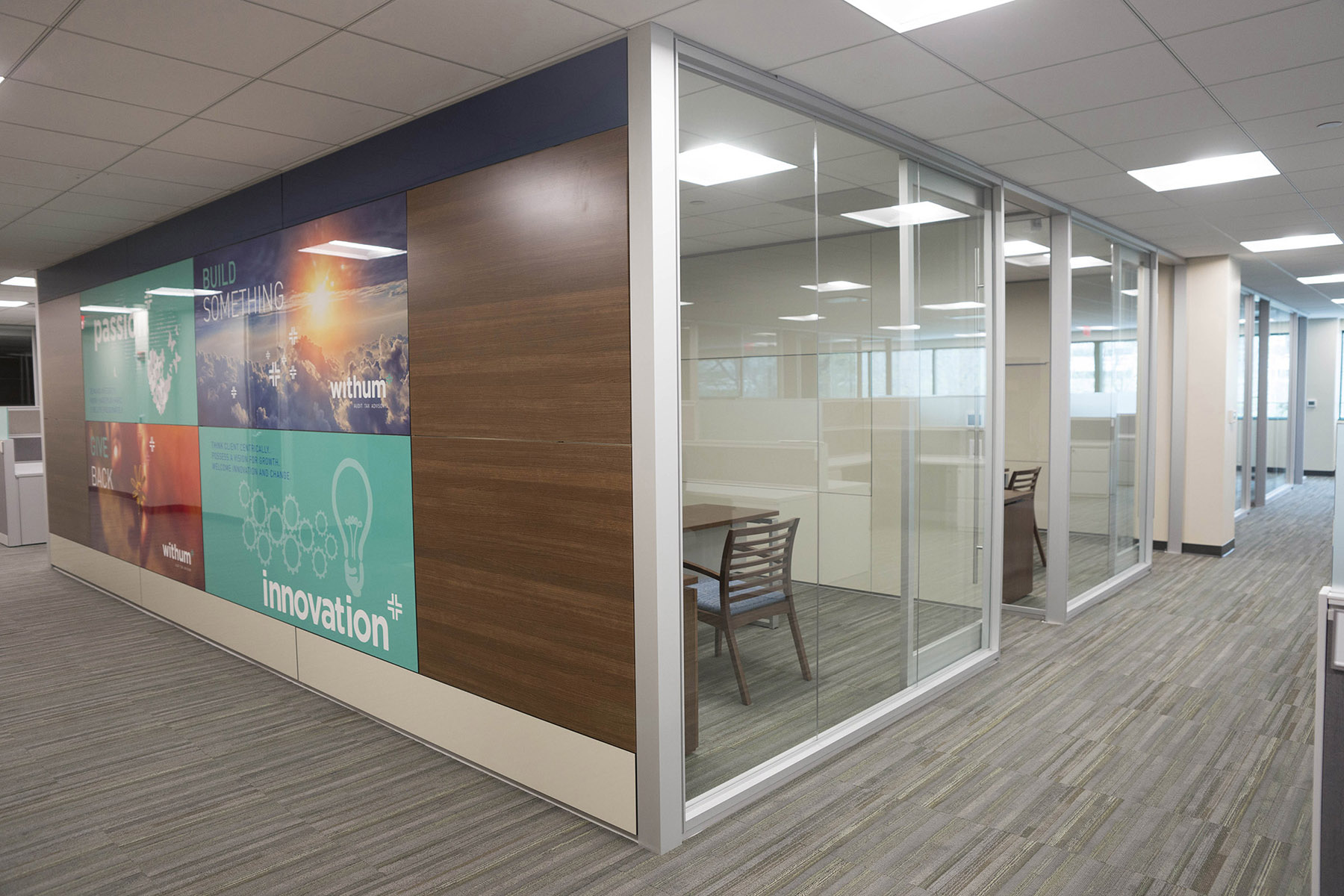 REASON #1: SPEED, EFFICIENCY AND EFFECTIVENESS
Modular construction's built-in flexibility helps companies be prepared for the future. In today's terms, this allows quick adaptation as needs for social distancing evolve. Companies that adopt strategies to reduce density, limit capacity, or rotate staff can do so more easily with mobile, modular systems. With or without health and safety concerns, these systems can ease shifts such as repurposing underutilized spaces, e.g. turning a conference room into office space or vice versa. As Steve Lang suggests, when flexibility is built into the workplace, leaders can continuously reevaluate and adjust as people settle into new routines.
The most agile workplaces will allow technology to move with people, so they're no longer tethered to one and only one place to work. This becomes even more critical as many people will continue to work from home or other remote locations for the long term. People in all locations need to be able to connect and collaborate seamlessly. Again, this process is more efficient with modular systems because power, data and technology are each integrated from the start, and move with the walls and furnishings.
Renovations that include manufactured construction see additional gains in efficiency because design is managed upfront. Virtual reality makes it possible to experience spaces before they are built. Clients can literally see design changes and understand their cost implications in real time, giving them the information they need to make more confident, better informed decisions.
REASON #2: CLEAN CONSTRUCTION APPROACH
Design clarity contributes to cost certainty, which makes for a cleaner process from a management perspective. More literally, because construction takes place offsite under tightly controlled conditions, there is less material waste, and less environmental impact. The worksite is cleaner as a result, creating a safer environment for construction workers and causing less disruption at the client site as well.
The materials offered by modular construction are cleaner, too. Finishes such as Thermofoil feature antibacterial properties and are safe to touch and easy to disinfect; they're not porous and absorbent like more traditional materials, such as drywall or granite. This kind of healthy, highly controlled environment sends a clear message to employees or guests that their health and safety matters, while allowing organizations to maintain a sophisticated aesthetic that creates a place where people want to work.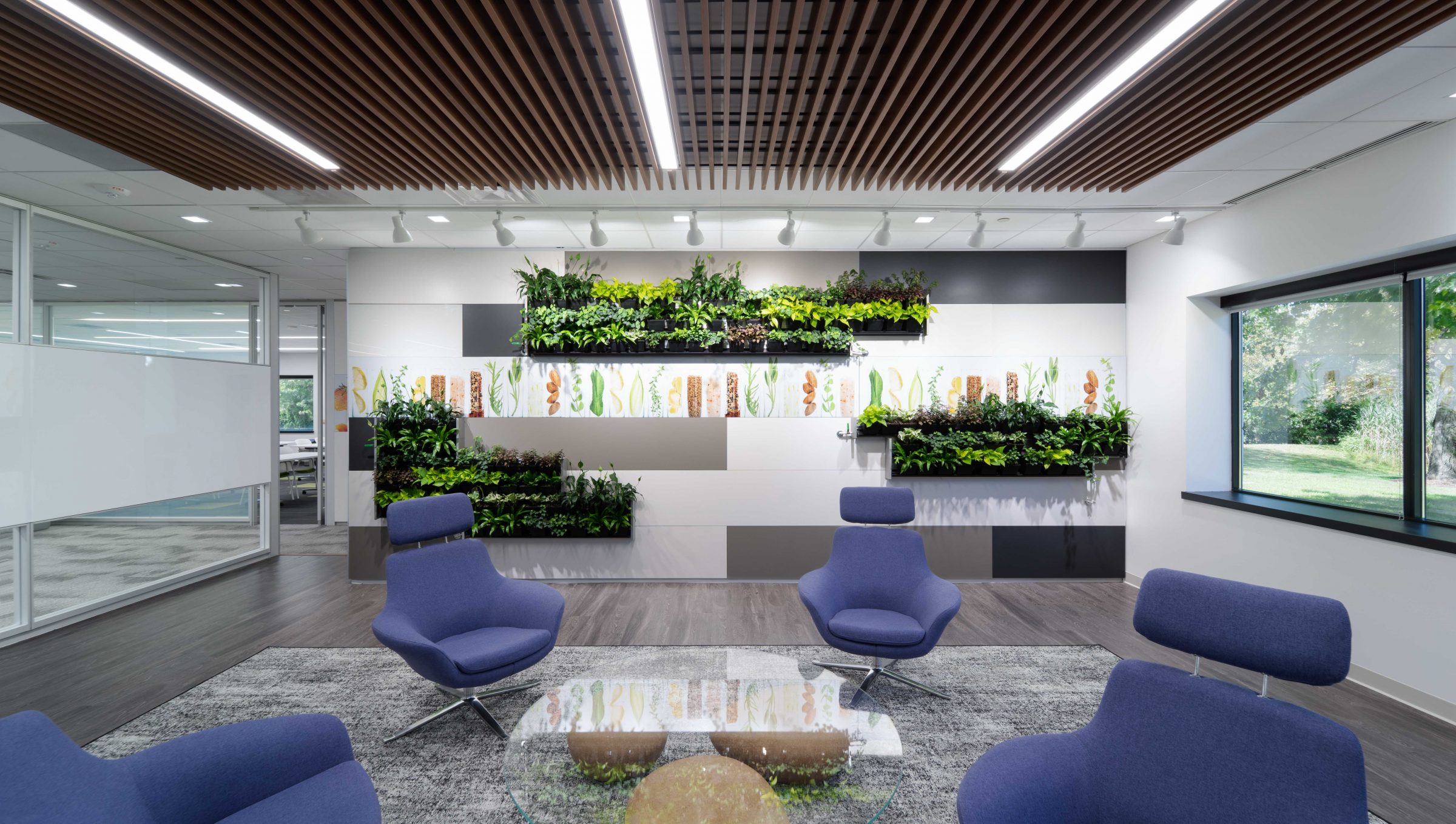 REASON #3: CONTINUOUS OFFSITE MANUFACTURING
Offsite construction in a controlled environment contributes to speed and efficiency of a renovation or construction project. Because designs are prefabricated to custom fit a facility's interior before arriving onsite, there's less downtime and greater schedule certainty for clients. Even during recent pandemic conditions, construction firms like DIRTT did not have to shut down – their work within the healthcare industry deems them essential – so there are fewer disruptions and delays.
A recent project includes a NY Hospital Emergency Department 16 bed expansion. Our team worked with the contractor and architect to take the typical 6-12 month design process down to two weeks of design development. We were able to expedite the pre-construction process and go into manufacturing for this ICU project in record time. The installation was completed in 6 days, and the space is now being used as a respiratory ward for the ED.
Rita Lemley, a manufactured construction specialist at ForBuild points out that "in recent months, the healthcare industry has illustrated the way quick action is possible with examples like DIRTT's rapid prefab for emergency response – quick adaptations that create more space for critical patient care." The continuous offsite manufacturing process makes these quick solutions possible.
REASON #4: LOWER REQUIREMENTS, BETTER CONDITIONS FOR LABOR
With offsite construction of most walls, power, networks, cabinets and doors, the trades putting in the mechanical, lighting, ceiling and flooring can work in a wide-open space with little material waste and fewer journeyman hours. ForBuild's Chris Perruna emphasizes the fact that "labor shortages have less impact on manufactured construction, because fewer laborers are required, and those that are required have greater schedule certainty." In today's terms, fewer workers means the construction site is safer, too. Social distancing is easier to accommodate, providing construction workers and skilled tradespeople with the working environment they deserve.
For both the client and the construction team, modular construction is becoming the preferred method of construction. It allows us to build today's spaces that can easily adapt to whatever tomorrow brings.
To learn more about how modular construction solutions can help you in preparing your space for the return to the workplace, contact us today.