That's a wrap! Our team is back from NeoCon 2023 and we are so excited to share the trends that we saw and our predictions for the future of the hybrid workplace.
Throughout Neocon, we noticed four key trends that we're looking forward to building upon as we collaborate with clients and their partners to co-create destinations that support individuals' best work in a hybrid environment.
Larger Booths + Enclosed Spaces
Booths, pods, pergolas, and other enclosed spaces were used in abundance within existing spaces by Arcadia, Kartell, and KI. These solutions enhance functionality, privacy, and productivity. These versatile additions provide designated areas for hybrid employees to finish focused work, join meetings, or relax, effectively dividing open spaces into more defined zones.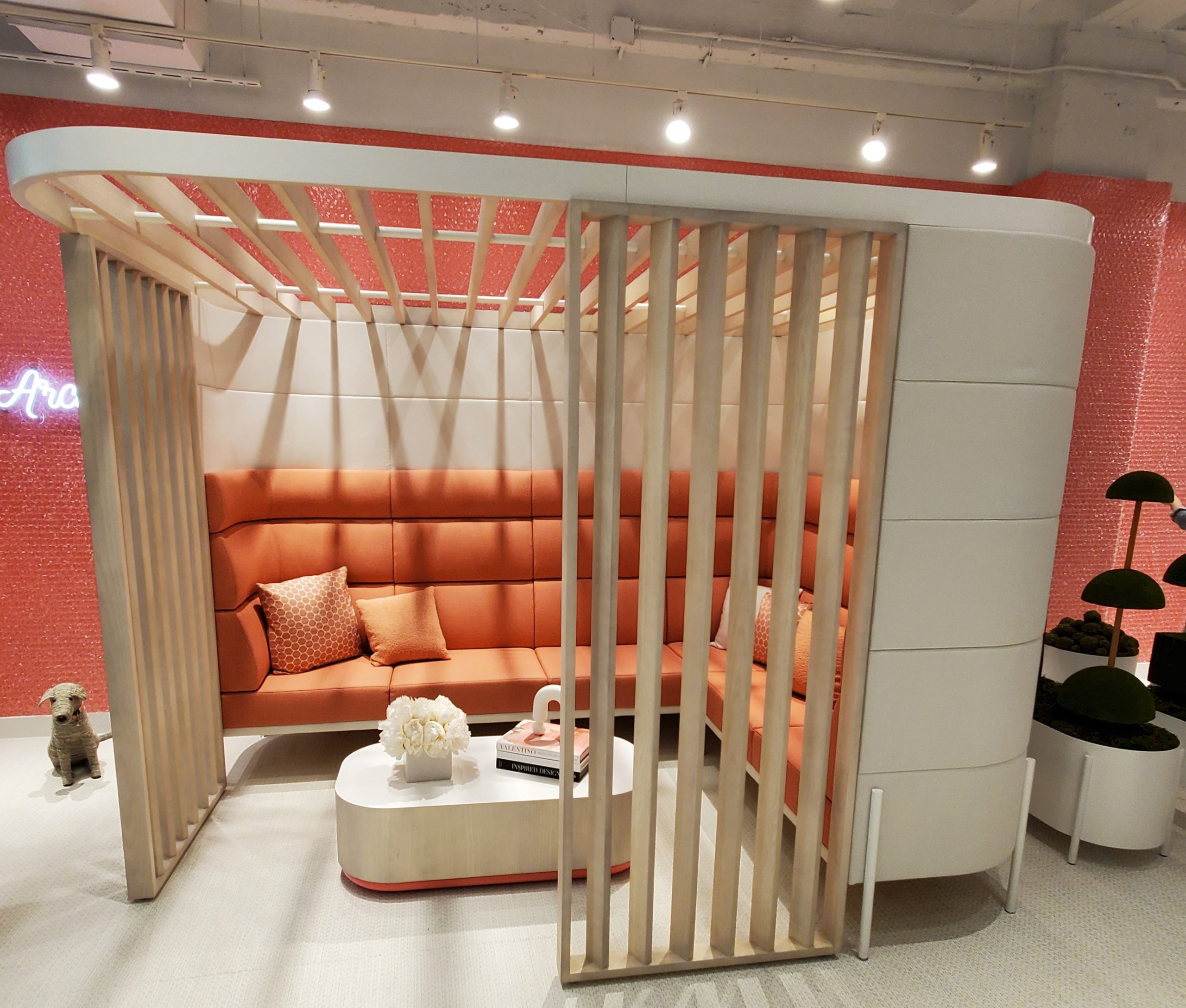 Arcadia
---
"I loved seeing Spacestor take inclusive design to the next level with their phone booth to accommodate employees with a physical disability. Providing individuals with spaces that offer privacy for phone calls or focused work is critical in the hybrid environment."
– Laura Harrington, Senior Account Executive, dancker
---
Wherever they're used, booths and pods offer individuals a sense of seclusion and enable concentration while still being part of a larger environment. The use of these enclosed spaces can foster efficiency, collaboration, and a balanced work atmosphere, meeting the diverse needs of individuals within shared spaces.
Acoustic Solutions
The trend of incorporating planters, baffles, hanging screens, and stand-alone screens in the workplace continues to grow. Baffles, hanging panels, and stand-alone screens such as the ones seen on the showroom floors of Buzzi, Narbutas, Snowsound, SitOnIt and Wolf-Gordon serve as visual and acoustic dividers. Manufacturers showcased more creative shapes that add design elements to a space. For hybrid workers, these solutions provide privacy, help reduce distractions, and create separate work zones within open office layouts.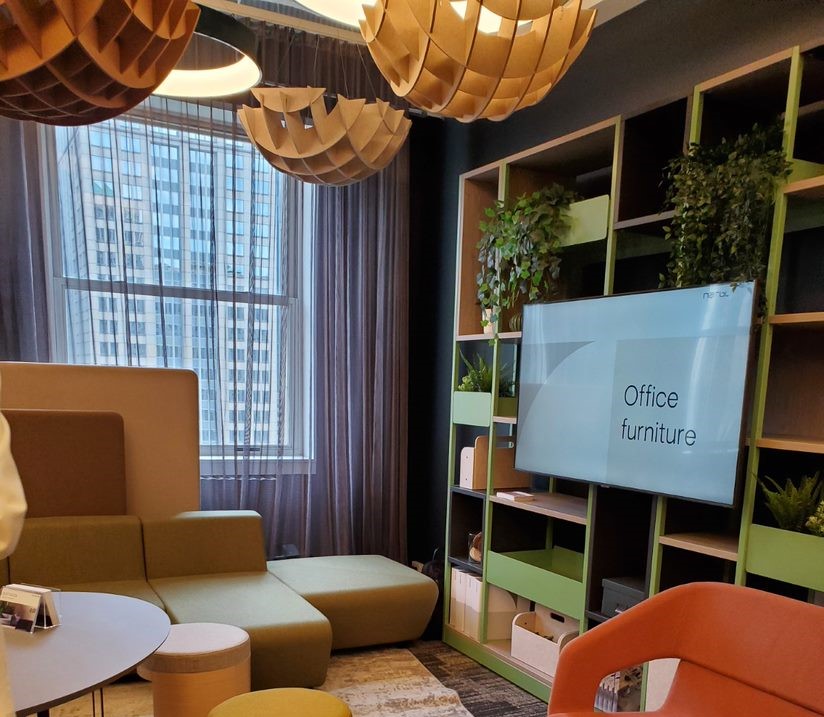 Narbutas
---
"As we all continue adjusting to the hybrid world of work, clients have often shared concerns about employee health and wellness. Incorporating acoustic solutions is a great way to offer employees more privacy to support their well-being."
– Mare Reh, Managing Director of A+D Strategy, dancker
---
Planters offer dual benefits by bringing a touch of nature indoors and contributing to a healthier and more vibrant atmosphere by improving air quality and reducing stress levels. These elements add aesthetic appeal while promoting a more productive and balanced work environment by striking a balance between openness and personal space.
A Touch of Nature – Biophilia
Wellness in the workplace has become a top priority for employees. Many manufacturers are incorporating natural stones, wood materials, and planters in their designs. DiNoc Coverings in the Designtex space showcased a decorative surface film that looked like natural stones. This aesthetic can add a sense of elegance and sophistication to the workspace, creating a visually appealing environment.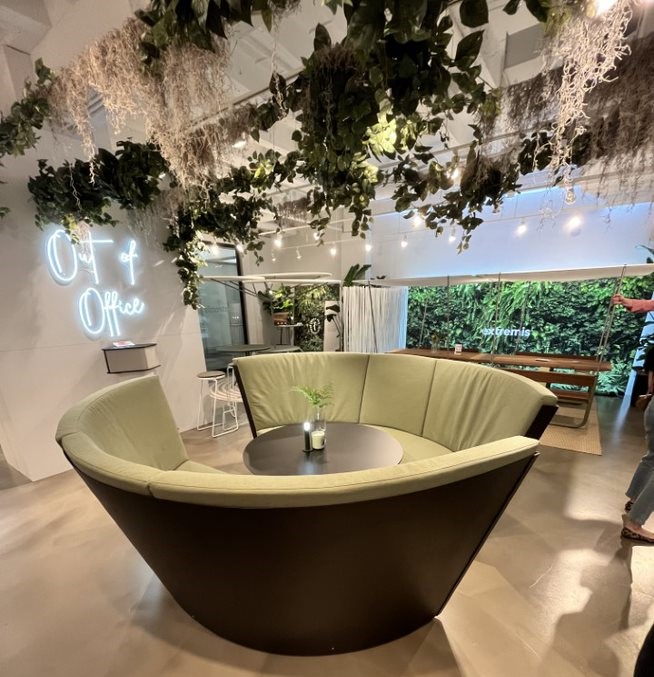 Extremis
---
"One of my favorite things was the use of lots of natural stones and wood materials, but with a twist. The new pieces were made into softer and more organic shapes."
– Jordan Arrington, Designer, ForBuild
---
Wood materials, whether in the form of furniture, accents, or flooring can bring warmth and a connection to nature in a workspace by creating a calming and comfortable atmosphere. The Foro Table by Viccarbe, a Steelcase partner, is a stunning wood table with a hidden magnetic leg cover that can be removed for cable management.
Including planters and other natural materials contributes to improved air quality and a sense of well-being among employees, which can enhance their overall productivity and happiness in the workplace.
Renewed Focus on Sustainability
There was a notable refocus on sustainability across manufacturer showrooms. Manufacturers like Narbutas, SHAW, and many fabric vendors have actively embraced sustainability practices, showcasing a commitment to environmentally friendly solutions.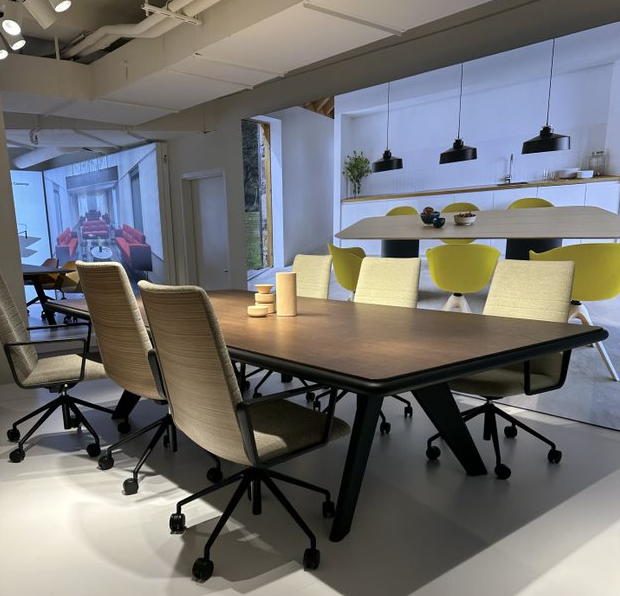 Andreu World
---
"It was refreshing to see so many manufacturers focus on not only the sustainability of their product materials, but also their processes."
– Nancy Paul, Ancillary Specialist, dancker
---
Steelcase shared its sustainability story throughout their showroom; their carbon neutral task seating is an environmentally friendly option. OFS also showcased their environmental impact story. Manufacturers are inspiring each other to prioritize advanced sustainability directives. This renewed focus on sustainability is a positive step towards creating a more eco-conscious and responsible future.
As the dynamics of the workplace continue to evolve, our team of workplace experts shared a few predictions about what the future might hold. Considering the rise of hybrid work supported by advancements in technology and the changing nature of collaboration, these predictions reflect a refreshed and transformed work environment. Some of our predictions include:
smaller footprint workstations designed with mobility in mind, to allow employees more choice and control over how they position themselves to do their best individual work
reimagining work seats to provide employees with options that balance comforts of home with productivity
a focus on more human-centered, inclusive design that takes into account individuals with varying needs
improving opportunities for rest, wellness, focus, and privacy by building these into the natural flow of a workday.
With refreshed focus on flexibility, well-being, and innovation, we anticipate a future workplace that caters to employees' evolving needs, enhancing their productivity, satisfaction, and work-life balance.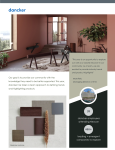 Looking for more of the best trends from NeoCon 2023?
Download our team's favorites here!