Written by Rob Newell, Chief Technology Officer | dancker
In recent months, a recurring theme in our conversations with clients has been the continued digital transformation of workplaces and the ways people work.
As dancker's president and CEO, Steve Lang recently wrote, "everyone we've spoken to suggests that working from home has been successful – people have been productive and effective while working remotely – so working from home will remain an option going forward." The physical workplace is facing competition, and some organizations are already declaring long-term work from home plans. But the office still remains a critical component of an organization's success, providing important space for team members to connect and collaborate in person and to gain the powerful benefits of socialization and information sharing. Yes, technology empowers much of this to happen virtually, so it's important to build an agile workplace culture that promotes mobility and connectivity between people, wherever they work.
The tools and processes we've embraced while we all work remotely are sure to stick with us for a while, so it's more important than ever to make sure the physical workplace is optimized to support the people who work within it.
MEASURING THE WAY SPACE IS USED
Workplace analytics tools, such as Steelcase's Workplace Advisor, use sensors to track movements and to measure anonymously when and how people use space. In years past, these tools offered insights that helped to ensure that real estate was being used productively, and that each space's performance was optimized from an efficiency and effectiveness perspective. While that overall purpose has not changed, today there are nuances that make the technology even more powerful and important. Still in the midst of COVID-19's global health crisis, organizations must keep the health and safety of their employees top of mind, and most are developing plans to set new capacity limits, as well as new standards for social distancing and workstation spacing.
Sensor-based technology offers visibility into how, and how often, spaces are used, giving decision makers access to real-time data that inform the way they assign specific people or specific functions to specific spaces. For example, an underutilized conference room can be turned into office space, giving people more room to spread out. Or perhaps the data illuminates a need for more meeting spaces. Even the details of cleaning and disinfecting plans can be informed by workplace analytics, allowing staff to prioritize cleaning the spaces that are used most frequently. And supporting the initial purpose of measuring and optimizing real estate, this data can also demonstrate to leaders when it's time to increase or decrease their real estate footprint altogether as needs continue to evolve over time.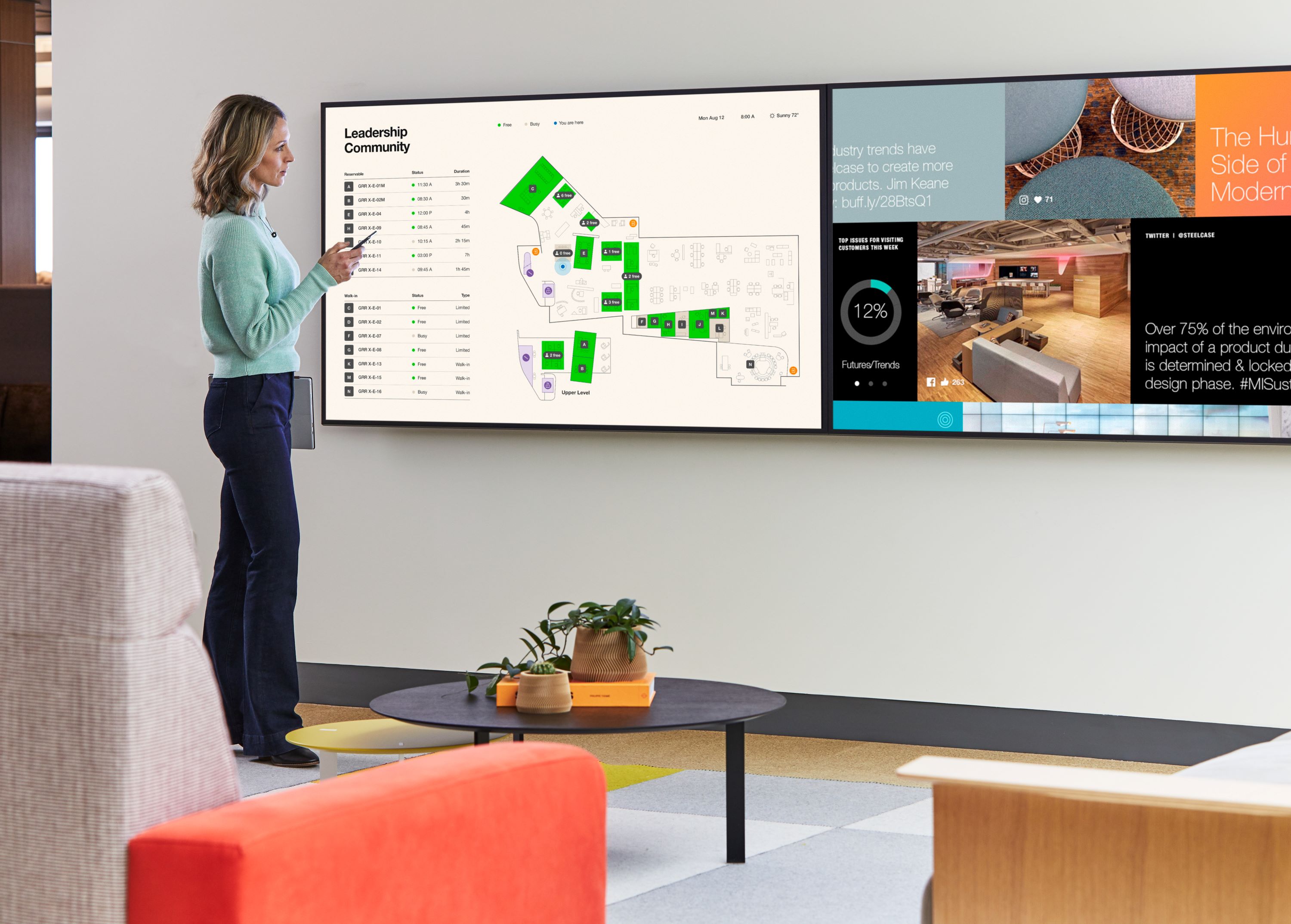 CREATING SMART, CONNECTED AND SAFE SPACES
Technology plays a critical role in optimizing a workplace, and to be most effective it needs to be integrated from the start, creating smart and connected spaces – even if those spaces aren't in the same location. In the short-term, employees need to be set-up to work from home with technology (both hardware and software) that's consistent with what they use in the office. This ensures they can work seamlessly between both places.
Then over the long-term, as more and more people are working together in the office again, mobility and connectivity – and tracking both – will remain critical. Consider mobile set-ups such as smart boards for video conferencing, whiteboarding and sharing documents. Smart boards on wheels can be moved around as necessary and empower spaces to be more flexible than traditional, hardwired conference rooms. The rooms themselves must be connected, too. For example, Steelcase's RoomWizard is a room reservation system that integrates with web-based and mobile apps like Find to help people find and reserve meeting spaces; and Live Map, which provides a large-scale digital display of real-time availability and locations of rooms, desks, and workspaces. All of these are fueled by Workplace Advisor data, and work together to reduce physical interactions within shared spaces.
Building an agile workplace starts with an agile culture, and ultimately ensures that the workplace is doing its job to help people do their jobs. But people change, jobs change, technology changes, and – as today's pandemic has proven – outside influences change too. The agile workplace can't be effective if it's not observed and analyzed, and designed to change too.