Healthcare Heroes have been relentlessly serving their communities for the last 18+ months. Day in and day out, they have pulled on their scrubs and headed into work to continue the fight against COVID-19. They've endured "scrubbing out" and removing work clothes before entering their own homes, disinfecting and showering before saying hello to their families, and even sending their children and loved ones to live with relatives to protect them against possible contamination.
While they have carried on serving everyone around them, awareness of their burnout has grown. Burnout always existed in the medical field, but the pandemic exacerbated the challenges, pain points and has had a traumatic impact on caregivers. Healthcare workers are suffering from PTSD and/or depression, and some are even leaving the field.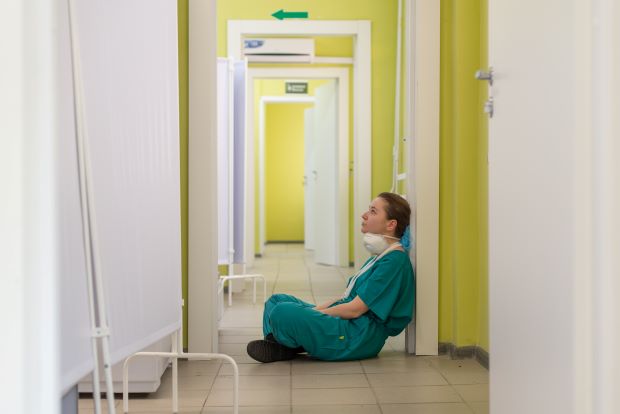 UNDERSTANDING THE IMPACT OF BURNOUT
A healthcare worker's well-being affects more than just the individual. Quality of care – real and perceived – is often directly impacted, as a caregiver's ability to show empathy when spending time with a patient is reduced. Their stress can also be felt by and passed on to their peers through the "contagion effect".
The consequences for caregiver's physical and psychological health are just as concerning. The risk of chronic disease, alcohol abuse, and depression rates can all see an increase as a result of burnout.
Beyond individual human beings, it affects an organization's bottom line, too. Healthcare workers can experience decreased job productivity. Organizations might also see increasing turnover rates. Healthcare systems may end up spending more on hiring and training new workers to counter these consequences.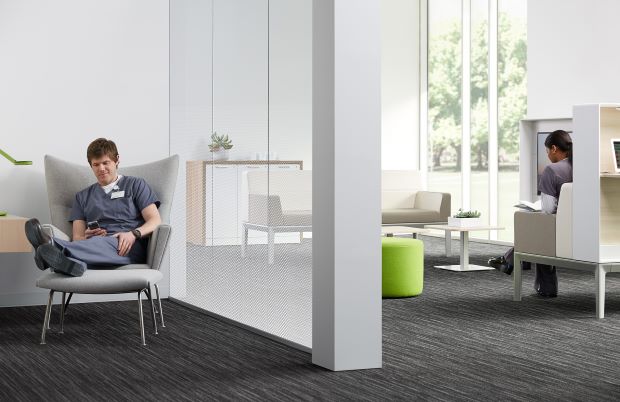 CARING FOR HEALTHCARE WORKERS
Regular breaks can help improve a caregiver's well-being. Respite spaces, or break rooms, need to provide your healthcare heroes with the opportunity to rest and recharge before having to head back out on the floor to attend to patients. The same thoughtful considerations that go into a space for a patient's well-being – comfort, privacy, feeling at ease and trustful – should be considered for caregivers as well.
These spaces should be more than just a room where caregivers close a door to get away for a few minutes. People need to be able to relax, catch up socially with their peers, and eat comfortably. Spaces should provide:
Comfort – incorporate lounge furniture with ottomans to encourage caregivers to put their feet up and settle into a more relaxed position while they take a break
Biophilic Elements – bring in natural components such as daylight, plants, or nature views inside to increase productivity, lower rates of stress, and decrease rates of illnesses
Privacy – provide a fully enclosed, or at least a shielded environment, to help manage stimulation
Acoustic Solutions – add sound masking solutions to help decrease outside distractions from traveling into the space as caregivers seek moments of solitude
Proper Lighting – include dimmable lighting options that allow the user to dictate the setting's atmosphere
Air filtration – implement proper systems to minimize the spread of disease
Ease of and universal access – ensure these spaces are close by to work areas so caregivers can get away quickly when they need a break
Just as patients need time to heal after battling an illness or having a procedure done, so too do healthcare providers need spaces to recharge during and after shifts. Providing them with areas and the resources they need can ultimately reduce the many risks that are a result of burnout.
Curious about how your respite spaces are performing? Reach out to one of our Healthcare Executives for a consultation to determine if your spaces are providing your healthcare heroes with the rest they really need.