Employee experiences of the last eighteen months have permanently changed what people want and need from the workplace of the future.
Based on extensive research conducted throughout the pandemic, Steelcase shared four refined design principles for better work environments. By applying these principles, it's become easier to meet expectations from both employees and employers for better offices.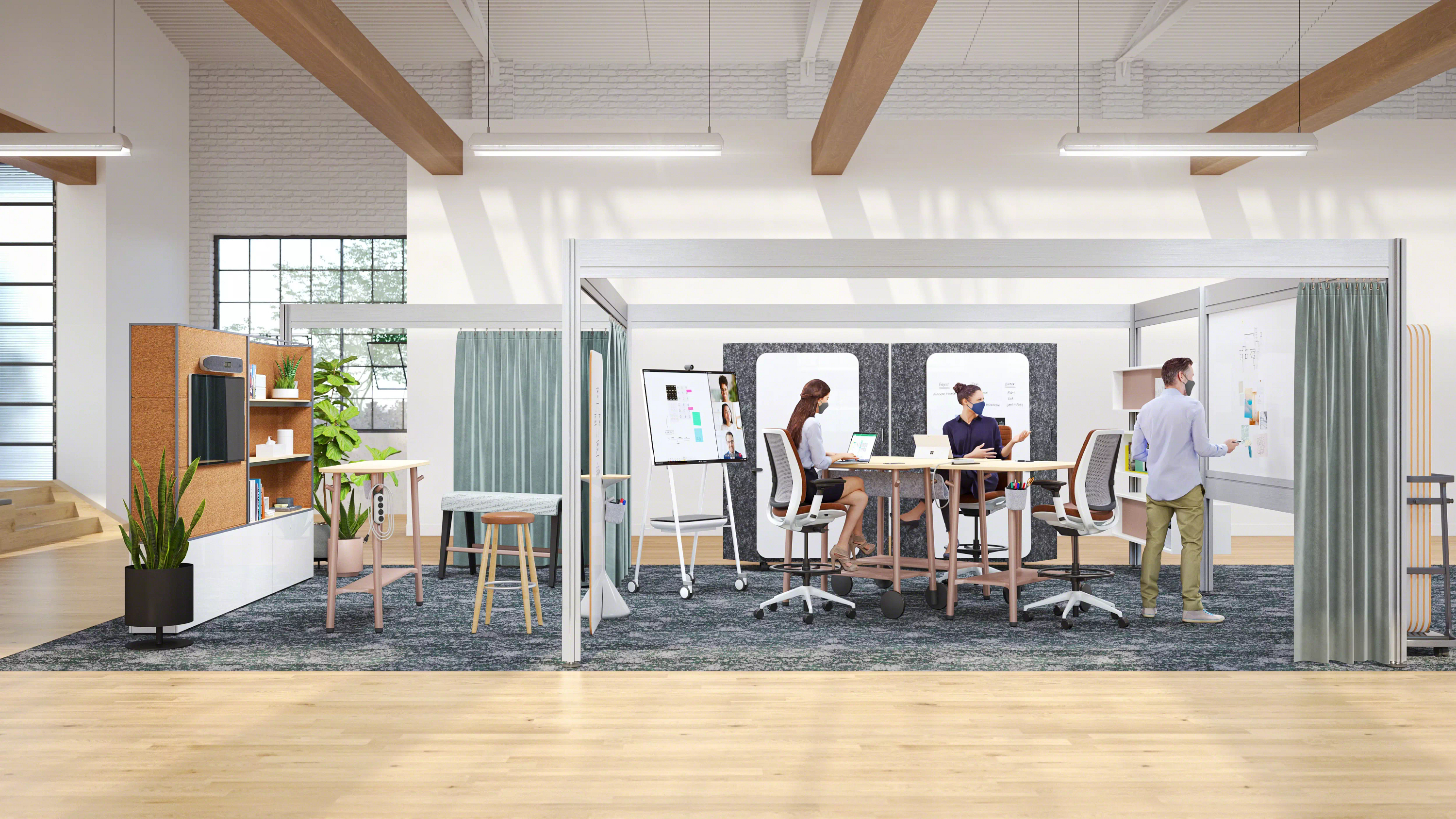 RESEARCH ON WHAT PEOPLE NEED AND EXPECT
Since the beginning of the pandemic, Steelcase has talked to more than 52,000 participants across 11 countries about their expectations on better work experiences. They've gained insights on why the office still matters and what a return to the workplace should – and needs to – look and feel like for people to want to return.
Steelcase's research first focused on learning and understanding what people were experiencing as they made the transition to working and learning from home. Understanding all aspects of how people's lives changed, as well as both the benefits and challenges of working from home was critical in identifying what needs would have to be met in the future of work – whether remote, in-office or a hybrid model.
REFINING DESIGN PRINCIPLES BASED ON HUMAN WANTS
Steelcase's research revealed people's wants and needs and the macro shifts that would need to take place to address them. The research informed the following 4 redefined design principles that create a new, better work experience.
Me + We: balancing the needs of both individuals and teams is critical. Work spaces need to support both individual focus work as well as team collaboration, learning and social activities.
Fixed to Fluid:

 workers need to be able to adapt their environment to support the agile nature of their work and the task at hand. Rather than permanent solutions, mobile and flexible solutions that individuals can adjust are key.

Open + Enclosed: for privacy and safety reasons, people desire enclosed areas for focus work, and would prefer to work in more open areas when collaborating with their peers.
Braiding Digital + Physical:

 technology must be embraced to improve the human experience for all employees, no matter where they're working, as hybrid work models are adopted globally.
Understanding and addressing these needs and the refined design principles can lead to more engaging and productive workspaces.
PUTTING PRINCIPLES INTO ACTION TO SUPPORT EMPLOYEES
How can we ensure different spaces support what employees want and need to feel comfortable and safe while improving productivity and engagement? Consider these changes in the four different work settings:
In personal spaces, employees need options for both private focus work and connecting with their peers. Provide them with the opportunity to choose how to get their work done. Encourage employees to personalize their spaces to make the transition back to the workplace more welcoming.
Collaboration spaces should offer colleagues feelings of safety when they meet with their peers. Ensure these meeting spaces are large enough to support any group size. Be sure to also consider appropriate technology to ensure presence equity for those who may be working and joining from another location.
Social spaces should encourage employees from across the organization to come together and connect with one another. Tools – from analog to digital – should be available for employees to use during quick brainstorming sessions or casual conversations. Effective social spaces can be key in building your organization's culture.
Learning spaces should also be designed with inclusivity in mind for both in-person and remote participants. Innovation and growth within an organization can be a direct result of employee learning and development; provide employees with opportunities to experiment and build together with flexible solutions that can adapt to the task at hand.
Explore inspirational planning ideas whether you're looking to update personal, collaboration, social or learning spaces. We can help you determine what solutions will work best in your spaces to support your employees, so they feel safe and remain connected and engaged with their peers.
After taking a look at some of the planning ideas above, let's talk about what elements are most needed in your spaces to help your employees get back to a better hybrid work experience.