Too often ancillary spaces look great but are underutilized. Unfortunately, they're not always designed to be high performing or to support employees' physical and cognitive well-being. Ancillary spaces need to work as hard as people do so they can do their best work.
With an increase in hybrid work models, high performing workplaces require a variety of settings for different work activities. While much of the focus around returning to the office has been on collaboration and meeting spaces, focused work can't be forgotten. Thoughtful ancillary solutions can accomplish the goal of supporting multiple modes of work.
Here we provide four considerations to ensure ancillary spaces are working at their full potential.
BALANCE COMFORT WITH FUNCTION + PRODUCTIVITY
One perk of working from home during the COVID-19 crisis was the ability to work from various comfortable home settings. But few settings worked for the entire workday because they didn't offer proper ergonomics. For productive work to happen, people need to first be comfortable, but they also need proper function.  People need surfaces that are large enough to support both their laptop and analog tools like notebooks, samples, reference documents, etc. To support their need for focus time, ancillary spaces should also offer some degree of privacy.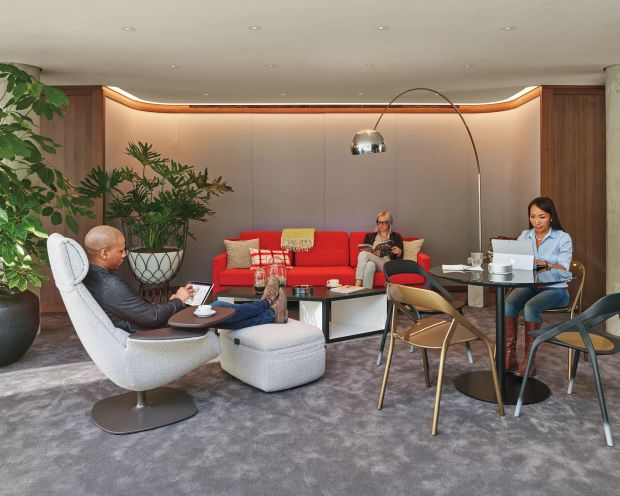 PROVIDE SPACE FOR "STUFF"
While some people strive for a Marie-Kondo lifestyle, we must face it: people love their stuff! Whether it's an iced coffee, a sketchbook with all the latest ideas, or a pile of research materials, most work can't get done without it. If there isn't a convenient place to put it down and grab what you need without having to reach or twist, the space won't be comfortable to work in and productive time will be wasted. People will search for another surface to drag over and use (successfully reducing usable worksurfaces for other employees), or they'll get up and look for a different space to work.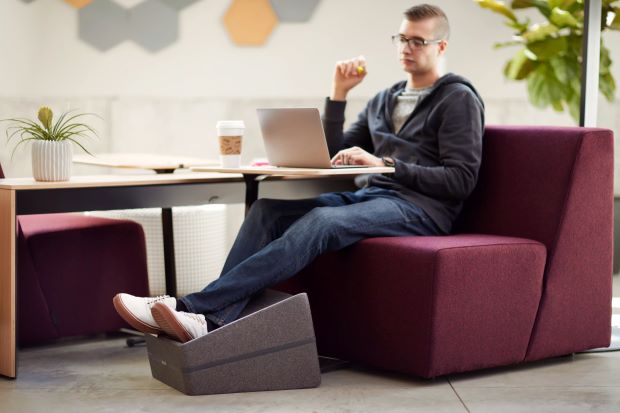 PROMOTE WELL-BEING THROUGH HEALTHY POSTURES
The basics of healthy postures at work include monitors positioned at eye level, hands at or below elbow level to keep wrists straight, feet resting flat on the floor (or a footrest!), and lumbar support tools that keep employees' backs straight to prevent slouching. Pairing the wrong pieces of ancillary furniture is an easy way to make employees uncomfortable, leading to distraction and reduced productivity.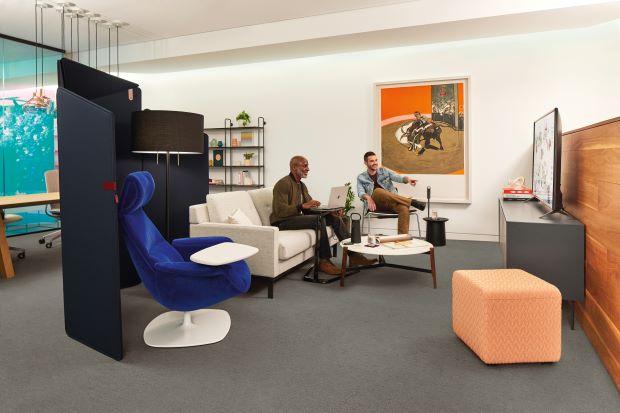 STAY CONNECTED AND POWER UP MOBILE WORK
Mobile workers need easy access to a power source to plug in their phone or laptop. Smart power is key. An easy way for ancillary spaces to remain high performing is to include a range of power solutions that will keep mobile workers connected all day, without having to hunt for outlets.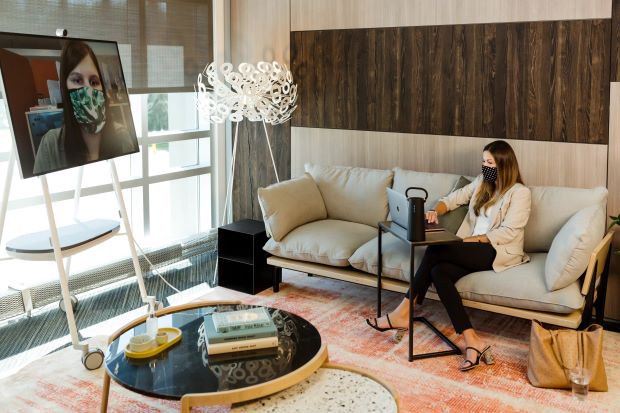 Whether sitting down for a few minutes to catch up with a colleague over coffee, settling in for a longer focused session of solo work, or collaborating with teammates, ancillary spaces need to consider proper ergonomics to ensure employees are focused on the work at hand – and not about their laptop falling off a table that's too small.
Download our Idea Book below to explore more, and let's talk about what solutions will work best in your space.