The energy and buzz of a dynamic work environment where collaboration and socialization with peers is easy, continues to be what people miss most when working remotely. The forced separation during the pandemic and struggles to collaborate while apart has caused millions of workers to suffer from loneliness and isolation, which has had a negative impact on their engagement, productivity, and well-being.
We're seeing an increased desire by both employers and employees to return to the office to work side-by-side with colleagues once again. Most organizations are currently embracing a hybrid model where employees are returning to the office for only part of their work week. This ensures the benefits of working from home while balancing the need for in-person collaboration. All organizations continue to take every precaution to ensure workplaces are safe, but some safety measures like screens and dividers have made offices feel sad and even more isolating than working from home.
---
"We're looking at space differently.
Our goal is to create great environments that nurture the human spirit and that offer a seamless and frictionless experience between remote team members by embracing technology solutions."
– Rob Newell, Chief Technology Officer
---
CREATING SAFE + COMPELLING SPACES
Technology plays a critical role in bridging the physical and digital workplace. To be most effective, technology needs to be integrated from the start of a project, but it can also be added to spaces to enhance experiences as needs change.
Introducing solutions like interactive boards on mobile carts enhances a team's ability to collaborate in more open spaces so they can meet outside of formal conference room settings that might feel confined to those not yet comfortable with sharing enclosed spaces.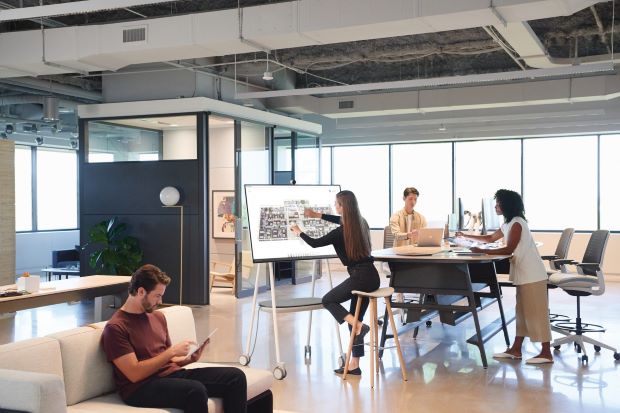 With more open collaboration and even outdoor spaces trending in post-COVID offices, the need for smarter power solutions that don't tether workers to the outside perimeter of a room, or force them to get on their knees to plug into a floor box, are key.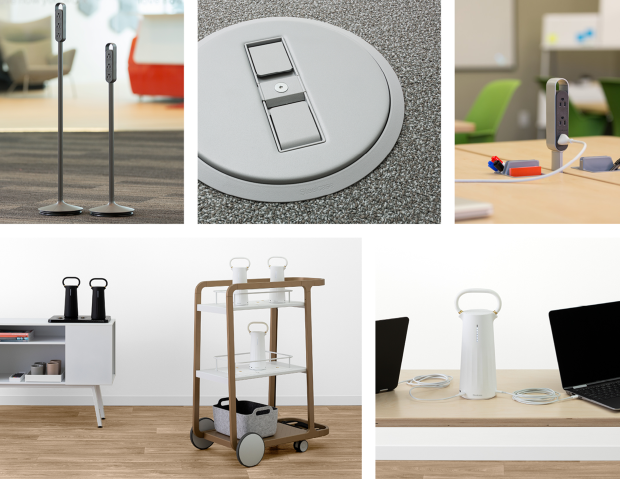 Re-entering less dense workspaces can be made less stressful and awkward by restoring comfort and focus with a sound masking system. An easy to install and simple solution, sound masking is proven to reduce distractions and boost productivity while also making the work environment more comfortable.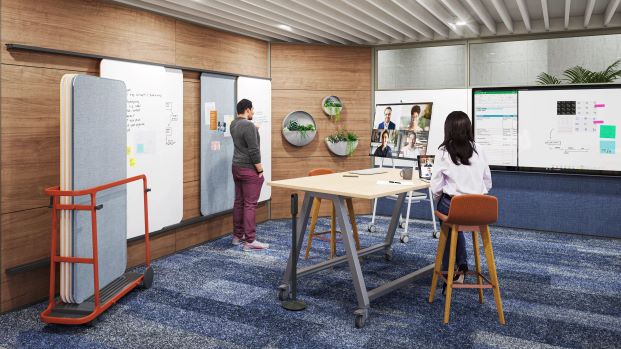 CREATING BETTER HYBRID WORK EXPERIENCES
As some people begin to migrate back to the office, most are doing so only part of their work week, increasing the demand for hybrid solutions that address presence disparity.
For organizations and teams that rely on whiteboards to capture ideas during meetings and collaboration sessions, they often find the need to take and email photos of notes to both share with remote participants and reference later. Another approach is to digitize, save and share live physical whiteboard content with anyone, anywhere with tools like Kaptivo by lifesize.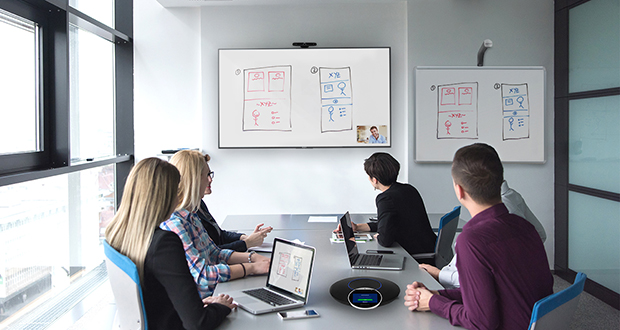 Huddle rooms created for informal in-person meetings often include technology for content sharing. In a hybrid work model, these spaces now need to include video telepresence with remote team members. By adding a sound and camera bar mounted below the displays, huddle rooms are transformed to provide a full range of audio for both presentations and video calls. A simple solution, they include a digital microphone array and a wide-angle camera system with 150-degree field of view to ensure all seated participants at the table are seen in the video call.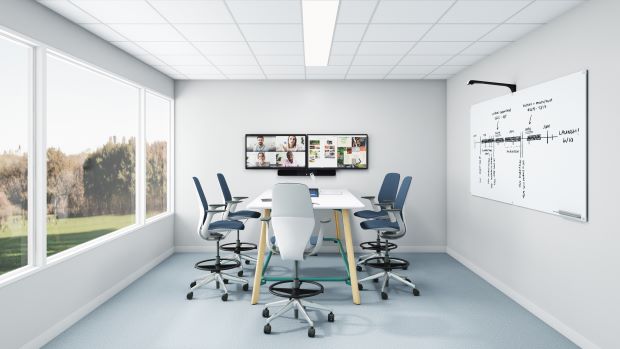 Upgrading to wireless connectivity solutions for both presentation and sharing content simplifies how all participants join a meeting. Tools like a 7″ touch screen display with Zoom or Teams client native to the system ensures users will see the controls with which they are familiar. Touch screens also have USB and HDMI connectivity so a user can plug in their laptop and access the AV resources in the room, while using an alternate video conferencing platform to hold their calls.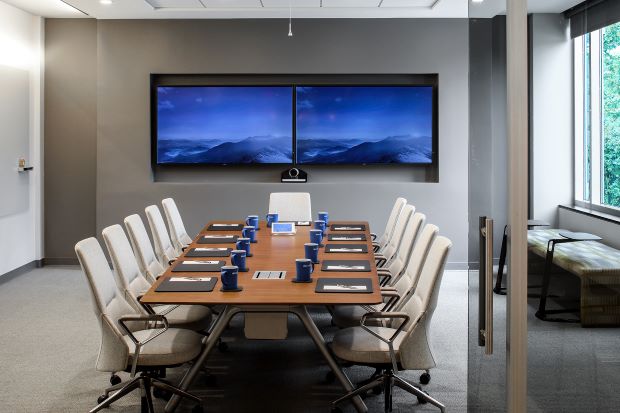 ENSURING SPACE OPTIMIZATION
Many organizations are using this summer as their re-entry period to test new ways of working. With a goal to make more permanent decisions on their long-term real estate strategy in the Fall, it's critical that they measure and understand the effectiveness of their work environments.
dancker has recently partnered with Density, a real-time occupancy and space analytics platform solution that uses cutting-edge 3D depth sensors for enclosed spaces along with radar-enabled sensors to measure occupancy in open areas. By gathering actionable utilization and occupancy data, we're able to collaborate on intelligent space planning to deliver integrated solutions to support our clients and their real estate strategy.
---
"We're excited to share workplace technology considerations
for better work experiences as our clients begin planning and rethinking their spaces."
–Rob Newell, Chief Technology Officer
---
Our team is excited to share additional insights and ideas how some of our clients have successfully jumpstarted their return to better.
Would you like to set up a meeting or an AV design consultation?
We're ready to help! Contact us today.