Originally published in The Business of Furniture on November 6, 2019
Written by Darlene Burns, Design Director | dancker
---
Years ago, we worked in offices. You may have had a desk in a cubicle or if you were lucky, a real office with walls. The environment was pretty much always the same.
With the emergence of laptops, smartphones and Wi-Fi, things began to change. Little by little, offices gave way to working in coffee shops and cafes, then plugging in and working remotely from home.
If you take a close look at work trends today, you'll see we have come full circle. People still work remotely or in coffee shops, but those locations are missing one vital ingredient – the ability to connect and collaborate in person by sharing space with colleagues who motivate and inspire us.

Of course, those coffee shops are pretty comfortable, and some of the best ideas we ever came up with were generated at our kitchen tables. With that in mind, more and more businesses are striving to find the perfect balance of an inviting office environment. They want offices where employees can be just as comfortable and creative as they are at home or in the coffee shop, combined with the flexibility that allows them to shift their place of work on a daily basis, depending on what suits them best.
Businesses have been quick to recognize this trend is not just about productivity. It has also proven to be valuable in attracting the best and brightest workers, many of whom demand a workplace that offers the kind of job they want and the type of environment they prefer.
THE MOBILE WORKFORCE
It is commonplace to see people working on laptops and other mobile devices in hotel lobbies, restaurants, coffee shops and even banks. Businesses of all sorts are setting up spots for customers and guests to plug in, turning hospitality and retail environments into places for work and leisure.The rapid growth of co-working spaces like We-Work is evidence of this trend. Gone are the days when a corporate office was the only option for getting work done.
Mobility in general is firmly planted in corporate culture, and a policy that allows occasional remote work is an important perk employees – especially millennials and their younger Gen Z counterparts – look for employers to provide. A recent survey of more than 2,000 college students shows 77% want the option to work from home one day a week. When looking for a new job, 54% say a flexible work schedule is the most important factor they consider after salary.
With such importance being placed on flexibility and mobility, how can employers ever hope to hire good workers and draw them back into the office?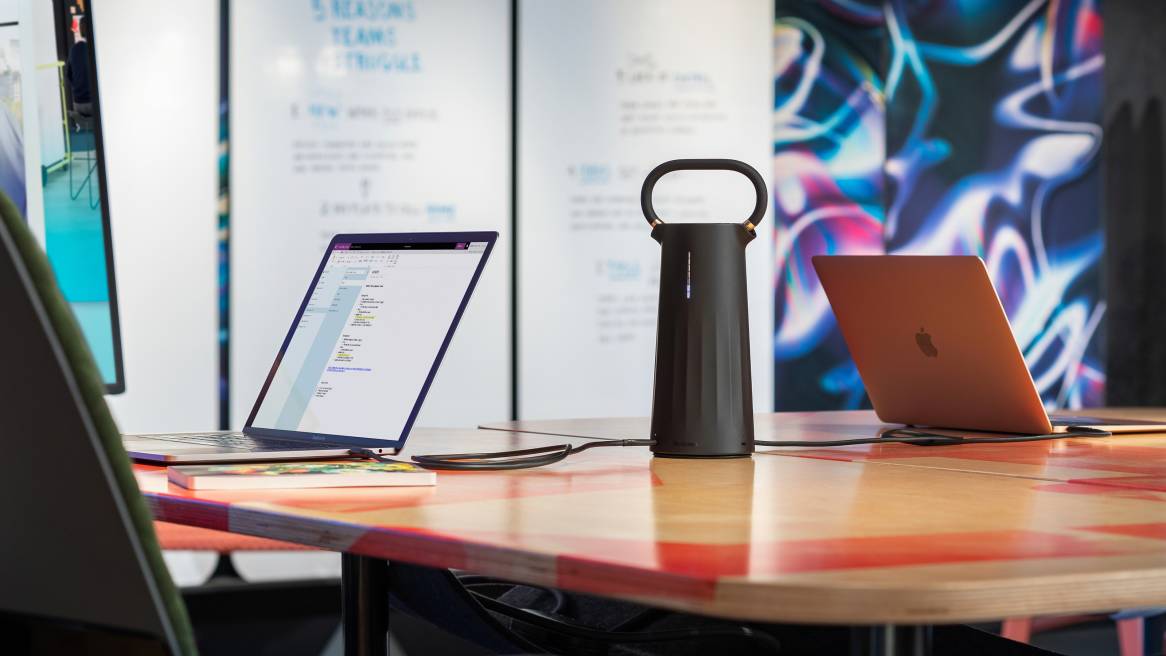 COMBINING RESIDENTIAL AND COMMERCIAL
Creating a more comfortable, inviting workplace is the first step in changing the current workplace dynamic. The most effective corporate offices combine private workspaces with shared collaboration spaces – individual desks with team rooms, group lounges and cafes. These spaces tend to be lighter, airier and adorned with a mix of natural elements and bright colors.
In short, offices look a bit more like hotel lobbies and coffee shops than, well, offices. By combining residential with commercial, this resimercial trend has become prevalent throughout the commercial interiors and furniture industries. Elements of home and hospitality in the resimercial spaces represent places where people want to be.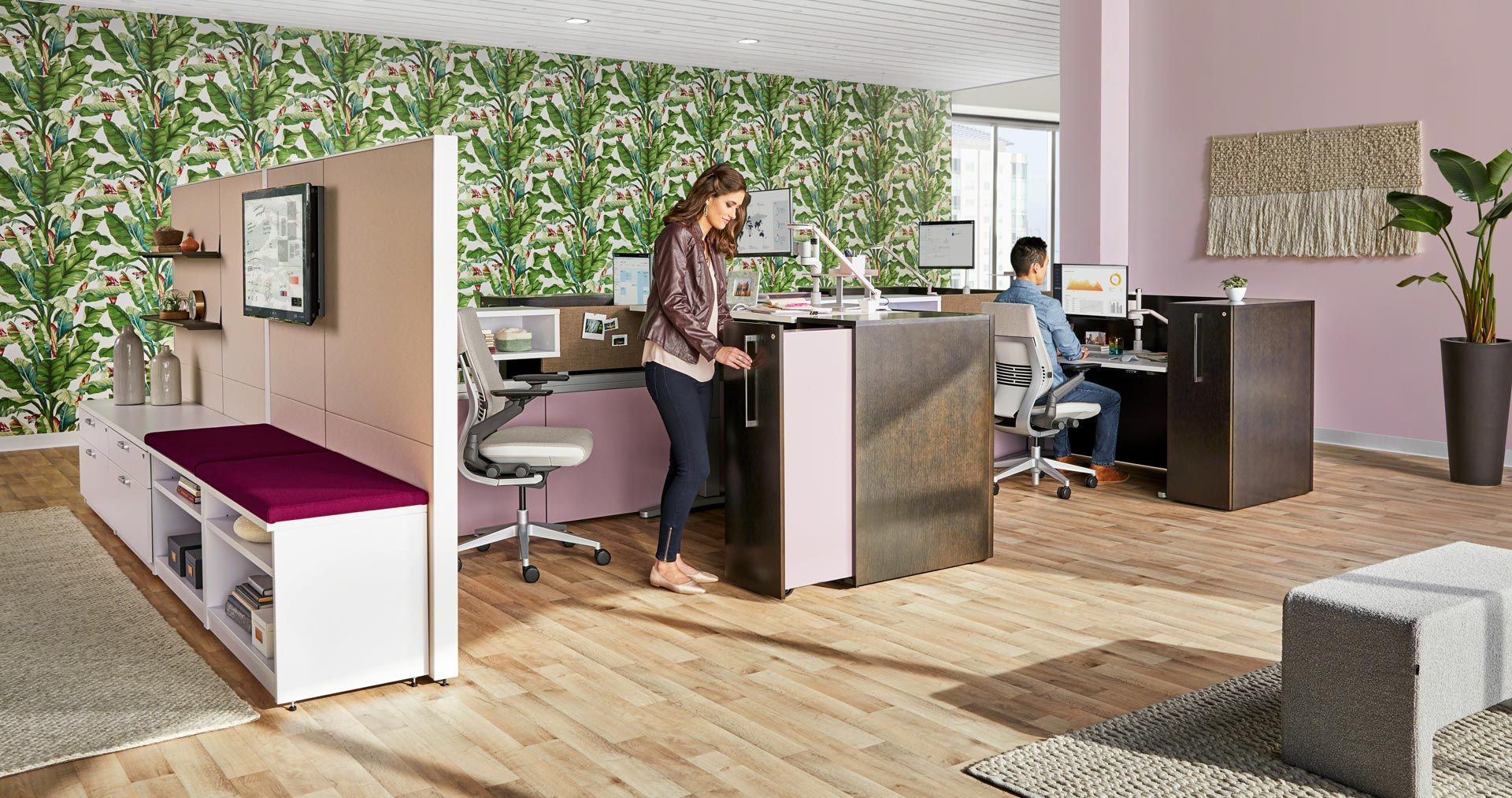 This space differs for each company. In some instances, it may come in the form of sofas and game tables in an employee lounge that feels like a living room. Perhaps it's a simple shift in materials, textures and finishes that resemble those you'd find in a residential building, including softer fabrics, natural woods, living plants and local artwork. Open staircases, family-style kitchens and even accessories like books, photographs and vases all add to the homey aesthetic. They enhance a space with the personality of the people who occupy it in the same way a family's inherited treasures turn a house into a home.
Furniture manufacturers are paying close attention to this trend. After all, it's not as simple as selecting products from a home furnishings catalog and ordering them for office use. A living room sofa may have to endure the tortures of a toddler or a family pet, but that's nothing compared to the wear and tear office furniture must withstand, particularly in common areas. A key element of resimercial design is finding that balance between the residential aesthetic and commercial grade durability.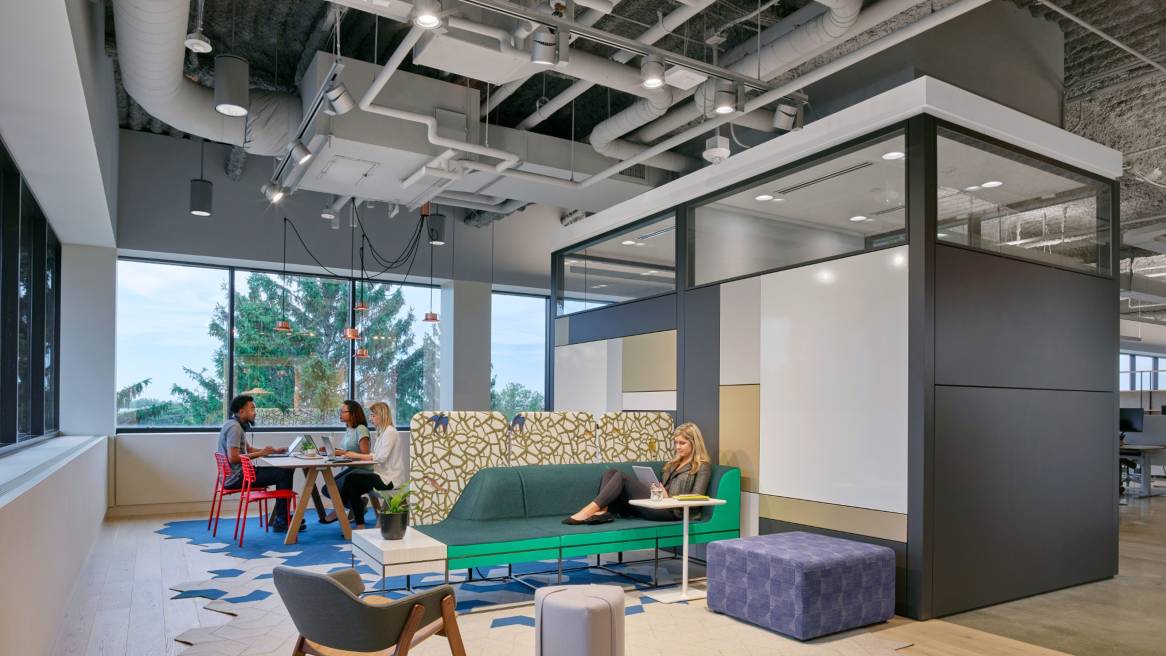 DESIGNING FOR A CULTURE OF COMFORT AND CHOICE
Any organization's office must be designed to reflect its culture and to support the kind of work its team members handle. There is no one-size-fits-all design solution, nor should there be. But by layering in elements that feel familiar, an employee can feel more at home, more secure, more connected and more valued. By supporting employees in this way, companies can improve worker happiness and well-being, along with their motivation and productivity, all of which helps to improve retention and boost the bottom line.
As a deliberate design strategy, a warmer and more welcoming residential aesthetic also contributes to employee autonomy. Offering a variety of work spaces empowers team members to choose where and how they feel most comfortable and productive for individual focus work and group tasks. And just like the social dynamic of the coffee shop or the creative energy of the kitchen table, a comfortable and inviting office environment helps employees feel they're part of something. This motivates them to contribute to the business and its overall mission.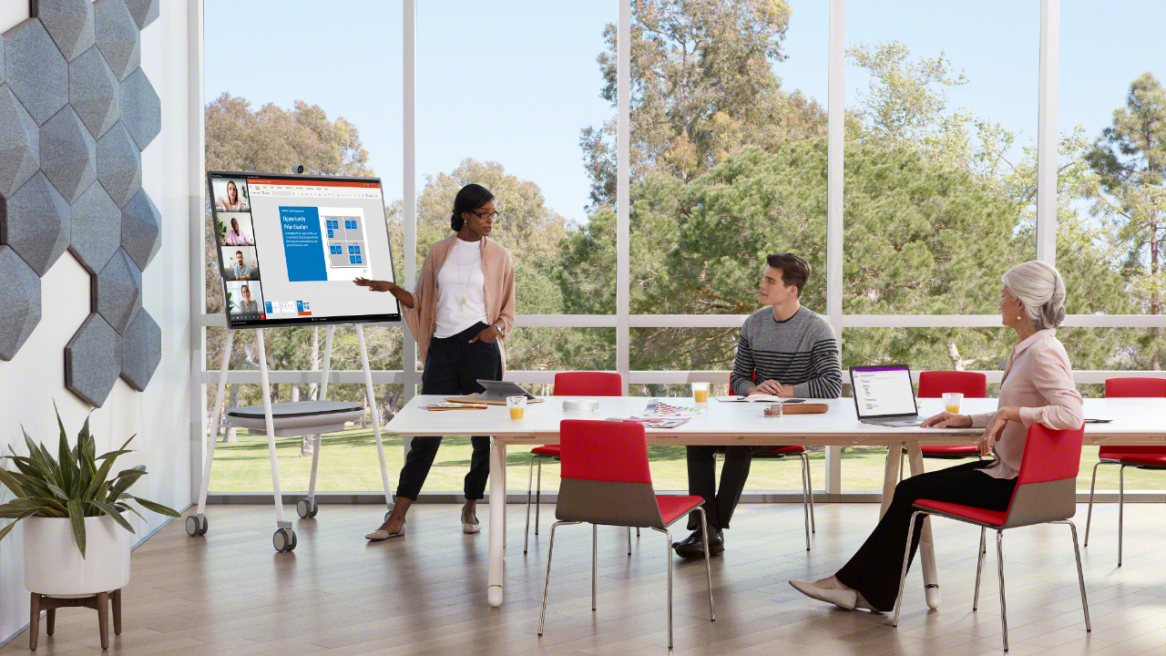 In the 21st century, both an amenity-rich workspace in the literal sense and a culture of helping employees feel welcome, nurtured and empowered in a more figurative sense, have become essential components to a productive workplace. Fortunately, they feed each other, creating spaces that inspire people, while those same people make the place feel like home.
Darlene Burns is design director at dancker