Whether people are working in the office or at a remote location, we need to ensure performance, engagement, health and well-being are all considered when creating better work experiences. Ensuring presence equity is one way to ensure you're bringing hybrid teams together in a meaningful way.
Early in the pandemic, we adjusted to working from home and worked through the kinks of being on video calls most of our workday. It was okay when we didn't have the right lighting or ideal set up, after all it was a temporary situation in the midst of a global crisis. Twenty months later we are now in a hybrid work model and how we're perceived as professionals is changing. Poor set ups for remote participants like bad lighting, distracting backgrounds, and poor audio, lead to a bad experience for everyone involved, no matter where they're located.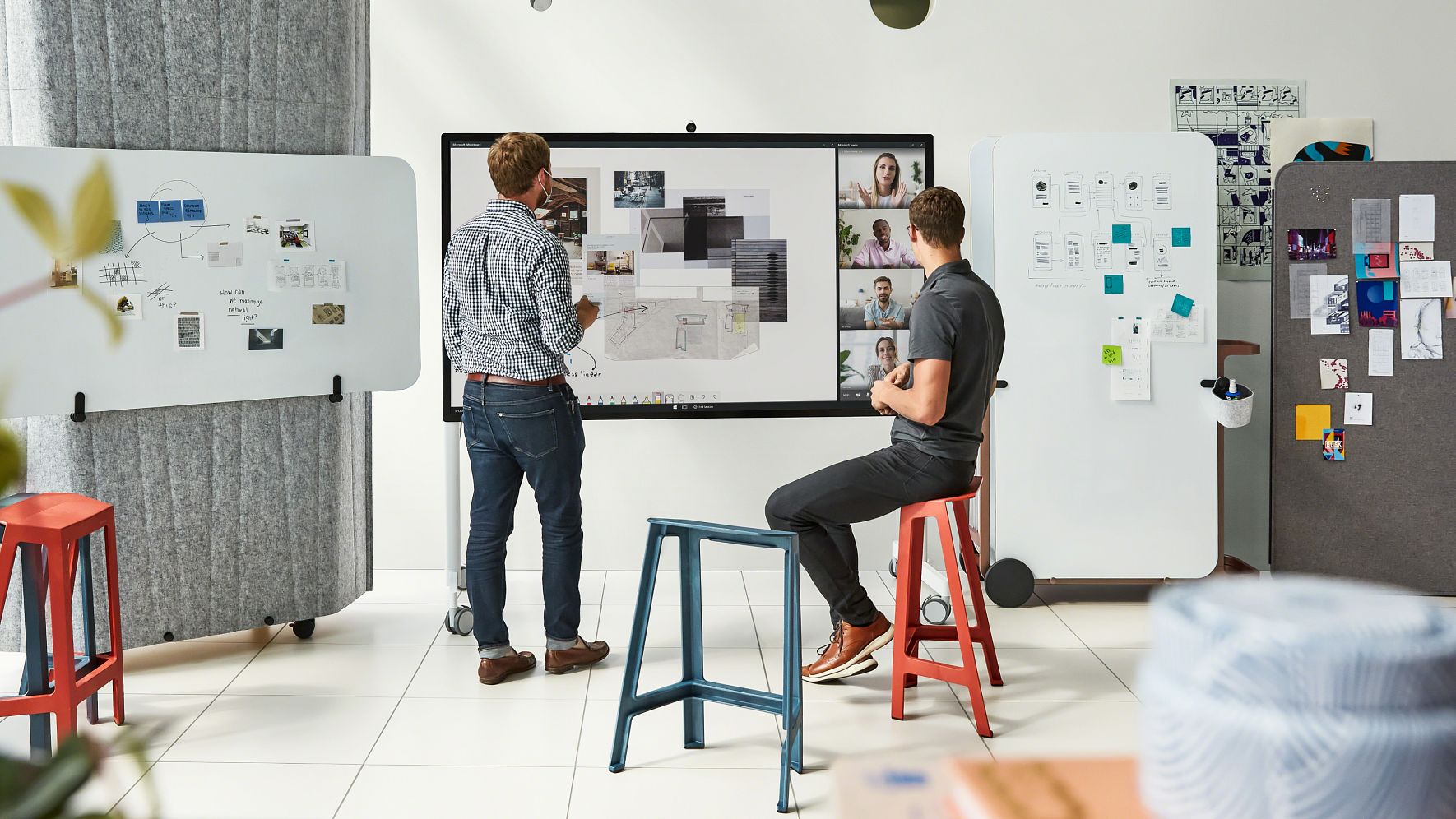 DEFINING PRESENCE EQUITY
Presence equity ensures every team member can equally contribute to the discussion at hand, no matter where they are located. Remote and in-person team members have the same access to information and can speak and be heard easily by all participants.
"We want to ensure those joining remotely are always first-class participants."
– Satya Nadella, Microsoft CEO
The 'great resignation' is a term we often see in the headlines and news today. With workers demanding greater flexibility, presence equity has become a critical issue for organizations to support. To attract and retain a talented team, organizations must provide workers with greater choice and control over where and how they work.
WHY PRESENCE EQUITY MATTERS
When a lack of presence equity exists, remote participants can feel like their contributions are not valued as much as those who are physically in the room. This can lead to feelings of disengagement; disengaged team members are more likely to suffer from reduced productivity and look for other opportunities where they perceive their contributions as more valuable. Presence equity is critical in engaging and retaining talented team members.
A bad video conference experience can also lead to participants being perceived as less than the true professionals that they are.  If it's difficult to see or hear what a speaker is sharing and saying, other participants will be forced to try and decipher the message, rather than understanding it. Sadly, experts on a subject no longer come across as experts if the digital experience is a bad one. Remote participants must be well lit, facing the camera, and remain engaged throughout the duration of the conversation.
Better hybrid experiences lead to better work. A good experience can be defined as productive meeting time spent discussing ideas and finding solutions, rather than wasting time trying to get AV equipment and settings working correctly. We've all probably had at least one "bad" experience where an individual can't be heard or seen on a video call because of poor audio quality or lighting. While this was okay during the crisis, it is not appropriate in today's hybrid settings.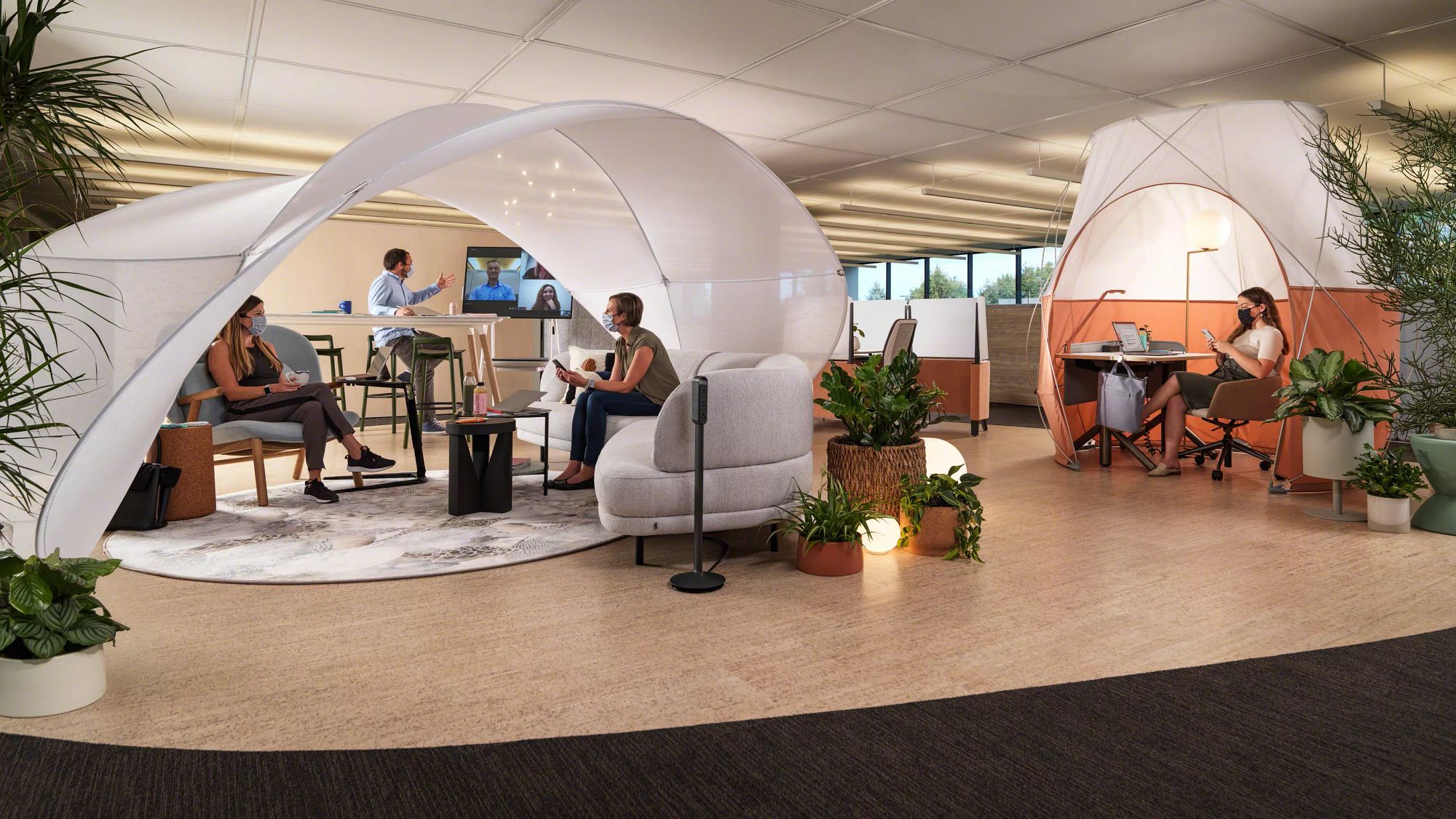 ACHIEVING PRESENCE EQUITY
Presence equity is not a new idea – remote workers and their organizations have been trying to find better ways of collaborating with their remote peers for a decade or longer. Below, we're sharing key considerations to ensure and support presence equity.
Offer in-person employees a variety of spaces to give them choice and control over where they work. From huddle rooms equipped with videoconferencing technology, to pods with enough privacy to take a call or to join a videoconference, people need the ability to choose where the best space is for the task or meeting at hand.
Provide A/V solutions that are easy to use and that ensure everyone looks great and sounds clear when participating on videoconference calls. Consider technology solutions that offer the same experience across your real estate portfolio and for both in-office and remote team members no matter where they're working from. Microphones and speakers in meeting rooms need to capture and transmit clear audio solutions into and out of the room. Monitors and video solutions should be placed in areas where in-person and remote participants can view the content being shared.
Consider A/V and collaboration solutions that support both BYOD, bring your own device, and BYOM, bring your own meeting features. This allows your people to minimize contact with shared devices and easily connect to meetings on your organization's standardized platform as well as others when needed.
When using analog tools in-office, position these tools to ensure there is no glare and so content can be viewed by remote participants. There are several new technology solutions that can help capture, digitize and share content with remote participants.
Provide your remote team members home office solutions such as an ergonomic chair, worktools, and video conference kits with headset, mics and ring lights to ensure they have the same benefits of comfort and productivity that you provide in-office team members.
 WHAT COMES NEXT?
Technology has always rapidly advanced, but the pandemic has driven innovation forward at incredible speeds to accommodate users' needs as many people began working from home. It is important that you are prioritizing technology upgrades to ensure you're supporting your hybrid teams, offering flexibility people need to do their best work, and achieving presence equity. When upgrading your technology, be sure to provide ample training on new workplace technology solutions and how to properly use them. It's also important that furniture solutions work with technology, so spaces are both comfortable and functional. When planning new spaces, make sure you are fully integrating furniture and technology solutions from the beginning for a seamless experience.
Pilot programs are a great way to test out what will support your employees in doing their best work. They are an effective way to experiment, measure usage, and gather real-time feedback from your employees. After determining what changes you'll take on after a pilot program based on data gathered, start building the buzz of what's coming for your employees to get everyone excited. Once solutions are implemented, ask employees to keep providing feedback on what's working and what isn't, and what their favorite and least favorite features are. Consider implementing tools like Density to help measure how your space is working, which can ultimately help you better optimize each of your workplace.
CONCLUSION
Working with an interiors integrator can greatly simplify the process of analyzing current spaces, exploring solutions for better work experiences, and delivering inspired and seamlessly integrated spaces that work for your organization and people. As your needs change, interior integrators partnered with experts in logistical solutions can quickly mobilize changes to keep your spaces as high performing as your people.