You'll often hear us rave about our clients. Our relationships are the reason why we love what we do and are what keep us excited to come to work. Partnering with our clients to create innovative solutions that drive their success is our passion and is at the core of dancker's mission. But we also recognize that we couldn't have a positive impact on our clients if we didn't take care of ourselves first.
Have you ever noticed that flight attendants on airplanes will advise that in the rare case of a reduction in cabin pressure, when oxygen masks will drop, you should put your own mask on before helping anyone else with theirs? This is sort of like that, because if you can't breathe, then you and the person you're trying to help are both out of luck. So we work hard to build positive relationships and innovative solutions within our own workplaces, too.
We recently surveyed dancker employees to get a sense of how well our offices are contributing to that goal. We know that to do our best work, and to deliver a positive experience to clients, we need a 21st century workplace. We need a mix of personal spaces for individual tasks and private conversations, group collaboration zones for team work and idea sharing, as well as lounge or café spaces that help employees take a break. Are we delivering this kind of positive experience to our team members, so they can deliver to our clients? We are fortunate to love what we do, but do we love where we do it?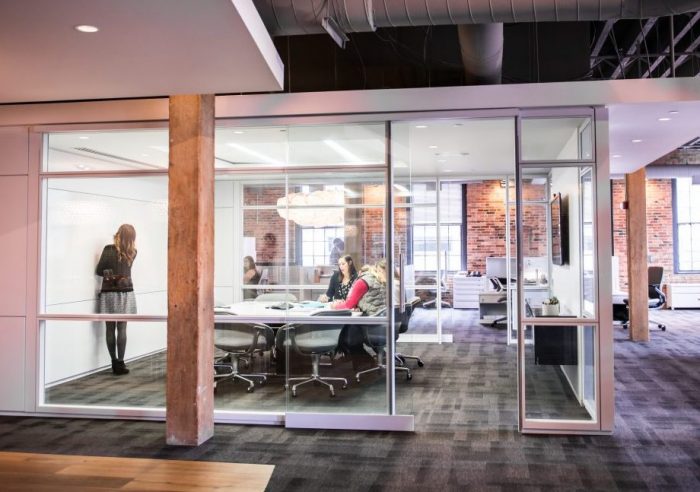 PERSONAL SPACE IS PARAMOUNT
The first survey question asked "What is your favorite space to work from? What does it offer that other spaces don't?" The clear favorite is individual workstations, and there are two primary reasons why: comfort and convenience. We're fortunate that many within dancker have access to sit-stand desks – tabletops that raise or lower so we can adjust our posture through the day and work on our feet when we feel the need to get up from our chairs and stretch. This flexibility to make adjustments and maximize our comfort within our own personal space was mentioned numerous times in our survey results.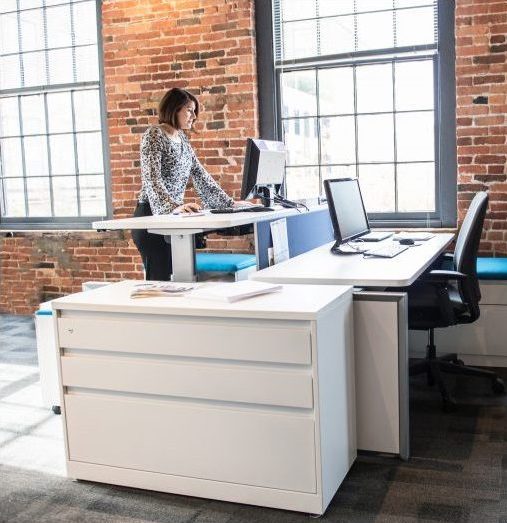 The convenience of our personal workstations plays a big role too. Words like "access" and "adjacency" were repeated by many colleagues, whether they were referring to team members or to shared equipment and other resources. We want to be close to the people and tools that help us feel productive and efficient. Having access to individual devices and files is important, as is ample space to spread out materials and to store personal supplies. And though many other spaces in our offices offer seamless connections to technology, we appreciate having large, dual monitors on our desks.
When asked, "where do you go when you need space to focus quietly, or talk privately?" the answers varied from a phone booth-like space to a small huddle room, and from an unoccupied conference room to our warehouse. But the one thing each response had in common? Doors. We love our open studios with workstations that allow us to pivot from one task to the next, and to touch base with nearby team members. But we do need to be able to step away for moments of quiet and/or privacy, and these survey responses made it clear that these moments come up often.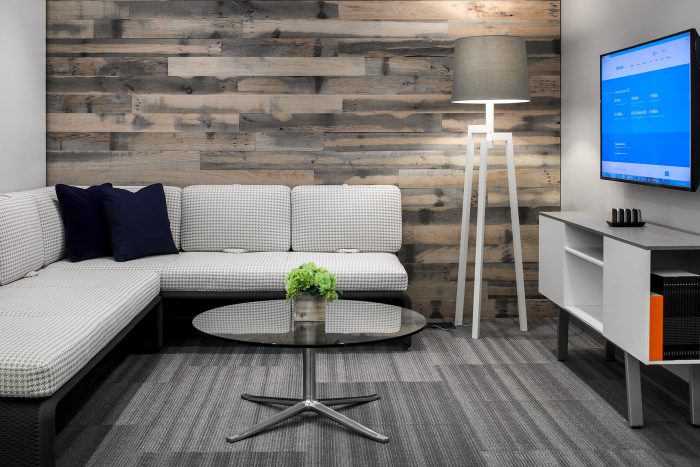 FLEXIBILITY + MOBILITY
Even though most of us do love our desks in the office, it's also worth noting that "home" was mentioned numerous times as the favorite space to work from. This comes back to the need for comfort as well as quiet. According to our survey respondents, home offers the chance to concentrate and get work done without interruptions. Working from home also makes the best use of time, according to some, typically because there's no need to commute.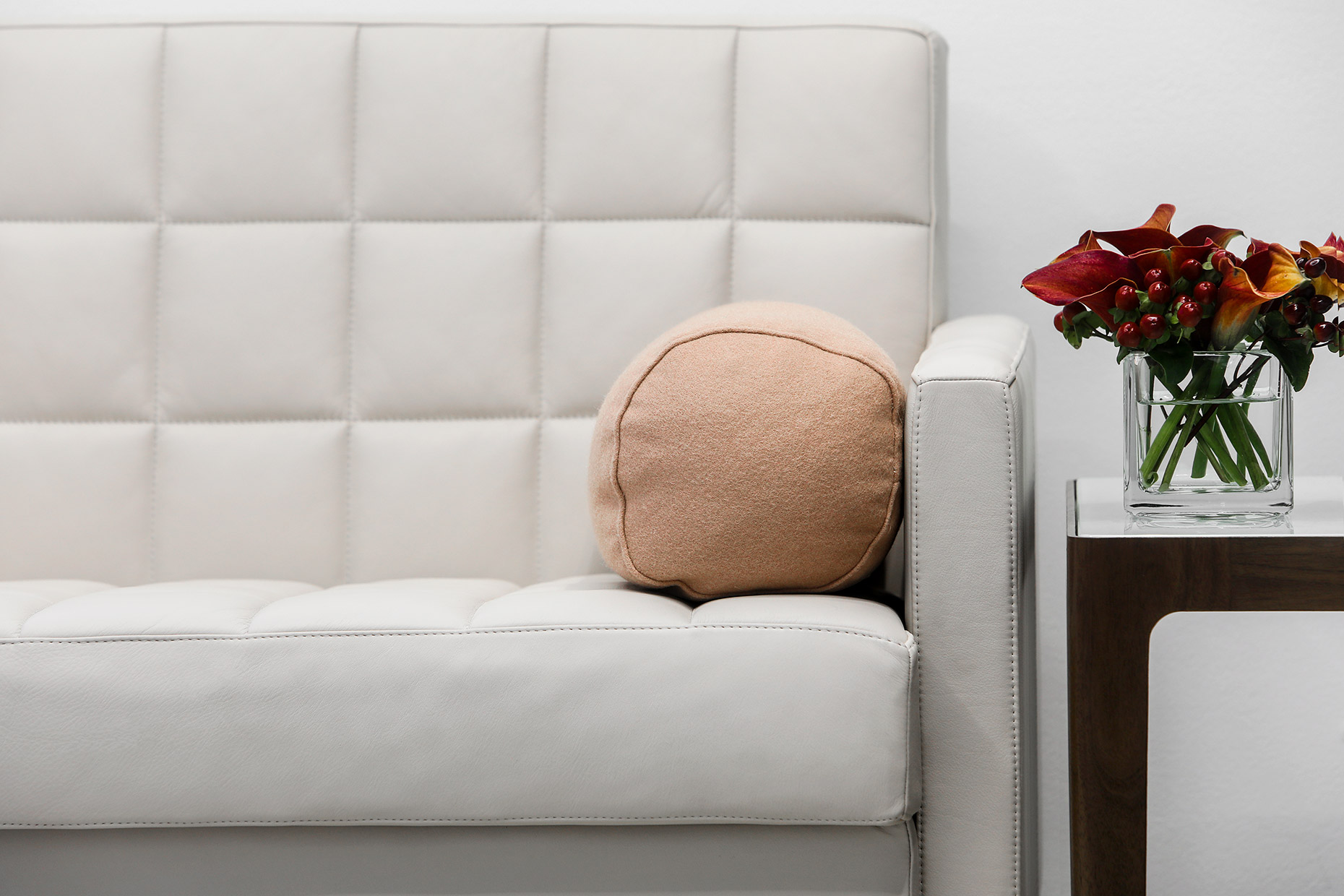 Flexibility is a big part of remote work's appeal, but it's also desired within the office, and our survey results confirm that. Even when colleagues are working solo, they often seek the extra space of a conference room, the comfortable seating of a lounge, or the natural light and different view from a distinct window. A change of scenery can be a real energizer as long as the space is comfortable and connected to technology.
Flexibility and mobility are an integral part of group work as well, so when asked "where do you go when you want to meet or collaborate with colleagues" we were not surprised to see a wide variety of answers to this question as well. Whether the personal favorite is a table within the team studio, a conference room, or the lobby living room, it's clear that colleagues are just looking for spaces that accommodate the appropriate number of people and provide easy access to the necessary tools and technologies. It's also clear that these rooms are in high demand; several comments underscored their limited availability.
CREATING A PLACE PEOPLE ENJOY, AND ENJOY SHARING
We're busy, hard workers, but we also know that we must step away from work a few times a day to reboot. When asked "where do you go when you want to take a break or socialize with colleagues?" survey respondents consistently mentioned spaces like the kitchen, coffee area, and lounge space. Others suggest they prefer to step away from the office entirely and go outside. A few also mentioned that the restroom is a favorite place to take a break – a reminder that these little rooms can serve many functions! Several respondents commented that they have a hard time finding time to take breaks, but for those that do step away even briefly, it's no surprise that a comfortable kitchen or living room-style space is the likely destination, just like at home.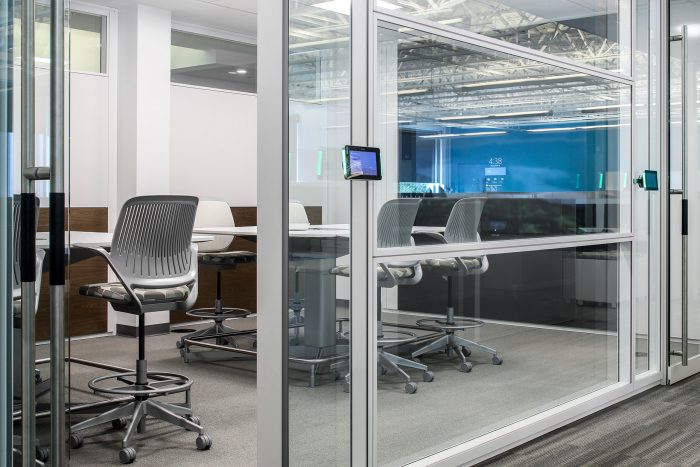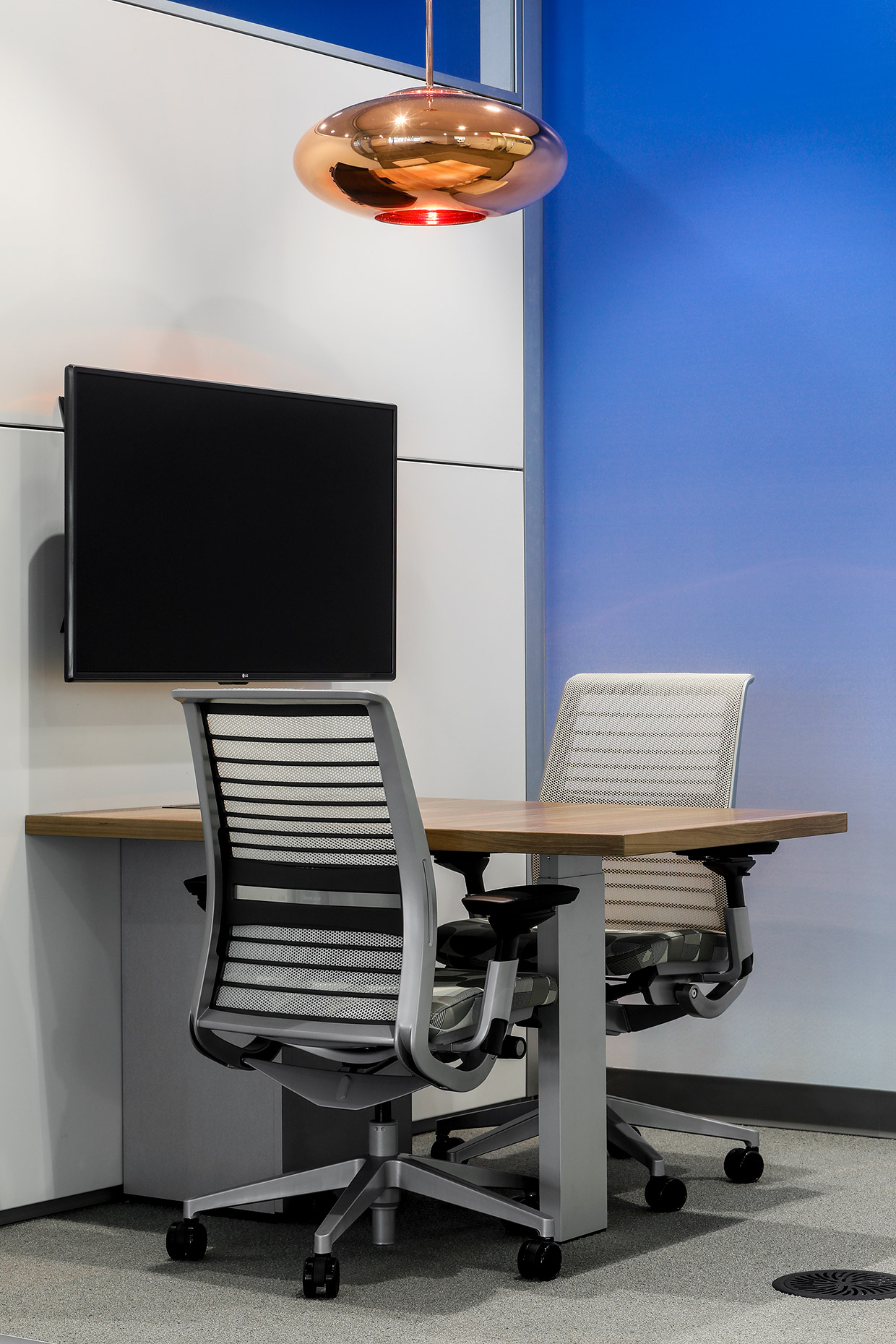 Because our work is client-facing, we also hope to have a workplace that we're proud to share with outside partners. Our survey asked "what is your favorite space to show clients or other visitors?" and these responses may turn out to be the best indicators of our love for our workplace. There's a long list of places we love to share and show off. Top of the list is our team studios, where we can demonstrate our mix of individual and team work spaces, as well as the integration of technology – underscoring the way the space helps us do our best work, effectively and efficiently. A client can often visualize their own space coming to life in the same way.
Other respondents suggested that they enjoy showing guests around our lounge areas that feature a variety of furniture types, and that provide a sense of comfort and familiarity – evoking a subtle, welcoming sense of home. Others mentioned how fun it is to share a peek at our operations center or warehouse, which tell the story of dancker's culture and capabilities. In all of these responses, the common theme is that we enjoy showing our work in action rather than words.
PRACTICE MAKES PERFECT… AND WE'RE NOT THERE YET
We received plenty of positive feedback that suggests our employees feel comfortable and supported within their dancker workplace. But we also must recognize that there's always room for improvement and we're grateful that our colleagues answered our survey honestly. Some admitted that they don't love their desks – they're noisy or distracting. A few others wrote that they don't have enough space, particularly for storage, which makes them feel cluttered, disorganized, or even overwhelmed. Left unresolved, these challenges could quickly turn into major sources of stress, which in-turn impacts team members' health and happiness, not to mention productivity.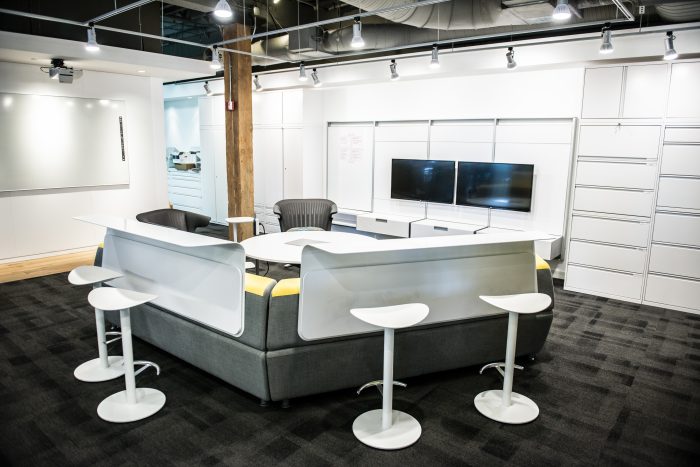 Feedback about the shortage of conference room space, or the inability to take breaks, point to other hurdles that we'll have to overcome. We've recently installed sensor-based technology that will help us measure the way conference rooms and other shared spaces are used – hopefully helping us to eliminate wasted space, and to deliver the kinds of spaces that are most effective for team members. Other solutions may be less about space, and more about our office practices or even policies so every team member feels safe and supported, even when they're not heads down at their desk.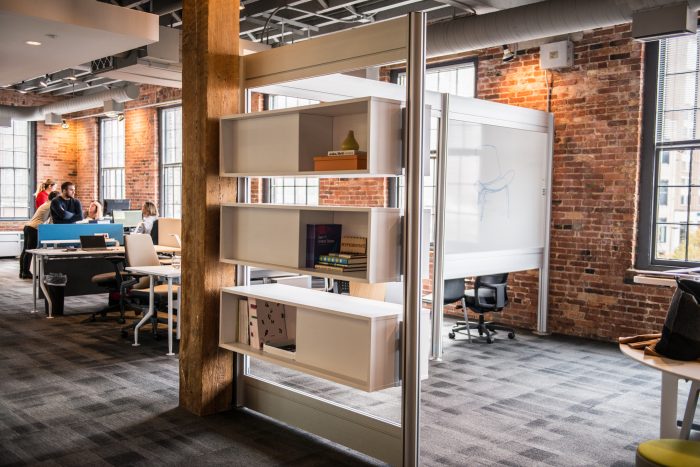 LESSONS LEARNED
Our in-house survey suggests that we're no different from many other organizations today. We want an office that supports the work we do, as well as the ways we do it. There will never be a one-size-fits-all solution, so your employees' needs are likely very different from ours. But we hope that our lessons learned will help as you think about your own workplace.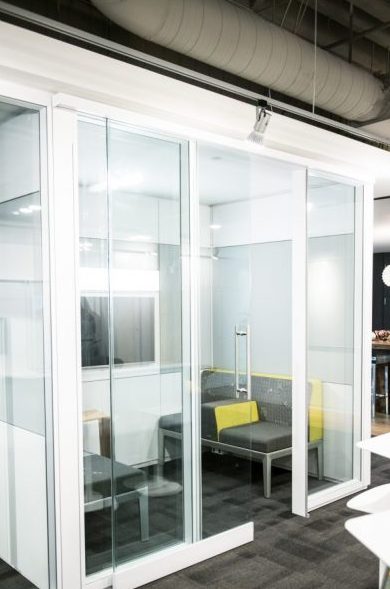 Sit-stand desks, ample space and storage, proximity to team members, and access to natural light are all critical components to making a pleasant personal workstation.
Offering the flexibility to adjust individual workstation components, and to move from one space to another depending on the task at hand, or even on the mood, helps team members feel supported and trusted to get the job done.
Enclosed spaces that support quiet focus work and private conversation (and enough of them to meet the full team's needs) ultimately balance out the open studios that are favorites for daily tasks and teamwork.
Fully-equipped kitchens, café spaces, coffee bars, and lounges are important amenities that help employees step away from work, and often serve as physical reminders of an otherwise understated office culture that says it's okay to do so.
Employees can feel a real sense of pride in their workplace, and will love telling its stories and showing it off, when it's designed to support them and the work they do.
We'd love to show you our offices in person – click for more details about where to find us.